For the first time in my twenty one months of blogging DragonBlogger.com has reached 20,000 unique visits in a single month according to Google Analytics.
In addition this technology and entertainment blog hit #6 in the top 100 Technology blogs listed on IZEARanks.com:


The unusual thing here is that most of my traffic, about 77% comes from search traffic, while a very low percentage comes from referral traffic. This is in stark contrast to many other blogs I have seen statistics online where many get 30-50% of their traffic from referral (some sort of social submission or social media combination). I see this as a weakness in my ability to target and promote across social networking and social media sites.
I also need to increase the number of backlinks from quality sites to my blog as despite my traffic increases, my blog continues to be a PageRank 2 and it should have a higher PR rating. At over 1,015 published articles my blog has received over 5,500 comments which only averages about 5 comments per post though I will admit that I have several posts with over a hundred comments, and many posts with 0 or 1 comment which is why the average is skewed.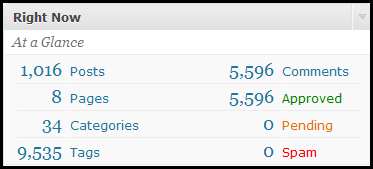 Since I have started blogging back on August 23rd 2008 when I started DragonBlogger.com this blog has received over a quarter of a million unique visits and almost half a million pageviews.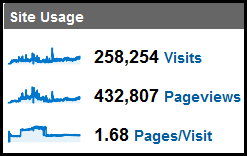 I am honestly thrilled to tell you that I have reached this amount of people from a blog I just started less than two years ago, and if I combine these numbers with my other two blogs I break over 350,000 unique visits across all my blogs combined. (My other two blogs average about 2500 – 3500 unique visits per month, which isn't bad considering I don't nearly put as much into promoting them.)
I started this blog because of my love of Technology, Gadgets and the Internet and once I started learning the medium and WordPress I also enjoyed sharing what I learned with my readers. It was my goal to make my blogging journey transparent and show readers exactly how I started and every step I took along the way so others can realistically see what blogging and growing your blog online was like. There are of course other bloggers who have reached much higher traffic margins and profits in less time, but there are also far more who haven't quite made it as far in twice as much time. Considering that blogging is my hobby and I do it for the enjoyment as such, I don't have that desperation to "become a full time blogger" that drives other bloggers to gun with everything they have to pitch a package to allow them to quit their day job.
I feel this has allowed me to be more objective and provide value to my readers who are looking for a mix of articles and this shows from the wide variety of keywords and search traffic that I capture.
I don't overly enjoy doing posts highlighting me or my blogs, but this was a milestone worth sharing and I wanted to tell everyone the exact steps I took to reach this level of traffic.
Pick 2-3 themes for your blog
Create like 12-20 categories max (I have too many, should have had less)
Keyword your articles well (this doesn't just mean using the Keywords tag, but actually use Google AdWords tool to choose keywords with low competition and decent search volumes and intermingle those keywords inside all of your articles. Do the extra 10 minutes of research per article and it will pay off in search engine traffic.
Make sure to leverage Social Media (Twitter, Plurk, Friend Feed, FaceBook, Friendster, StumbleUpon, BlogEngage, BlogCatalog…etc)
Create a FaceBook Fan Page right away (don't wait like I did, this cost me what could have been a huge amount of extra readers). I started my Facebook fanpage 20 months after I started blogging.
Comment and Guest Post on other blogs in similar niches (but always add value and provide good comments). I don't leverage this as much as I should, but I probably have left about 50 comments per month over two years which is about 1200 comments on other blogs. I also did about 20 guest posts over the past two years, and am hoping to increase this to about 4 per month (1 per week) if I can.
This is about my most direct and obvious tactics that I used to reach where I am today and because most of my traffic comes from search engines I would say the keywords thing is one of the biggest.  Though this is a big weakness as well, as I have 4 specific posts on my blog that make up 40% of my blog traffic.  So if those posts were to lose ranking or traffic my blog statistics would plummet rapidly, so I recommend mixing between direct, referral and search engine.  Having a good 40% search engine, 40% referral and 20% direct traffic I think would be the ultimate ratio in case you have fluxuations in one type of traffic your blog won't take a huge impact and traffic loss.
I used to blog about NBC Heroes and had at one point received over 1100+ visits on my blog in a single day on the days after Heroes aired, but since NBC Heroes was cancelled and had fallen in popularity and ratings this caused my blog to have a "flatline" where my traffic increased from other articles but decreased from Heroes traffic and it caused my blog to have a less than 2% traffic gain for about 6 months straight.  At one point my blog had 6 of the top 10 pages visited related to NBC Heroes, now none of the Heroes posts are in my top 10 anymore.
I have been obsessed with computers, tech, gadgets and games since the early 1980's having grown up on the Commodore 64 and Amiga computers.
By day I work in the IT Security Industry and have been in IT for over 20 years. On my spare time I am a Vlogger, Blogger, Streamer, Gadget Reviewer, affiliate marketer, influencer and entertainer. I am also an avid movie fan, TV Show fan, Anime fan, video game fan and fan of trying anything and everything new.