I was one of the earliest adopter of SponsoredTweets when it came out back in mid 2009.  This is a very successful service from IZEA which allows you to make money online with your Twitter account (provided your account is at least 60 days old and has at least 100 followers) or you can purchase advertisements and sponsored Tweets from other Twitter users to help promote your product or service.
SponsoredTweets pays you per tweet in a set amount that doesn't change based on how many times the URL you are promoting is clicked.  This is actually very good for advertisers as it helps control their costs ands pending, they never pay more than they intend to if a CPC program goes out of control and gives them fine control in only picking the people they want to promote their product and service.  This means twitter users get paid a set amount for a single tweet (sometimes being asked to retweet if performance is low) but you get paid the same amount and get paid quickly (no waiting for clicks to total before payout).

I myself have earned just over $90 dollars with Sponsored Tweets in the past year and I wound up rejecting 2/3 of the offers being given to me.  I could have earned over $150 if I wasn't so choosy about what I promote.
SponsoredTweets allows you to withdraw your earnings when you reach $50 dollars, and this month I reached my 2nd $50 dollars and was able to make a withdrawal.

This month I earned just over $9 from SponsoredTweets but 1/3 of my earnings almost came from referrals, people sign up under your referral link and you earn 10% of whatever sponsored tweets they accept and perform.  This 10% earned comes out of the SponsoredTweets commission, so tweeters always get 100% of what they were offered when they accepted the opportunity.  You can see here just one of my referrals earned me $1.00 just for somebody who signed up under me sending a single paid tweet, I know by this amount that that person was paid $10.00 for a single tweet which means he must have around 10-20k Twitter followers based on my educated guess of how many followers = how much you can earn per tweet. It is roughly .50 – .75 cents per tweet for every thousand followers you have is a good price point to set your tweets. I have about 4500 followers but only set my tweet price at $2.00 because when set higher I wasn't getting very many offers.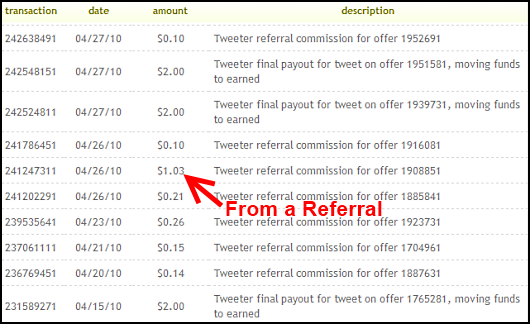 Remember it costs an advertisers double whatever you charge with IZEA overhead to sponsor you, so keep that in mind when setting your price and always price lower and raise as you need too than price too high and go weeks without any offers.
So for me SponsoredTweets is a very valuable program to allow me to make money online with my Twitter account. I have tried Ad.ly and never received a single offer, even though other Twitter users have shown to make $50+ dollars per month if you have a strong following. MyLikes is another service I use to make money on Twitter and I am also very happy with that program, but it is a PayPerClick program and you have to actively go out and remember to check and take Sponsored Likes, whereas SponsoredTweets you can sit back and wait for advertisers to select and make you offers which means less work you have to do.
So sign up for SponsoredTweets, MyLikes or Ad.Ly and see which program works best for you if you aren't using any of them already.
Sign up under me if you enjoyed this review by using one of these buttons below:
How many of my fellow users use SponsoredTweets, MyLikes and/or Ad.ly which is your favorite program and why? Share your stories with Twitter earning programs.
-Dragon Blogger
I have been obsessed with computers, tech, gadgets and games since the early 1980's having grown up on the Commodore 64 and Amiga computers.
By day I work in the IT Security Industry and have been in IT for over 20 years. On my spare time I am a Vlogger, Blogger, Streamer, Gadget Reviewer, affiliate marketer, influencer and entertainer. I am also an avid movie fan, TV Show fan, Anime fan, video game fan and fan of trying anything and everything new.