I decided to make some time to log into Gmail and configure it for Google Buzz tonight to get a taste of what it was all about.  I had read a dozen or so articles on the hype, some saying it was crap others saying it was great, so I am going to give my honest review about the 1/2 hour or so I spent playing with it this evening.
First and foremost, this is what Google Wave should have been honestly, I am not sure why they even need Google Wave with Google Buzz, it seamlessly integrates your Gmail and allows you to search and find anybody online with a public Google profile.  You can very quickly and easily find and add people by searching for common "handles, last name, first name" or any other identify information about someone you might know.  I was able to find BenSpark and BlazingMinds instantly by searching for their Google profile.  I also found that 8 people had already added me without me even knowing, I haven't figured out a way to set up an email alert to inform you when someone follows you yet.
To find someone to follow (you can instant follow people like twitter, it isn't an invite thing like Wave), you can search by email, profile name, last name…etc and you will see a list of all public matches.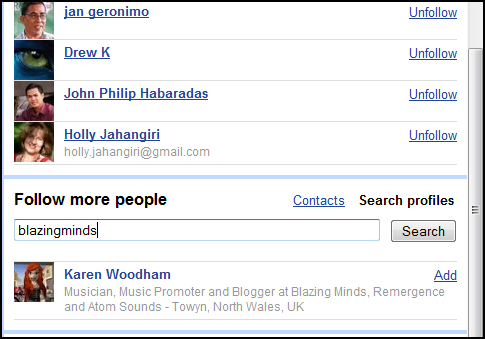 Here is what I like about Google Buzz, it tracks everything in conversations and any number of people can jump into your conversations. Whereas twitter is a broadcast social media service where everybody sends a message, individuals respond this allows anyone to instantly congregate into one conversation and talk to each other instantly in real time. It combines even more the features of an Instant Message client with the social networking reach of twitter and Facebook and the conversations felt a little like the ones in Microsoft Communicator in my opinion.
When you send links in your messages, the Google Buzz will automatically pull all images and let you pick and choose which thumbnails you want to include in your message. This is much better and cleaner than the way facebook pulls images out of URL's and since it is instantly visible inside the Buzz conversation you don't need to click on a link to see a pic like twitter. This is lighting quick and seamless.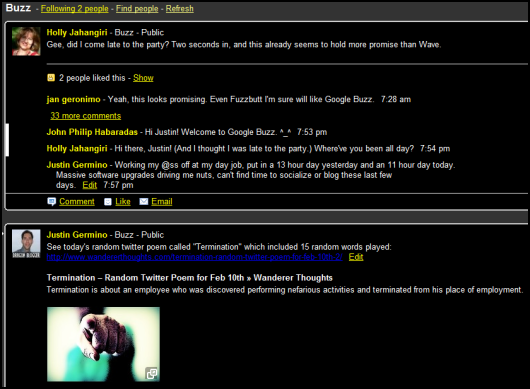 You can also embed videos right in your buzz and users can watch your YouTube video instantly as its embedded directly into the communication. This is seamless and rocks.
You can also search buzz to find any subject or keyword and see who is talking about what in real time, I did some test searches of "Avatar" and "Wall Street" to see what people were saying.
Buzz communications that you are involved in also get sent to your email, you won't get emailed any ones you haven't participated in so this controls how much your email could be abused. You can turn this off by choosing not to "save" your chat history.
Here is the best part about Google Buzz:
You can connect all of your sites and some of your networks! You can link it so all your twitter tweets show up under your Google Buzz account, and your blog posts automatically post to Google Buzz.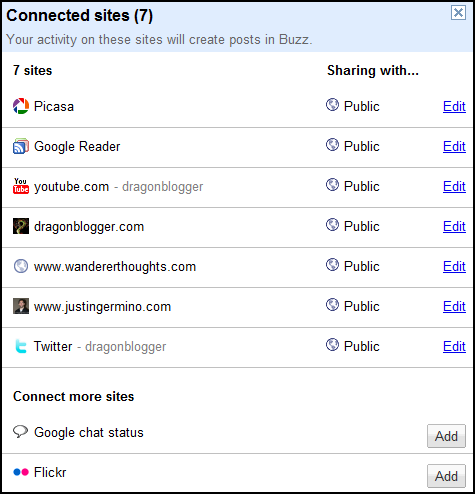 All in all I could say that I am most impressed with the first thirty minutes with Google Buzz, but I do see it becoming very hard to keep up with so many conversations. Though there is more to learn, I think because the conversations can get so long and there can be so many it is just as hard to keep up with what is being talked about. I already was overwhelmed with just 8 followers and twenty conversations, imagine if I had 3000 like I do on twitter, it would be nothing but a garbled mess where you can't participate in or read anything of value.
So far I see it as a great social tool for having meaningful conversations with your closest friends rather than just compiling a massive list of random followers just to help promote your brand, by it allowing so many personal features and tying into your email it seems like it is meant for more personal conversations.
-Dragon Blogger