Earning money from your blog while receiving content at the same time is a win/win proposition for most bloggers who are looking to find ways to make money online and more specifically, earn from their websites.  Web Traffic Control is a program that offers just such a solution.

With Web Traffic Control it specifically targets bloggers who use WordPress and requires you have WordPress 3.1, enabled XMLRPC and have All in ONE installed.  The service requires that you have an Editor account created and submitted to the site but it can't say something like "Web Traffic Control" in the editor account name.
The system pays a flat rate of $15 per guest article to bloggers and promises no more than 50 articles per month for your blog.  The service accepts blogs of any category and when you register your blog you set the primary category and up to 10 sub categories (the more you select the better odds of attracting advertisers).  The posts that publish will only be in these selected categories and sub categories.
Now, at this current time the Web Traffic Control system claims to "auto publish" only without giving bloggers the ability to reject guest submissions, however they claim to have strict quality standards and review all posts before they are allowed to publish.  You will not get any spam promotional posts or articles that are outside the specific categories you select.
It took only moments to setup my blog with the system and my wife agreed to have her cooking blog be a candidate for testing the Web Traffic Control program.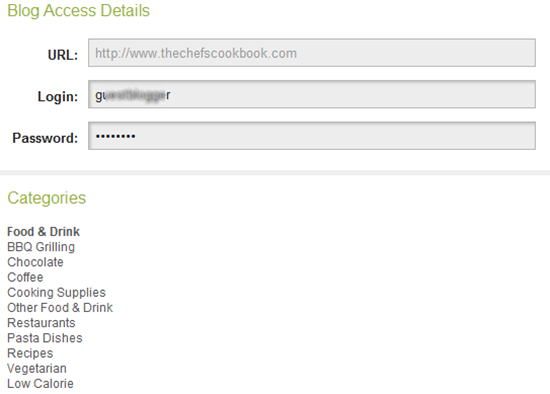 Currently the system is still in it's infancy and they are signing up bloggers in the system before they start catering to advertisers big time.  So at this time they say to sign up and register blogs and be patient while they build a client list to offer to advertisers.
This service could have the potential to bring in some serious extra income for bloggers, especially those who run multiple blogs.  I have 4 blogs with a PR2 or higher rating so potentially if there were 50 guest posts per month on all 4 of them, this would bring in $3,000 monthly if the system becomes popular enough and flooded with advertisers.
Web Traffic Control is addressing a need in the advertising market, and that is companies that want to offer guest articles in exchange for the backlinks.  This serves to put the backlink in the content which is more valuable for SEO and SERP results while the blogger gets the benefit of a quality guest article.  Again, I haven't seen any guest articles yet but Web Traffic Control seems to have a good system in place and I will be the first person to report if I find any issues with the service when guest posts start coming in.  They also claim each article is unique for your site and not reposted on other sites.
At this time, I think it could be a win/win for bloggers and if you want to start earning some extra income for your blog for hosting some guest articles then signing up for Web Traffic Control is a good thing to test.
I will do a follow up review of Web Traffic Control when guest posts start being published and I see more activity in the system.  In the meantime I think it is promising, after all many people host guest articles for free and things gives bloggers away to make a little money by hosting guest articles.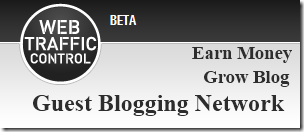 Sign up now for the Web Traffic Control as it is free only for the first 1,000 bloggers to sign up and over 300+ have signed up already.  They will charge $50 for initial sign ups after, but if you read this review and want to sign up then contact me and I have a special deal where you won't be charged if you sign up based on my review even if the company starts to charge.  John Chow did a review [LINK] on the Web Traffic Control system as well and I agree with him that blogger shouldn't be charged to sign up at any point since the company makes 50% commission on the advertisers articles.
-Dragon Blogger
I have been obsessed with computers, tech, gadgets and games since the early 1980's having grown up on the Commodore 64 and Amiga computers.
By day I work in the IT Security Industry and have been in IT for over 20 years. On my spare time I am a Vlogger, Blogger, Streamer, Gadget Reviewer, affiliate marketer, influencer and entertainer. I am also an avid movie fan, TV Show fan, Anime fan, video game fan and fan of trying anything and everything new.