As my readers know, I run giveaways all the time here on DragonBlogger.com and some more niche ones on my WordPress blog WPCypher.com.  One service that I recently learned about a few weeks ago when an advertiser contacted me was called Sponsored Giveaways.

Sponsored Giveaways sounds like you would imagine, you are being compensated for hosting a giveaway on your blog by an advertiser.  The system works in a similar manner to BuySellAds where you list your blog in a marketplace where advertisers can browse, search and select your blog to host a giveaway of the sponsors product or service.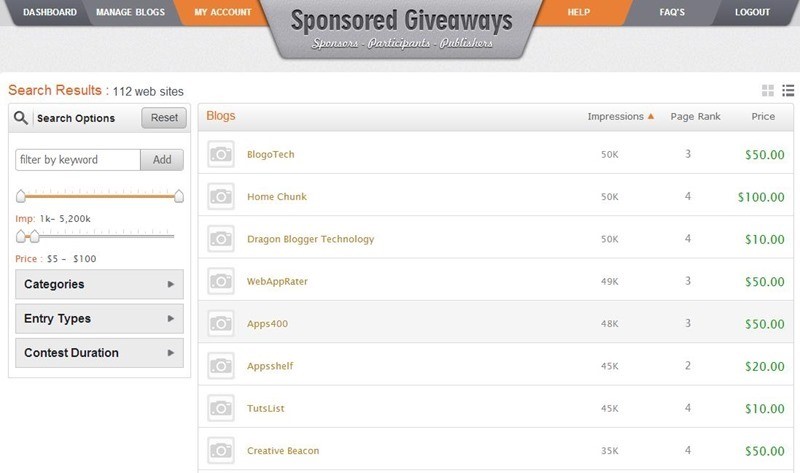 When listing your blog in the Sponsored Giveaway market place you set 3 primary factors that can be edited, but you can't support multiple at this time.  The first is the base giveaway price, this is the base charge for hosting the giveaway on your site, an advertiser also purchases additional entries based on a set fee of $10 for a like, $15 for a fanpage fan entry, $15 for a Twitter follow and $10 for a tweet.  The basic entry includes the reader leaving a comment to enter the giveaway.
You also set the giveaway duration, whether you run 1 month giveaways, 2 weeks, 1 week or 3 days are the only duration options available.  Most blogs will want 1 month unless you get so much traffic to your site that you feel you can provide a good ROI for advertisers in just 2 weeks, 1 week or 3 days of running a giveaway.
Min number of prizes is also an option, many bloggers don't want to give away just 1 prize and require a minimum of 3 or 5 winners to help increase odds of people winning and make more people eligible to potentially win from a single giveaway so this is an option for you to play with as well.  Just remember that if the advertiser has to give away more prizes, this costs them more money for the prizes not just the cost to purchase the giveaway on your blog.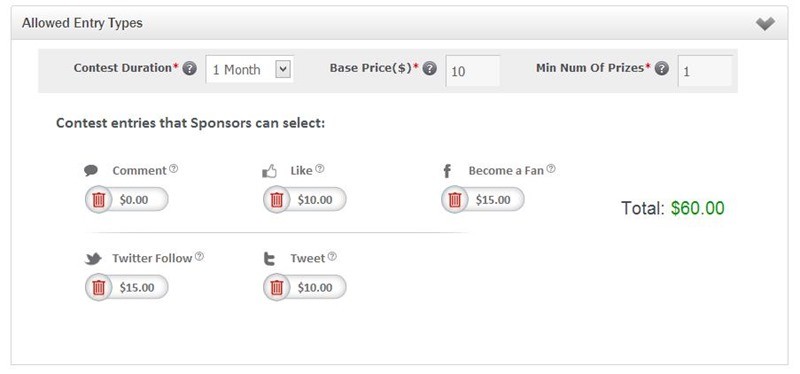 When listing your site it does include your Social Media Metrics like Twitter followers, Fanpage Fans and RSS Feed Subscribers, this helps advertises get the bigger picture on how large your social media following is for how much will reach your giveaway will have but it obviously can't take into account Facebook Groups, LinkedIn Groups and services like Triberr and Blog Engage which can greatly extend your promotions and reach.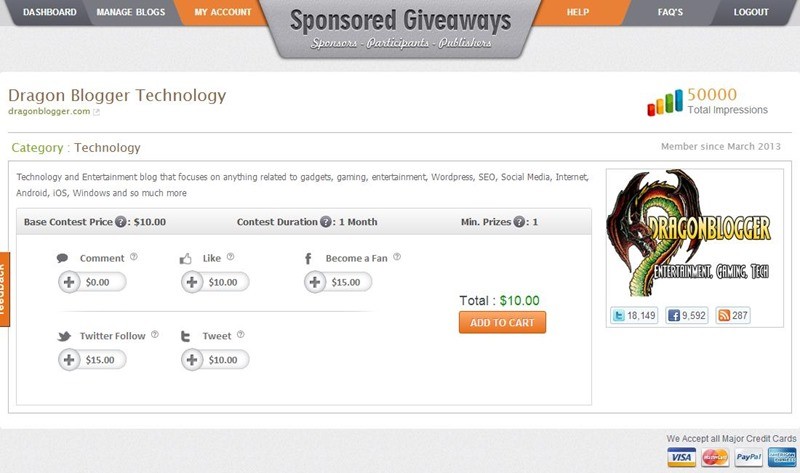 Now how Sponsored Giveaways differs from running your own giveaways on Punchtab or Rafflecopter are as follows.
Because this is a sponsored giveaway it is all about the advertiser who purchased that sponsored giveaway from your blog.  As a result unlike running a sweepstakes with Punchtab or Rafflecopter only the specific sponsors entries are listed, they paid for them so this is about promoting and providing benefit to them and your own entries are not added as options.  This is something to consider, typically if you run a partership and want to gain benefit from entries/follows as well then I would enter into a partnership with the advertiser and not make it a sponsored giveaway since you are getting benefit from follows and entries as well.
Sponsored Giveaways Manages Prizes
Sponsored Giveaways requires advertisers to submit and provide the prize to Sponsored Giveaways which selects and auto awards the winner with the prize after they claim it.  This means that the Sponsored Giveaways system is designed for coupon codes or digital methods of collecting a prize.  It is not an effective system for awarding physical prizes like an Xbox 360 package, unless it was a coupon that allowed you to enter it and get an Xbox 360 package from a company for free.
If you have a coupon code to make a software cost nothing, this would be a valid option.
If you have an Amazon Gift Card coupon worth the value of the prize, this would be a valid option.
But the coupon must be entered and provided to Sponsored Giveaways when you purchase the giveaway from a blogger.  This helps ensure prizes are immediately delivered and winner doesn't wait on advertiser to provide prize after they won.  Sponsored Giveaways will not handle cash giveaways, it must be a coupon and a digital offering that provides a product, service or purchase for free.  It must be validatable by Sponsored Giveaways and other terms may be required.
All giveaways are International and void where rules don't allow them by default, you will need to specify terms and conditions on your site if you have any narrowing of the default terms and conditions for giveaways.
In the Works
Sponsored Giveaways is working on a page which showcases all active giveaways on bloggers sites which will help bloggers hosting giveaways get more attention and traffic as well as advertisers get more entries.  They are also working on an iOS and Android application like Punchtab has for letting users enter giveaways right from their mobile device as well.
In Summary
Sponsored Giveaways may end up being a great platform for advertisers to browser a marketplace full of blogs to host their product giveaways, it also may end up being a good platform for bloggers to earn some extra money by hosting giveaways of products and services that match their niche and interests well.  I do think the costs can be a little high right now for smaller advertisers, and this may be more appealing for larger companies who have a larger advertising budget.  I personally think there should be more flexibility on what a blogger can charge per social media follow entry, so bloggers can more effectively manage the total cost and make it more attractive to advertisers.
So far I haven't received any sponsored giveaway offers, but one advertiser has shown interest and I am looking forward to running a giveaway on the platform at some point in the future to test out the widget as well as see how well it performs and works.  Right now I can say this Sponsored Giveaways is a platform that bloggers should look into if they are interested in doing giveaways and potentially offering giveaway opportunities on their blog to advertisers in exchange for some compensation.