You likely have read about BlogEngage either on this blog or from dozens of other bloggers who are a fan of the blogging article directory that allows you to submit articles, vote on them and helps in both bringing traffic to your site but also network with other bloggers.  Last year BlogEngage featured the RSS Syndication plans where you can pay a monthly fee and have your articles automatically submitted to BlogEngage, it would fill out title, description, tags and categorize your feeds for you.
At the time, I didn't know if the RSS Syndication would be a good return on investment for my blogging income, so I signed up for the $1.99 per month plan and decided to see how it went with DragonBlogger.com feeding in articles every day automatically.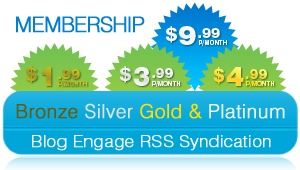 Here is a comprehensive and compelling reason why I think you should sign up immediately and start having BlogEngage automatically read in your RSS feeds:
Reason to use BE RSS Syndication #1
BlogEngage makes me money, the AdSense income it brings in is more than the monthly RSS feed cost so I make money by using the RSS Syndication.  I created a separate URL Channel in AdSense for BlogEngage and ran a report for January 1st 2011 to January 27th 2011, you will see that my BlogEngage AdSense earnings were more than my earnings for my Poetry blog for the month of January in this date range.  BlogEngage in fact earned almost as much as my personal blog in AdSense for the same date range.  The more articles you feed into BlogEngage the higher your AdSense earnings may be.

Reason to use BE RSS Syndication #2
BlogEngage brings me high quality traffic, and is currently my 7th top referrer to DragonBlogger.com, but is my best referrer for Pages/Visit measurement by far.  At 2.26 pages per visit this means that readers who come in from BlogEngage are more likely to stay and read a 2nd article than from other referall networks.  Note, BlogEngage brings me more traffic than Digg, FaceBook, Reddit and only Twitter, StumbleUpon and MGid which is a mutual traffic exchange system bring me more traffic.  (StumbleUpon was #4 and isn't shown in the list)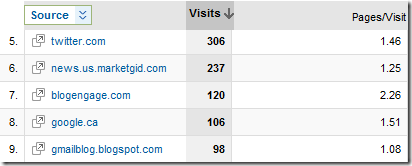 While you may look at 120 visits and break out the $1.99 cost and equal this to 1.5 cents per visit far cheaper than any advertising plan.  This is also negligible because I made money from AdSense so really this was all free.
Reason to use BE RSS Syndication #3
Save Time, if you post more than 1 article on your site per day then you really could save time by using the Blog Engage RSS Syndication.  I would lose about 2 minutes to enter 1 article because BlogEngage doesn't prefill the title, description or keywords when you enter the URL manually.  Times this by 4 minutes per day for 30 days and you now are saving yourself 120 minutes per month, really 2 hours in one month is worth the $1.99 cost to automate the submissions.
If you have many blogs then the upgraded plans are even more ideal as you can get more blogs, more feed submitted for even better cost per feed rates with an expanded plan.  It won't be long before I upgrade my plan and start sending different feed categories to BlogEngage as well as feed my other blogs.
Socialization is Important
Remember BlogEngage is a social network not just an article submission directory, you should vote on other's articles, network and comment in the system and expand a presence.  It is a chance to meet other bloggers, share their work as well as promote your own.  As with any social or article submission directory showcasing other's work is more important than just feeding and self promotion if you want to see a benefit from it.
Sign up for the Blog Engage RSS Syndication from my blog (this is my referral link) if I have justified it's benefit to you.  Or, ask me any questions about BlogEngage as a user and I will answer honestly.
Want to make more money with Blog Engage RSS Syndication, you can now sign up as an affiliate for Blog Engage with Affiliate Lights and get 25% of all memberships sold by affiliates who sign up under you as well. This is a great way to gain a % of what other affiliates make in addition to % of Blog Engage RSS Syndication membership sales as well.
-Dragon Blogger