There are many different data recovery software products out there to help us recover the deleted files from our computers and no doubt every similar tool does it's job to some extent, but there's always room for improvement. With the same thought in my mind, here in this post, I am reviewing the EaseUS Data Recovery Wizard 7.0.
EaseUS Data Recovery Wizard is an effective software to help you recover your deleted data whatever the reason may be for that original deletion, mistakenly emptied recycle bin, formatted your flash drive…etc. Read on to see my review of the software and how it compared to other data recovery programs in the market.
---
In this review I will be deleting my own folder (backup is always there) which has all types of files including; Application setups, media files, images, compressed files, docs, and it's size is around 1.47 gigs. I started by creating a new partition with the intention to store files on it, then delete it, and will try to recover files from a external drive that is showing "Do you want to format this drive?" I did all of these scenarios to try and recover all of those file types with the EaseUS Data Recovery Wizard.
You can visit EaseUS website to download this software and other great programs. The download was of 4.74 mb and the installation took around 50 seconds.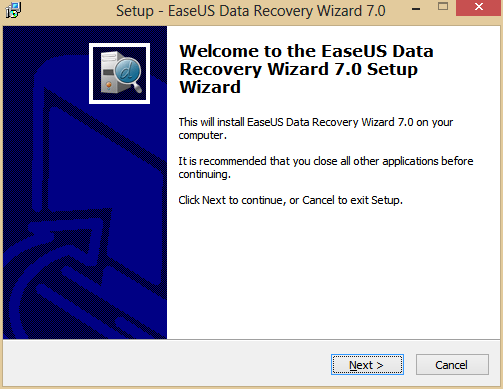 The installation is pretty simple, you just have to click Next, Next, Accept and there you will get a caution message which will ask you to confirm the installation destination, as if you have deleted something from your C drive, it's recommended to install the program on any other drive.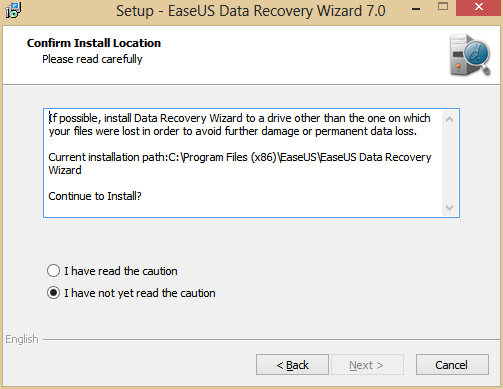 And you just have to finish the installation, I chose to run the program after install is complete.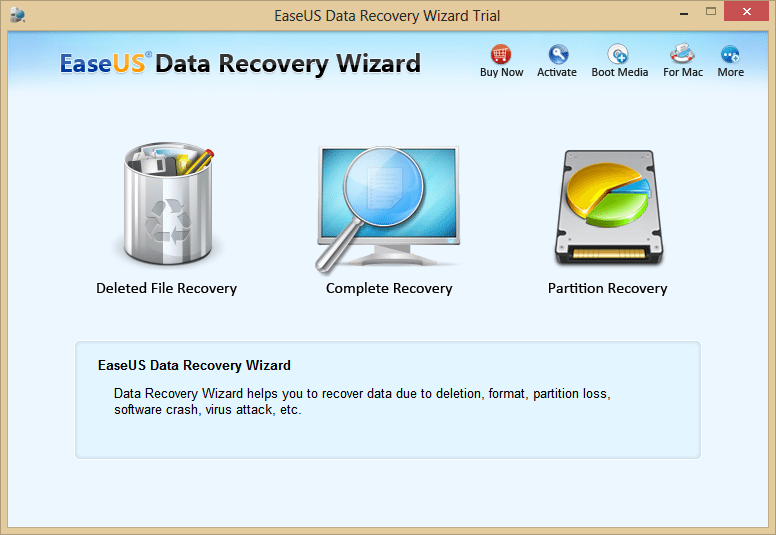 You will land up on this Main screen of the program with three options which I will discuss later. I will first activate the program, to do this, simply click on Activate and enter the key there (assuming you have one) or you can buy one by clicking on Buy Now.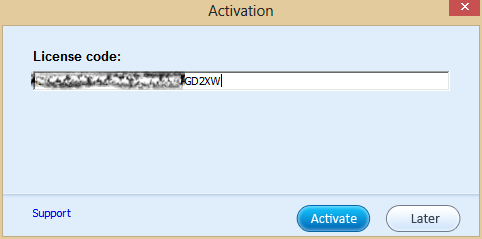 ---
Recovering Deleted Files 
I will first recover my deleted folder that I mentioned above. Folder size is of around 1.47 GB, consisting almost all common file types; media, documents, application setups, images, etc.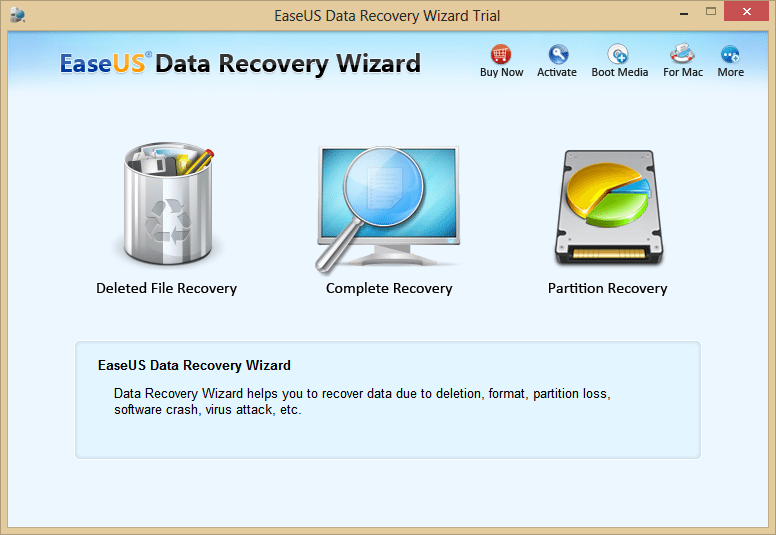 After opening the program (preferably with administrative privileges), you will get three options on the main screen including "Deleted file recovery", "Complete recovery", and "Partition recovery". I will be selecting the first option, as I have to recover my files and not a partition or something else. After clicking on the first option, you will get a screen asking you to select the file types you want to recover. I checked all the options.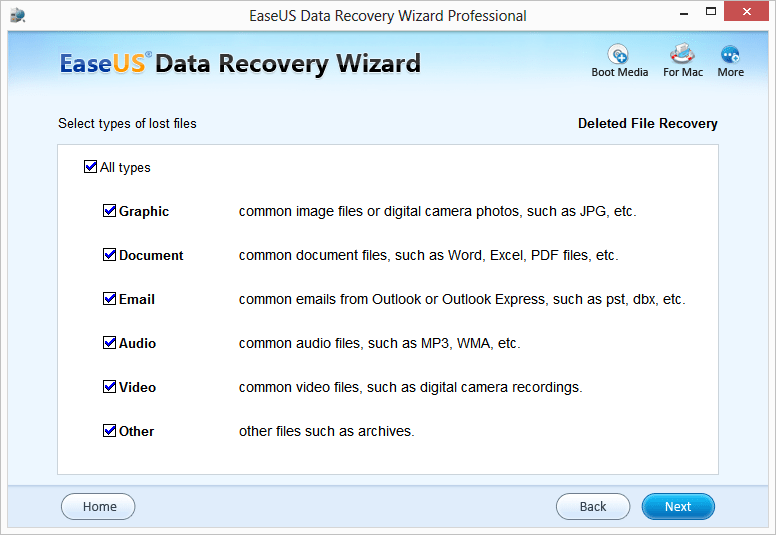 Now after clicking next, it will scan and list the all drives partitions available and ask which one to scan. The scanning time was surprisingly fast as compared to other programs in the class.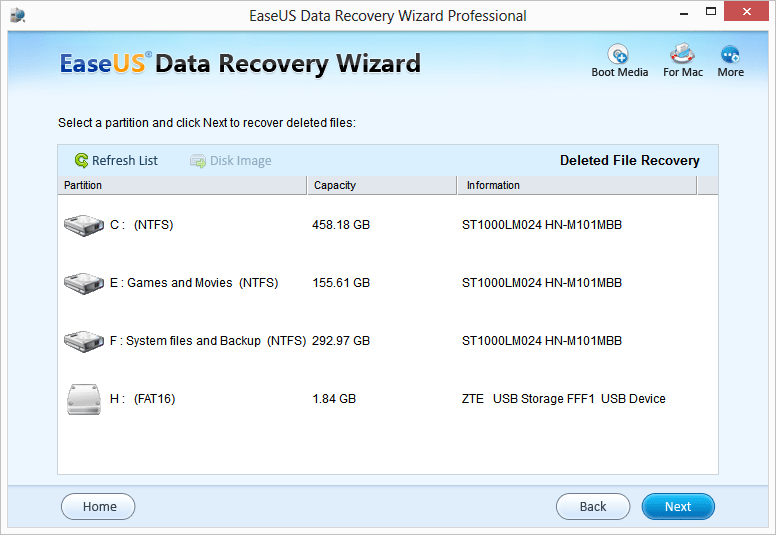 When I selected the drive, the program warned me that if the files are not recovered, select complete recovery mode instead.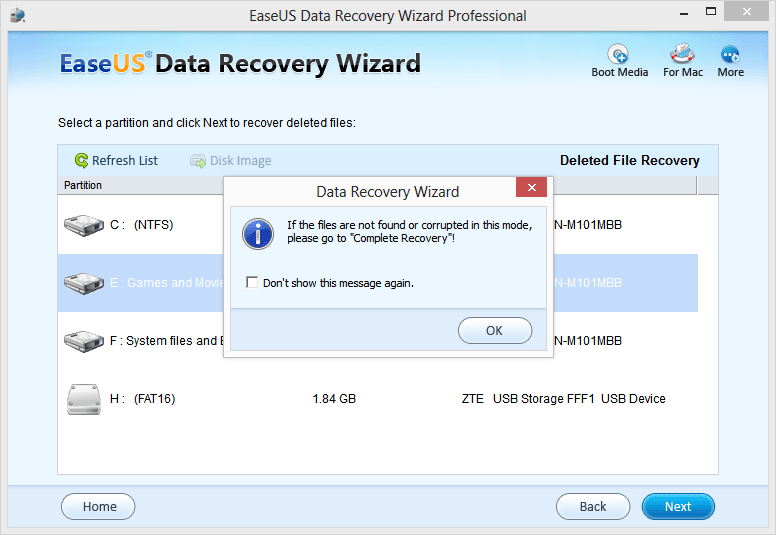 And after clicking next, I was seeing all my files listed in no time. For each individual file you can see its name, size, file type, modification time, creation time, last access date, attribute and state. Select the file or folder you want to recover and click recover.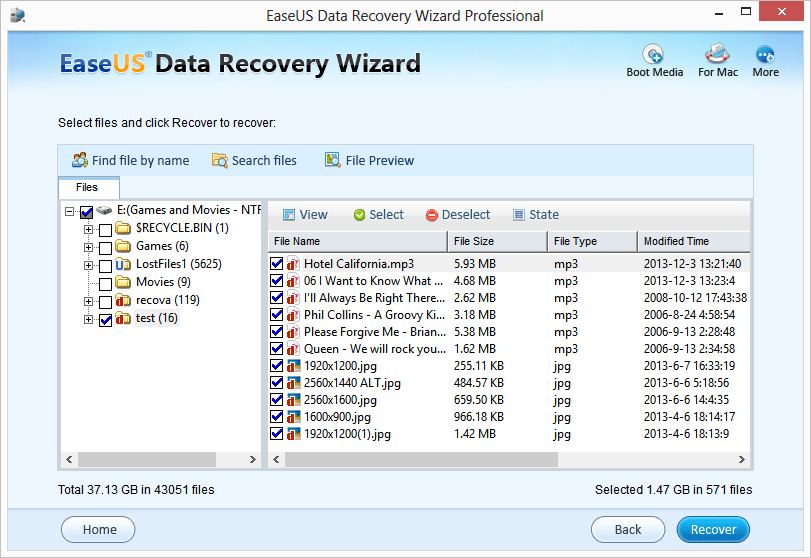 After clicking recover, it will ask you to select the path to save the files and it's NOT recommended to save the files on the same drive.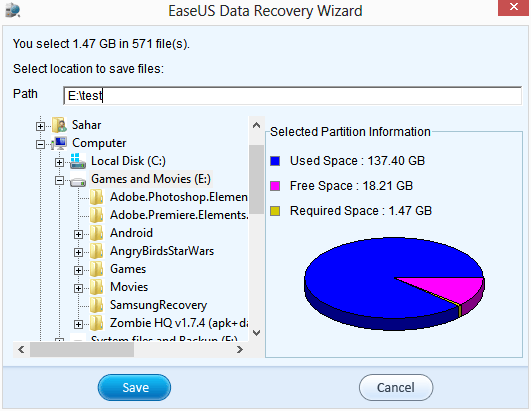 After clicking Save, it will start the recovery process. The process for me took around 75 seconds for 1.47GBs.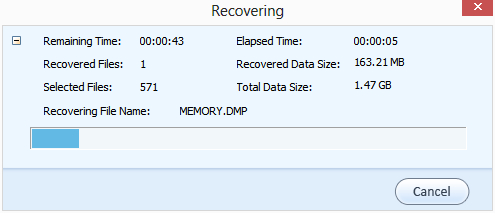 The program should then recover the files.
For me, it did recover all the files this time, and did it fast. I did all of the above once more to be sure and I again got all my media files, docs, rar files and setups back with all of them working perfectly fine. I found it to work really well in recovering individual files. 
---
Partition Recovery
Now that I have the Data recovery Wizard, I decided put it to good use. I used an old external drive, with some movies and purposefully formatted the drive (14.7 GB). Now this time, I selected the Partition recovery option as I want to recover all the data on my drive. In this section, we will see how to restore complete partition/drive using Partition recovery option.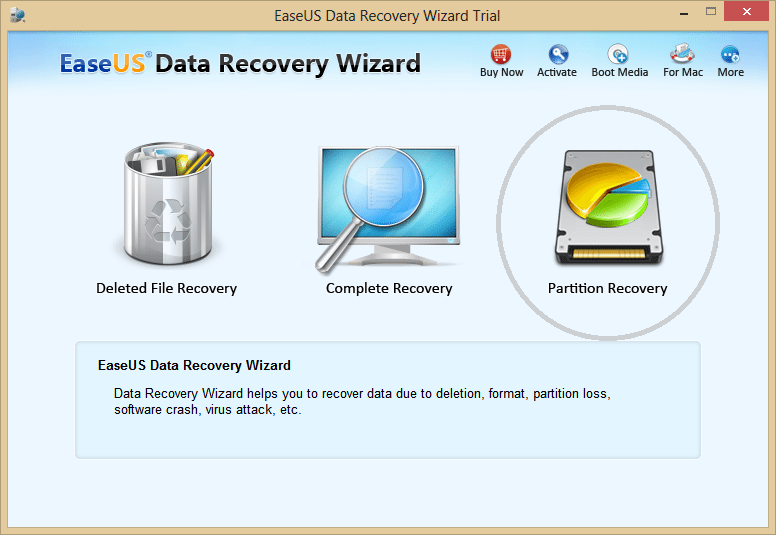 Now, if you remember the file types you can refine your search by selecting them. If you don't, just select all the files, it doesn't really make a difference.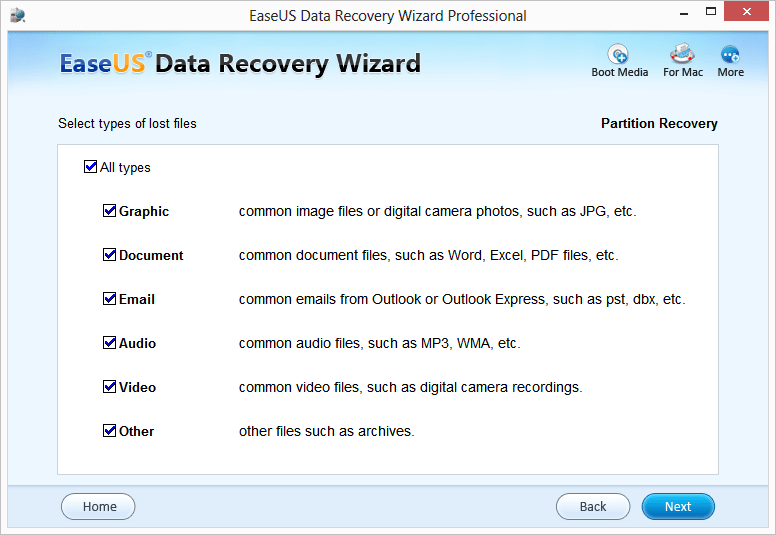 Now as you click Next, you will be asked for the drive to scan for deleted files. Select the desired drive, and click Next.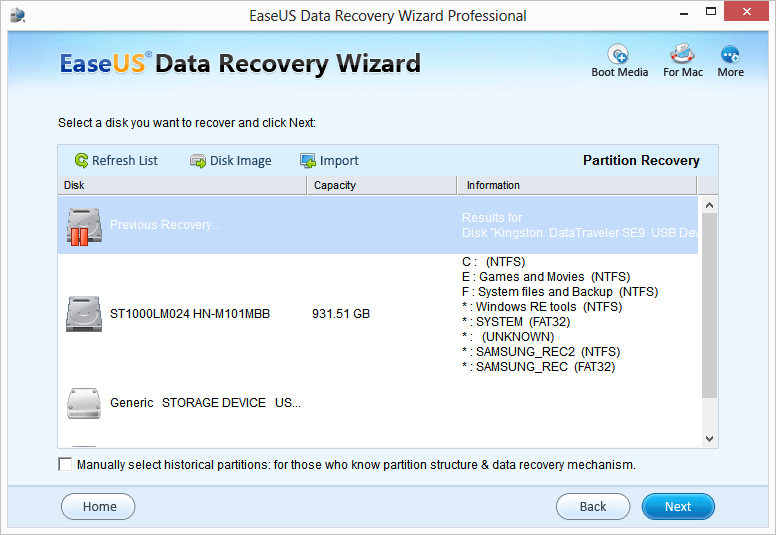 The application will now scan the drive. And as compared to what I told you earlier, the scanning process was not too fast this time when doing a full partition recovery scan.

Now when the scan completed (14 minutes), the program displayed all the files it found. For each individual file you can see its name, size, file type, modification time, creation time, last access date, attribute and state.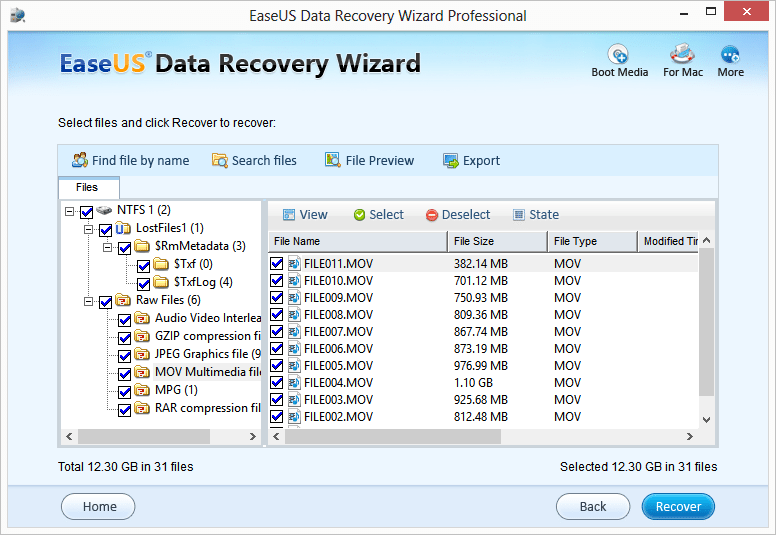 Now you just have to click on recover and it will start the recovering process. The time it will take directly depends on the size of the files you are trying to recover. I tried to recover 14.7 GBs of data and it took around 19 minutes to do so.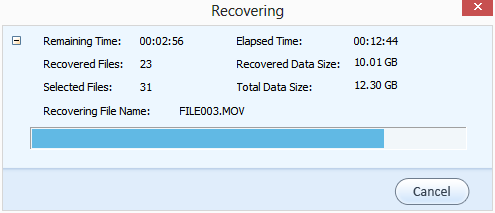 Now as the process is complete, you will get a window like that below telling you files are recovered and with a Facebook and Twitter link to like and follow the company on social media.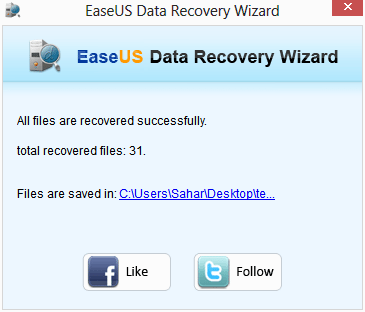 During the partition recover however, I was not overly pleased with the results. My drive previously had 16 movies on it, each with it's subtitle files and it only recovered 12 movies in which 1 did not play correctly and crashed my media player instead.  The Software didn't recover even one subtitle file either. I repeated all of this again to be sure and the second time, it only recovered 9 movies and no subtitles this time as well.
---
Some of the nice features and letdowns of the program I noticed were:
PROS
Easy installation.
Free tech support
Small size.
Allows you to preview individual files (images).
Let's you view its name, size, file type, modification time, creation time, last access date, attribute and state.
Scanning takes less time.
Recovering is also fast.
Easy to use.
Advanced features.
Reasonable price tag
CONS
User interface could have been better.
Didn't recovered all the files when doing a partition recover.
Files not usable sometimes when restored from partition recovery.
---
EaseUS, did impress me when doing individual deleted file recovery and is certainly among the best data recovery software programs in it's class I have ever got my hands on, even though it wasn't completely successful in the partition format recovery.  The product could be upgraded to expand file type support so that subtitle files could be recovered and there is room for improvement  however.  I still think the software worth recommending and you can buy your copy of EaseUS Data Recovery Wizard 7.0 or take a look at their other great products available on their website.
Hi, I am Ishaan Farooq, let me introduce myself. I am a Tech Blogger from Lucknow, India and am a big Techo Freak who loves to Surf Internet the whole day and is a Modding, Programming and Customization Enthusiast.