There are many reasons why bloggers should be adding some custom verbiage at the end of their RSS Footer and these can include anything from Copyright statements to backlinks which can garner you some extra visibility and possibly backlinks to your sites.
The RSS Footer WordPress Addon written by Joost De Valk provides an incredibly easy way for you to customize your RSS Footer. Simply install the plugin and go to the RSS Footer options.
Here you will get pure simplicity, just enter the text (supports HTML) that you want to include at the bottom of your feed.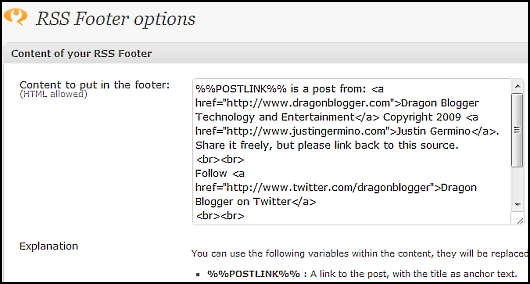 It will append anything you put here to the bottom of your RSS post (even supported on RSS summary or full feeds). You will get a quick preview of what you entered will look like below this window.
Click the save button and then check your Google Feedburner to confirm your new footer picks up in your feed:


The good news is once Feedburner picks up the feed update all of your previous posts will automatically inherit the Post Footer.
If you would prefer to add a statement at the top of your feed, the RSS Footer can actually insert the custom text into the top of your feed after the Title as well if you would prefer it to lead your article instead of show up after your article.
One other benefit of including your site URL and possibly post link in the Post Footer is if any other blogs read in your RSS feed to try and showcase (steal) your content, you will automatically get a backlink or two and it makes it easier to determine who is reading in your feed and republishing your content without your knowledge.
Summary
RSS Footer is an invaluable resource for adding custom content to the bottom of your RSS feed, and I have now installed it and configured it on all 7 blogs that I am administrating. I have also seen other bloggers include invitations to subscribe to mailing lists in their RSS Footer which is a great idea as well.
-Dragon Blogger