I was reading an article from Blazing Minds about the Best WordPress Blog Posting Plugins and found a plugin called Dashboard Scheduled Posts which I had never heard of. This WordPress plugin puts a dashboard module showing you all of your scheduled posts and the dates that they are scheduled in much the same way the "draft" module does.
All you have to do is download and install the wordpress plugin, activate it and voila!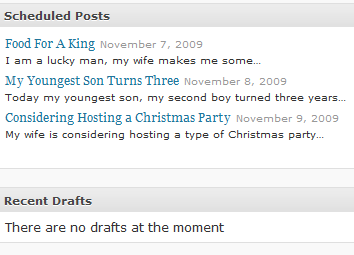 You have a module on your dashboard showing your scheduled posts and dates, this makes it easier than having to click on "Edit Posts" and Scheduled and shows you at a quick glance how many posts you have queued.
Thanks to Karen @ BlazingMinds for posting about this one.
-Dragon Blogger