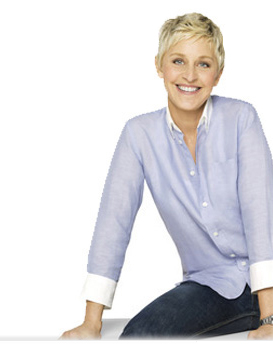 UPDATE: Attention Dragonblogger fans, we are hosting a giveaway of our very own.  Click here to find out how you could win a brand new KINDLE FIRE!
Ellen Degeneres has not only perforated our spleens with laughter but filled our hearts with warmth over the years.  Whether its with her off the cuff humor, sly and sinister audience pranks, or the numerous fresh starts she has provided ‒ Ellen herself is a gift that keeps on giving.  One of the most novel ways she gives back every year is through a little something called the 12 Days of Giveaways.  The kind of magic that now surrounds the tickets to the 12 Days shows easily outdoes Willy Wonka's golden tickets.  Gaining one of those tickets means going home with a sack full of toys like an [easyazon-link asin="B003O6EE4U"]Xbox 360[/easyazon-link], a [easyazon-link asin="1400532655″]Nook Color[/easyazon-link], or a [easyazon-link asin="B002SJYDQ8″]Toshiba Blu Ray Player[/easyazon-link].  Have I tried gunning for them?  Yup, several times in fact, but hey even though every time the only tickets I ended up with were imaginary ones…the best part about those shows is watching others go insane.
It's a guilty pleasure of mine ‒ I could just picture you readers out there flailing your limbs wildly ‒ I know I would.  Just because I can't obtain one of those elusive tickets doesn't mean one of you Dragonblogger readers couldn't.  Readers, join me in the quest for the 12 Days tickets!  I'd love to hear one of you folks got hooked up and had their holiday made even just a little sweeter.  Now I can hear you saying: "But Persian Poetess those tickets are impossible to get, the website doesn't list any of the days as open for requests, the odds are infinitely against me ‒ ITS TOO MUCH DARN WORK."  Pull it together my friend.  I will tell you exactly how you could possibly end up in that audience.  All you need is the strength to press a few keys on your keyboard and the desire to kick back with Ellen like you always do.  Simple right?
Ok, let me be more specific, there are currently 7 ways in which you can win 12 Days tickets.  All of these avenues are directly handled by Ellen's awesome staff.  Without further adieu ‒ stop hyperventilating sweety ‒ they are:
Method 1: Word of the Day

(NOW OVER)
Watch Ellen each day to obtain a word.  What do you do with that word you ask?  Err…enter it here!  There you're done.  See, I told you it was simple.  Now stick with me…
Method 2: Ellen Shop Special

(NOW OVER)
Make a purchase of $25 or more to get a chance to win two tickets.  She has some cute things in her shop.  You could simply purchase her charming book Seriously…I'm Kidding which should cover the price tag.  If its sold out then check out the quaint mugs and stuff.  Order what you like and BAM your name will be thrown in the hat.
Method 3: Facebook Frenzy

(NOW OVER)
In the most surprising twist of all, Ellen is offering Facebook fans the chance to win tickets everyday for the 12 Days shows.  Like her Facebook page and click the 12 Days Ticket Giveaway link on the left menu.  Enter in your contact information and enjoy Ellen's words of encouragement.  She said she had a special feeling about my entry…AND I BELIEVE HER!  Strangely many people claim she said the same to them. *shrugs*
Method 4: Buy Them

(NOW OVER)
Got $5k lying around and feel in the mood to help out some deserving charities?  Ellen will give you the VIP treatment as outlined on the GROUPON page.  Majorly helping out and being treated like royalty by the Big E…sounds like a pretty awesome deal to me!
Method 5: Stalk Her Website (OPEN)
This method involves more patience ‒ and perhaps some coordinated group help (hint, hint…help each other out commenters).  There is a calendar page on her site in which you can request tickets for days that are marked as "Available."  You can find the calendar here.  Toggle it to December and watch for days between December 1st-13th or even January.  If the day you want isn't open but an earlier day is, do not delay!  At times people are fortunate enough to get tickets for shows that are a couple days after or earlier the one they requested if the show still has just enough to go around.
Method 6: Stalk Her Twitter (OPEN)
You guessed it…this is another patience method!  Ellen loves to pull surprises on her Twitter.  Watch for when she calls out to fans to arrive at a certain location dressed up in a wacky way.  She has often given such flash mobs showers of 12 Days tickets.  If she beckons people to arrive at a location that's in your hometown, definitely pounce on it.  Besides, you'll get to spend the day with people just as fun-loving as you.  Sadly, I'm not sure if your boss will see it in the same light though. *sighs*
Method 7: Day Of Tickets (OPEN)
This is pretty much the last and most desperate method.  Some tapings have a certain amount of standby tickets available to give away.  To obtain these you need to call the following number before 12 PM PST on the same day of the taping you want to attend: 818.954.5929.  Remember this does not necessarily mean tickets will be available when you call and they can deny entrance to anyone at any time.  It can be a fruitful method with enough persistence and I have heard of folks who have snatched up such tickets.  I never personally tried to go for them.  I feel like less of a dedicated fan because of that…please no one pelt me with tomatoes!
There you have it.  I have given you 7 ways to dance to The Most Wonderful Time of the Year with Ellen.  Even if you don't get to do that in the audience during the 12 Days of Giveaways, keep on grooving with the rest of us Ellen fans at home.  Persian Poetess out!
Mitra Faridian first joined the site in 2011 under the handle "Persian Poetess." Her gaming and entertainment taste is very eclectic and she's always open to a fun new virtual adverture. Email her at the following address: mitra [at] dragonblogger.com