I have to thank @Ileane from Basic Blog Tips for turning me on to Viewbix over the past few weeks.  I reached out to the company and started testing their service and was thoroughly impressed and now am not only a customer but am a fan after seeing what this service can do and how it can help others who create and produce video content.
What is Viewbix
Viewbix in itself doesn't host the video content, but instead wraps around your video content that you have hosted on other video sharing sites like YouTube, Vimeo, Amazon Web Services, Facebook or any hosted FLV/MP4 on another website where you can link directly to the video.
Viewbix is a service that allows you to integrate widgets and customizations on top of your video that can add interactive elements making your video's more attractive to viewers as well as offering an action that they can take.  This goes above and beyond anything you can do with YouTube where you can only link to click on other videos' from within a video for example.
Why Use Viewbix
With Viewbix you create a Player for each video you want to host, this player can be custom tailored for each video or you can create 1 player that you clone for multiple video's.  You have the ability also to even put multiple video's inside the same player so the reader can simply watch more than 1 video while on the same page with the player embedded (if you did a series of video's on a subject for example).
Example of a customized player I used for DragonBlogger.com:
Branding
First off you notice right away that there is branding of your logo with a link to your website at the top of the player, this is a huge bonus and helps drive traffic from your video's to your site if they are hosted on other sites.  You can also leverage this to be a product link, since you can customize for each player.  Say you do a review of a product sold on Amazon, how about using an image of the product with a "buy now" with a link to the Amazon Affiliate for that product for example?
Subscribe Now
Now, with Viewbix you can add a subscribe button to easy allow subscribers to connect and follow your video content.  This will take the viewer to the "video service" from where you embedded the video so they can subscribe to you.
The awesome thing when you link RSS to your video is that when the video is finished playing, it shows your most recent RSS feeds at the end of the video.  For my gaming video's I specifically link to my gaming RSS feed, so when the above video would end, a reader would see something like this: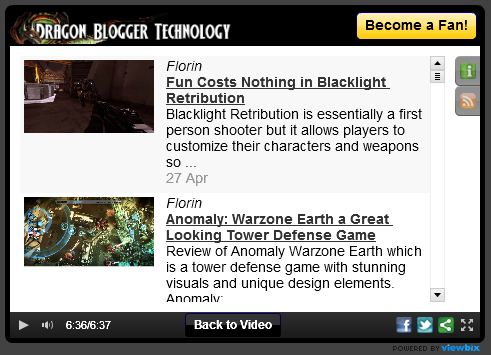 You can choose any one of the apps to display at the end of your video however, so you choose which app you want to display and you can choose for each player separately, even if you clone your template or 1st player.
Embedded Apps
A huge benefit of Viewbix is the ability to add a bevy of side buttons that include easy ways for viewers to sign up for mailing lists (Aweber, Mailchimp supported) and RSS feeds.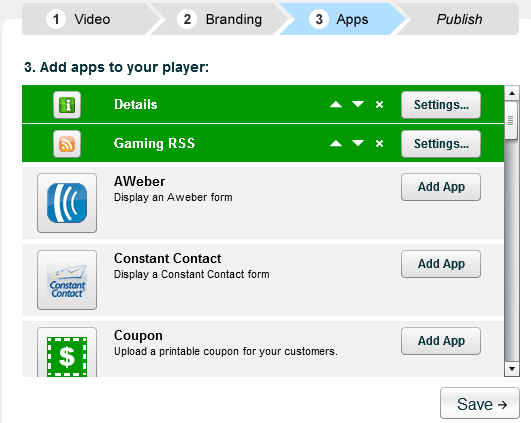 You can do so much more than that though, and just some examples of what you can do with Viewbix Apps are as follows.
You can add a Skype button and have viewers reach out to you and connect directly if they have questions, want more info and you want to engage them on a one on one basis.
Google Maps or Store Locator
If you do a video from a local business or place you can embed the map so viewers can instantly see where it's located and how to get there.
Show status updates and social media communications if a user is curious.
Photo Sharing (Picasa, Facebook and more)
Give viewers the option to see photo collections that may be related to your video or service with 1 click.
There are a lot of options to choose from and you can get creative, but don't put too many buttons to where you are overwhelming the viewer with a sidebar full of too many buttons.
Social Sharing Buttons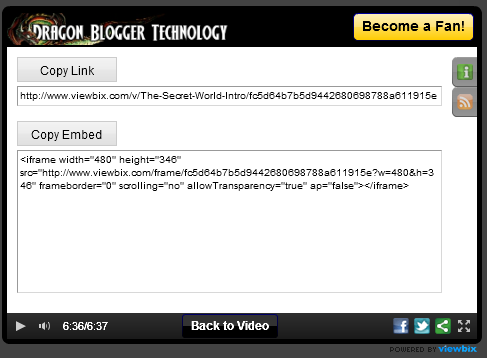 You can see at the bottom of the player there are 1 click social sharing buttons for easy sharing the video on Facebook, Twitter or direct link/embed code.
AdSense / Monetization Stays Intact
Because you may have monetized your YouTube video's you can rest assured that the monetization stays intact and untouched.  If you had ads displaying on your video's on YouTube they will continue to display without issue.  This player just wraps around the video you pull into it, this is why each video or set of video's gets configured as a "player" not a video.
Mobile Video Support
Viewbix player is supported by all major mobile browsers so you know your video can be played by anyone visiting the player either embedded on a website or directly from any devices.
Get Viewbix Now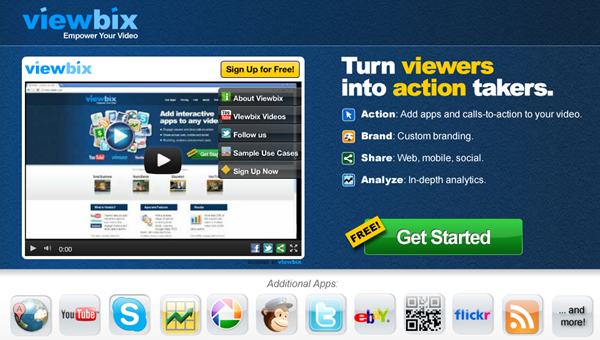 Viewbix not only allows you to add interactions and call to actions for your viewers, but allows branding to help make sure viewers connect your brand and site to your video's.  This is a way to increase your following and potential sign ups or purchases as well as shares of your content on social media outlets.
If you join Viewbix now for free you can test out 2 players and see if you like the service, you won't get the ability to put a branding logo at top left of player but can put some apps into the sidebar including RSS.
But, I have worked out a great offer for DragonBlogger.com fans only, and you can sign up with the coupon code "5buckpromo" with this link: Sign Up for Viewbix Now and get $5 per month for 1 year.  This coupon code expires on August 1st, and this Pro plan gives you 100 players and 250k video plays per month for $5 per month.
The normal price is $19.99 per month for 250k video plays per month so you are getting $75 percent off for a full year.
Viewbix has not shown to conflict with any Wordress plugins or cause any problems when embedding video's on a WordPress blog, and I highly recommend bloggers who leverage video, video marketers or video game enthusiasts to use Viewbix to help their videos do more for them.
-Dragon Blogger
I have been obsessed with computers, tech, gadgets and games since the early 1980's having grown up on the Commodore 64 and Amiga computers.
By day I work in the IT Security Industry and have been in IT for over 20 years. On my spare time I am a Vlogger, Blogger, Streamer, Gadget Reviewer, affiliate marketer, influencer and entertainer. I am also an avid movie fan, TV Show fan, Anime fan, video game fan and fan of trying anything and everything new.