Final Thoughts and Conclusion
There's a lot that's right with this case, and only a few issues, most of which will not affect many.  This case has plenty of space for larger CPU heatsinks and larger cards, plenty of space for storage, many cooling options and leaves with a nice-looking system, if you cable it right.  Let me give you an example.
With all that, let me provide the pros and cons I found with the system.
Pros
Very affordable
Nice Cable Management
LED lit front panel I/O
Easy access to PCI-E retention card screws
No optical bay, smooth front
Tempered Glass tinted side panel
Includes 3 fans, rear 140mm and 2 x front 120mm fans
SUPER Quiet
Up to 6 hidden Drives (6 x 2.5, or 2 x 3.5 and 4 x 2.5)
Allows for many fan or liquid cooling options
Cons
Potentially difficult motherboard placement, if your motherboard board has 90-degree headers on the bottom of the board, SATA Ports or connections on the bottom of the board.
Power Supply Cover is not easily removable
Does not support E-ATX motherboards
A scan of the boards on Amazon, none of the motherboards I found had 90ׄ° angled ports.  On EVGA's site, their higher end boards did have 90° angle ports, but those that did have recessed ports, maybe they had similar issues with other cases.  A Case in point, is the EVGA X299 Dark as shown below, I have circled the recessed angled pieces on the board.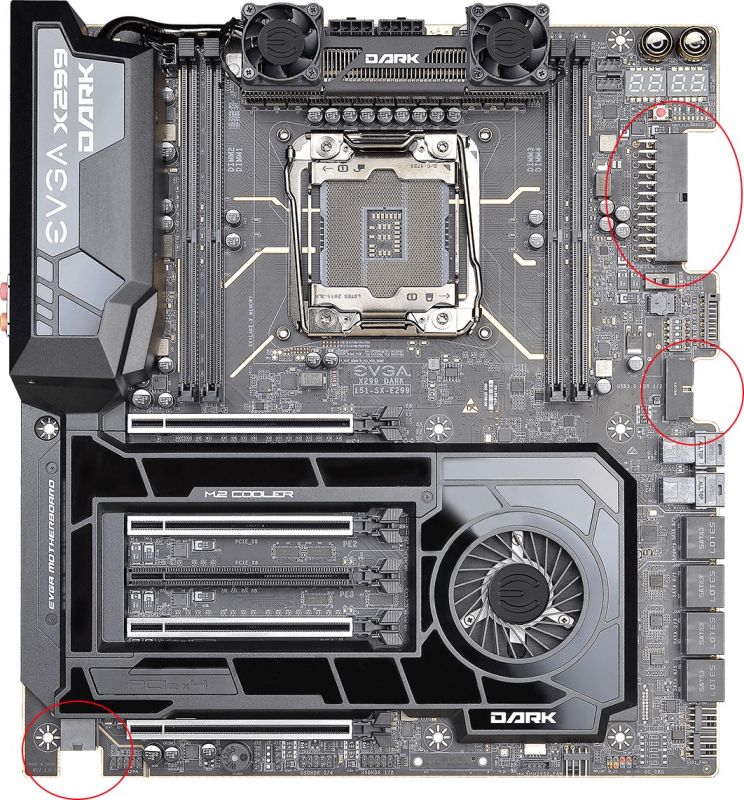 Please note, I am not picking on EVGA, I am merely referencing them as the board I am using on this build is an EVGA Z270 FTW K.  This must have been mentioned to them and they took of it to make sure their customers are happy, that's great one EVGA's side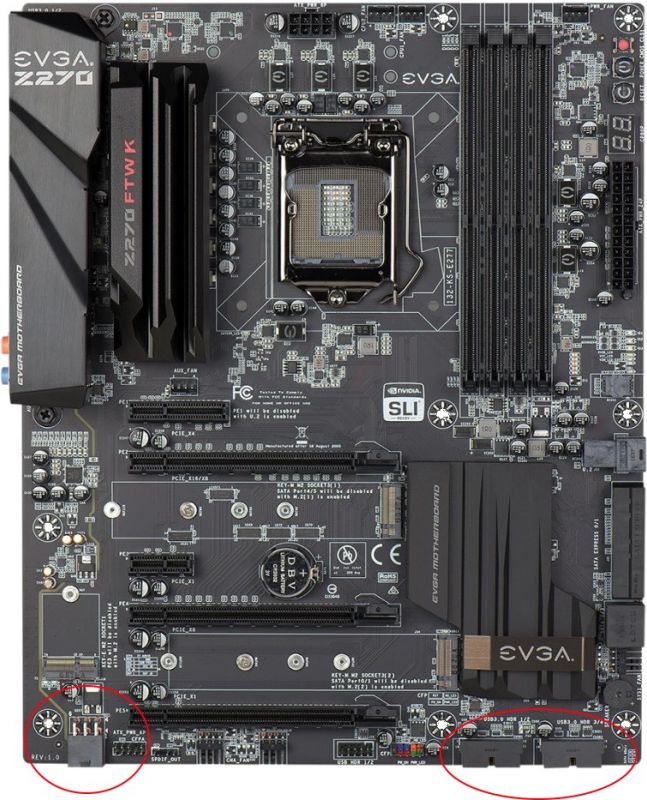 A pic of the EVGA Z270 FTW K for reference, notice how these ports are flush with the board?
So with that, EVGA has continued to make their 90° angled port, but has taken additional efforts to make sure you don't have issues with them.
As for the power supply shroud not being removable, sadly that is the choice all case manufacturers have taken as it is cheaper to have a machine rivet the into place, rather than have a person drill holes into the case and screw them into place.  A machine can do the screws and drill the holes as well, but it might be more costly and that cost would have come down to you, making the case more expensive.
The liquid cooling unit not fitting, sadly not all liquid cooling units fit into all cases, and I have had some issues with it on other cases, so I cannot fault Enermax completely for that.
The Enermax Equilence is an excellent case, all deserving 5 stars and an Editors choice, though I do have to down play that 5 star review not because of what I went through to get to a perfect case for my needs, its hard to please everyone.  I had to take away a star because of the documentation, they don't list what liquid cooling units are compatible with this case.  My reviews usually go by Form, Fit, Function, Features and Figure (I would say cost, but it makes it sound better with the 5 F's, so figure fits the bill) and it did win 1 star for the cost, but the cost is that good so I popped in an extra .5 for the cost.
With that, it's still not a 5 star, it is a 4.5 star but it still fit's the Editors Choice Award.
Great job Enermax.