I have used Viewbix on and off over the past two years and admit that I haven't used it as often as I should when embedding videos on my WordPress blogs.  The features you gain from using the Viewbix player are above and beyond anything you could get from just embedding a YouTube or Vimeo video and these include everything from adding links right on the player to get more information about the video subject, linking to your YouTube channel playlist, RSS feed, Twitter feed and so much more.  This just scratches the tip of the iceberg so to speak.
Here is an example of one of our most recent video's added as a Viewbix player.
Now, you can see in this video you can use your own logo for branding which can link back to your site, I have added a "Buy Now" button so the viewer can click and purchase the product if they liked the review and really want a copy of the product for themselves. I listed an app to showcase our YouTube Channel, another for our Twitter feed and finally a last one for our Twitter account stream.
Side by side, here is what they look like both embedded on the same page.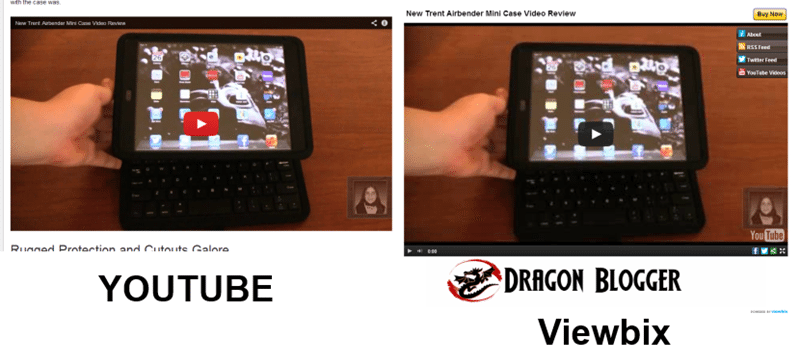 Just click on the YouTube, Twitter, RSS feed and you can see the types of features the Viewbix apps can offer you.  Here is what it would look like if you click on the YouTube Videos and have it show your most recent YouTube video channel.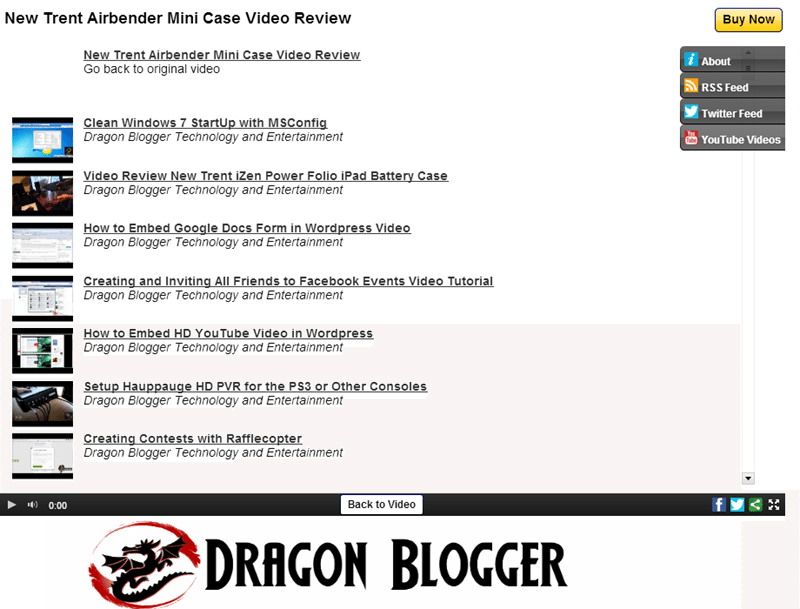 The Viewbix player also lets you put multiple videos in the same player, so you can keep all episodes for a series in the same player or more.  I can do a video player for all iPad case reviews for example and just keep adding the latest video to it and keep that player on a static page.
You can also easily clone a player, so you can save all apps in a player and duplicate them to another player.  Each player is a single video or collection of videos and you put apps and information into the player.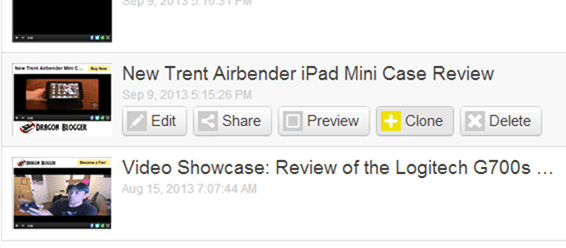 You have so many apps to choose from and even more if you have a premium Viewbix plan. This is only a fraction list of the apps available.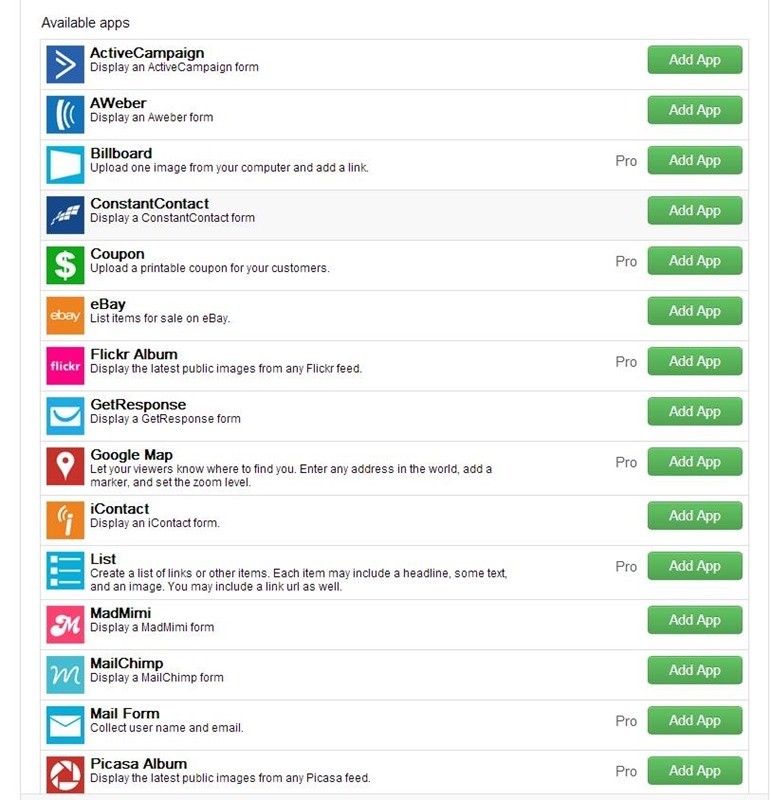 Say you do a video showcasing a local event coming up, you can easily add a Google Map app so the user can click on the map and get exact map location of the event.  You can add links to a Picasa web album, Flickr album associated, and apps to allow viewers to sign up for mailing lists on Aweber, Constant Contact, Mailchimp or others.  You can even have them simply enter name and email so you can manually add them to a mailing list if it is a service without native integration via app.
Viewbix is about engaging your viewers and giving them more options than just leaving the page once the video is completed, they can click on next videos, learn more about the information shared in the video or engage in other ways.  Viewbix allows you to take your media engagement up a notch.
Video Analytics and Click Tracking

Sure, YouTube gives you some excellent analytics but click tracking and clickthroughs as well as social media shares are not something you get a lot of analytics on.  App usage is also important.  YouTube shows you views/likes/dislikes on an individual video, it has some great analytics for video views, and as a channel but is lacking for any extra activity or actions in a video, particularly if you have a link in description you have to track clicks by using Bit.ly or other URL shrinking service for any links in the YouTube video description.
Viewbix also has a Gallery Mode if you want to have multiple players in a gallery so that viewers can access an entire video catalog all from one location though this feature is for Platinum or Titanium Plan users.  In the Platinum plan as well you can have video SEO and custom video sitemap files.
I still use Viewbix and plan on leveraging it more when incorporating videos in blog posts for the extra apps and offerings you can have, this is a really good way to put a video with calls to action on affiliate landing pages and other pages where the video itself can be a gateway to more than simply watching the content.