Hey there.  In need of a gaming mouse?  If you do a search for one online, you're going to get a whole slew of options.  Many different colors, options, feels, weight, and a wide range of DPI are among just some of the options that are available.  It's enough to confuse the casual gamer that just wants a mouse that is good for gaming, good for everyday computer use, and most important… makes economical sense!  Well, don't waste anymore time with that online search!  I have the gaming mouse just for you.  Introducing the Etekcity Scroll T-142 Optical Gaming Mouse.  Our good friends over at Etekcity have provided the Dragonblogger team with one of these bad boys to test out and review.  I was the lucky one to test out the gaming mouse for over a week.  So before I get into my experience, let's talk specs.
The Etekcity Scroll T-142 is a wired Optical Gaming Mouse (durable sheath cable)
500-4000 DPI
High Precision Optical Sensor
Durable key life (more than 5 million clicks)
Ergonomic design created for all day comfort and control
Sniper/rapid fire buttons
LED illumination
Compatible with Windows XP/Vista/7/8 and Mac OSX
Now, on to my first thoughts and experience.  Once I took the mouse out of the box, my first thing that caught my attention is the rubber coating around the mouse.  The ergonomic design is nearly flawless.  The mouse fits comfortable my hand and the rubber coating provides exceptional grip.  For those of us that love FPS, you know that precision is a big deal and after moving your mouse so much, sweat is going to get on it.  I wondered if the grip would hold after an intense gaming session (spoilers… IT DOES!).  I also noticed a button on the side with cross hairs on it. This button is the sniper/rapid fire button.  Again, perfect for FPS players. So far so good.
I plugged the mouse into my laptop (running Windows 7), it lit up, and it automatically started to install the drivers.  Love that.  The Scroll T-142 comes with a 3″ CD that includes software and drivers but let's face it… most of us will end up losing that disc after a month so for the mouse to automatically install drivers is a huge plus.  I won't have to worry about looking for a disc or finding drivers online if I ever decide to use the mouse on a different computer.  As for the disc…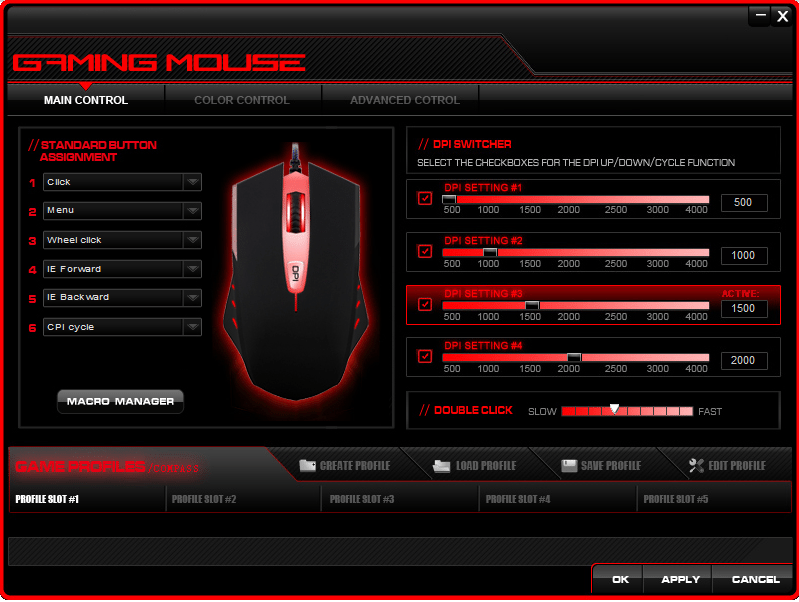 The disc includes the software that will allow you to customize your Etekcity mouse.  After a quick install, you will know have the option to make the mouse truly yours. The customization options are broken down into 3 tabs: Main control, Color control, and Advance options.  In the main control tab, you can customize all 6 buttons to perform different actions.  You can choose the settings for your DPI button.  Now, before I continue, let me tell you about a cool feature about that DPI button.  You can set 4 DPI values for the DPI button.  With each press of the button, the mouse will go to the next setting.  The default DPI settings are 500 DPI, 1000 DPI, 1500 DPI, and 2000 DPI.  Also, with each DPI setting, the mouse's LED illumination will change color!  I thought that was pretty awesome.  I can have a soothing blue color when using a low DPI setting but switch up to blood red when I need a higher DPI setting for gaming.  I thought it was a great detail that really sets it apart from some of the other gaming mice out there that offer customization for their DPI setting.
The second tab is the Color control tab.  Here you can decide to turn on or off the illumination of your mouse, decide on the LED intensity and how quickly the light pulsates.  The third tab is the Advance Options.  Here you can decide on the mouse wheel speed, mouse pointer speed, and where or not you want pointer trails.  Also, you can set up to 5 profiles for the mouse but you can save as many as you want and upload them when needed.  It's great for those of us that have more than one gamer in the house.  Each one can have their own personal settings stored and you won't have to worry about someone else messing with your options.
So now, for the test.  For everyday browsing, you can't go wrong with this mouse.  Everyday browsing doesn't demand much from a mouse so having all these features is better suited for gaming.  After some Left 4 Dead 2 and Call of Duty Black Ops 2, I can saw that the Etekcity Scroll T-142 Optical Gaming Mouse gets the job done.  The precision was spot on, especially after customizing it.  The DPI button works great for when you need to adjust DPI on the fly.  And the sniper button… that thing is awesome.  An issue that I had while playing as a sniper in Black Ops 2 is that my DPI setting would be too high and it would make aiming down a sniper's scope difficult.  By holding the sniper button for a second, you can drop the DPI on the mouse to 500, allowing for better control and better aiming.  Once you release the button, it went back to my original DPI setting.  Now that is freakin' awesome!
There are many options when it comes to a gaming mouse.  Even though a lot offer many bells and whistles, they also cost an arm and a leg.  The Etekcity Scroll T-142 Optical Gaming Mouse will give you a strong set of customization options without breaking the bank.  The feel is right, the options are right, and the price is right.  It's perfect for those of us that want a respectable gaming mouse that gets the job done without having to shell out a lot of cash.  For $19.99 on Amazon at the time of this writing, this is one gaming mouse that gives you a great bang for the buck.
This is the Dragon Blogger Guest Bloggers account for author's who want to submit articles and only have credit in the post instead of having to manage their own WordPress profile.