Gameplay and Performance
While reviewing is a very time consuming and frustrating hobby at times, these are the times I look forward to in between.  In this page, I get to play some games to show you just how well this card performs.  Here I will be playing Grand Theft Auto V, Battlefield 4, Battlefield One and Tom Clancy's The Division all at 3840 x 2160 and yes, I will show you the settings.
Not too bad, anywhere from the upper 40's to the low 60's.  Need some more action, let's check out Battlefield 4.
Sadly there was no one really on the server, but I did run around a bit, lots of shooting and some driving as well.  With everything turned up, we saw frame rates from the upper 50's to the upper 70's.  Smooth gaming, but if this a little too futuristic, let's go back in time to Battlefield One.
In Battlefield One, there was tons of action and here we can see frames per second in the upper 40's all the way up to the 80's.
The Division suffered a bit at everything maxed out from the 30's up to the 50's.
The problem with recording is that the framerate will drop while recording, anywhere between 10 and 30 frames per second.  The reason this occurs is the card you are playing the game on, rendering all those high-end graphics is also doing the processing of the video recording.  For all of these recordings I was using Action! Screen Recording software utilizing Action!'s NVIDIA NVENC Hardware Acceleration feature.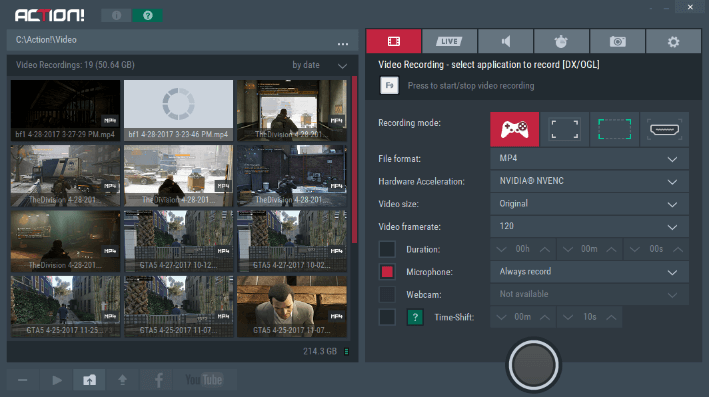 For those of you that want a little more, check out the next page where I overclock the EVGA Geforce GTX 1080 TI Founders Edition and then compare the results with the base results.
I have spent many years in the PC boutique name space as Product Development Engineer for Alienware and later Dell through Alienware's acquisition and finally Velocity Micro. During these years I spent my time developing new configurations, products and technologies with companies such as AMD, Asus, Intel, Microsoft, NVIDIA and more. The Arts, Gaming, New & Old technologies drive my interests and passion. Now as my day job, I am an IT Manager but doing reviews on my time and my dime.