Ingboo which is the company behind Ingboo.com which makes a site where you can collect and keep track of all your RSS feeds or even turn any streaming site into a custom RSS feed released a new WordPress plugin called Facebook Like for Tags.
This free WordPress plugin goes above and beyond your traditional Facebook Like button in that it automatically subscribers users who "like" your posts so that they receive future Facebook updates on later posts that match the same criteria as the post they "liked".
Think about this, this is like having an RSS Feed to your Facebook stream and you can set the criteria one of two ways.
Facebook Tags Feed
Whenever a user likes your post, they will receive an update in their Facebook stream if any future post as the first 1 or 2 tags you used in this post.  This means if you tagged your post with "Technology" and somebody liked it via this Facebook Like for Tags plugin, then they would see an update on their Facebook stream for any future posts with the first tag "Technology".
Facebook Categories Feed
This will similarly subscribe a Facebook user to updates from any posts with the same "Category" as the post they liked.  So if they like a post that was in your WordPress category "Poetry" they would get an update in their Facebook stream with any future posts published with the category of Poetry.
The Facebook Like for Tags WordPress Plugin is completely free and offered by Ingboo, you download Facebook Like for Tags from the WordPress Plugin Archives.
After downloading and installing the plugin, you go to the Like for Tags options in your WordPress Settings area: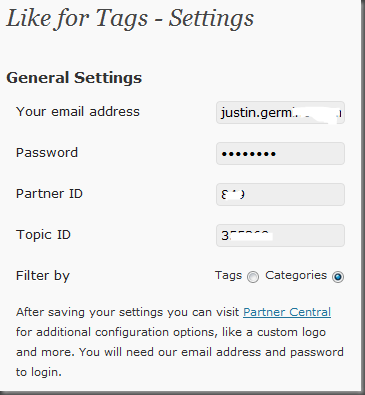 Enter your email for the first time and set a password, choose whether you want to base the Facebook like subscriptions on Tags or Categories.  My personal preference is categories because I rarely use more than 1 category per post, but I will use 10-20 tags per post and never in the same order.  So the way I blog and leverage WordPress tags as META KEYWORDS the Like for Tags isn't as valuable as few if any of my posts will ever match the same 1 or 2 beginning tags (ever).  So unless you use only a handful of tags and repeat your tags often, I would use Like for Categories.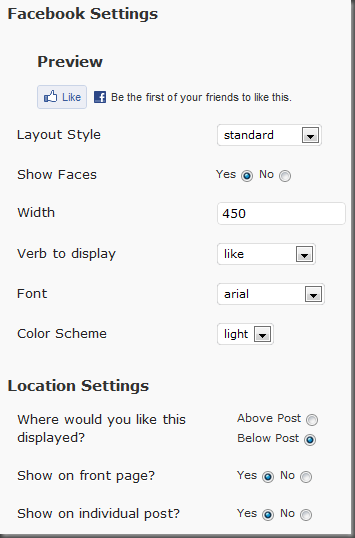 At the bottom you can set your style and location preferences for the Like for Tags WordPress Plugin.  I always prefer below post so a user can see the like button after they finish reading, typically a user doesn't scroll up to top of post to share on a long article when they reach the bottom.
You can show it on the front page or only individual posts, and it looks very familiar like this in its traditional format.

The performance of the Facebook Like for Tags WordPress plugin is outstanding and it doesn't cause any perceivable delay in your pageload times at all.  I have seen Facebook plugins slow your load times considerably, but this plugin is quick and won't hurt your performance.
If you use the plugin, you will need to log into Ingboo.com/pc website and login with the email/password you created.  Make sure you upload a 100×100 logo which will be your logo that appears next to your liked posts on peoples Facebook streams.

I liked the idea and the purpose of the plugin so much that I installed it on all of my blogs that I administrate.
The only downside of the plugin is you must create a separate email for each blog you want to install the plugin onto.  It can be a fake email, it doesn't even have to be real, but the system needs a unique email to set a PartnerID and TopicID for.  This means you will have to sign into the Ingboo.com/pc and set a logo/image for each email but it means you can have separate logos' for separate blog post subscriptions  which is also a good thing.
Facebook Like for Tags WordPress Plugin
Out of four WordPress Facebook Plugins that add like buttons to your posts, this one by far performs the best and offers the most unique feature of having readers automatically "subscribed" to future posts in either the same beginning tag(s) or categories as the post they liked.
This is the equivalent of an RSS subscription for your Facebook stream for only the content your readers are interested in.  I had a few people subscribe to my "Haiku" category post on my poetry blog and they received email updates from Facebook every time a new post was published that was in the Haiku category.  How cool is that!
Download the FaceBook Like for Tags WordPress Plugin and give it a try on your WordPress blog today.  Also, share your feedback and ideas for the developers here and I will make sure it gets passed along to Ingboo.
-Dragon Blogger
I have been obsessed with computers, tech, gadgets and games since the early 1980's having grown up on the Commodore 64 and Amiga computers.
By day I work in the IT Security Industry and have been in IT for over 20 years. On my spare time I am a Vlogger, Blogger, Streamer, Gadget Reviewer, affiliate marketer, influencer and entertainer. I am also an avid movie fan, TV Show fan, Anime fan, video game fan and fan of trying anything and everything new.