Mark Zucherberg spent a large portion of his speech at the F8 conference covering the new Facebook Timeline which covers everything about your life in a timeline of events.  You can go back and add events to history and make a map of your entire life.
Facebook Timeline
This feature is basically rolling an entire personal blog into Facebook while making your personal timeline more like a newspaper of your life (think of Paper.li for Twitter feeds).  You can build events of your live and set their priority or importance in your life.
This new timeline is fantastic for people who use Facebook only for communicating with their immediate and maybe close friends and family, but seems far more like an identity and security risk when you are the type of Facebook user who is a public profile and connects with anyone and everyone as a way to help market and promote yourself and your venture.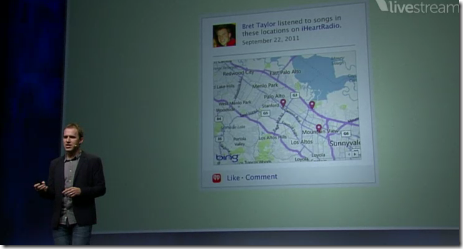 One major risk to security is the Question and Answer / Identity Profiling based security which requires you to answer questions to gain access to applications.  By listing too many important events which typically people use for security questions and answers, you basically allow someone with your Facebook timeline access to possibly guess and answer those security questions facing your life.  Identity Profiling and theft is already at an all time high and people who do share their entire timeline will only expose themselves to more information which could arm identity thieves who want to try and capture your identity as well.
The question is do you trust Facebook's security well enough that you are willing to share every single detail of your life and events online including pinpoint map locations of such events?
Facebook OpenGraph Update
Changes and expansions to OpenGraph change how likes are propagated and things are shared in the Facebook system.  Mark illustrated how apps will become more centric to a Facebook user's profile and share information about them into their timeline.  They are basically assuming that when you add an app you want to add it to your timeline so everything you do with that app shares to your timeline automatically.
This was declared as a "frictionless experience" which is really authorizing the app to post to your timeline all the time without needing any manual interaction after the first configuration to allow it.  Facebook also shared how people can directly interact with the apps and items you share such as start listening to the music the moment you listen to it and it shares, as well as being able to share that you watched TV shows and users be able to watch and stream those TV shows from inside Facebook.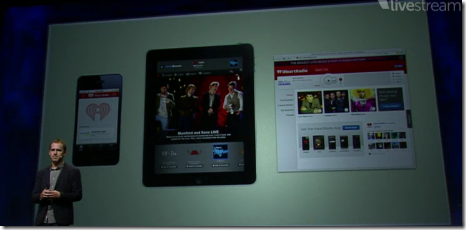 Apps in general will now have more access to a user's information and display that information in users timelines.  This is good news for app developers in increasing exposure and functionality for many types of applications, but especially social ones.
This type of app/media streaming capability also puts Facebook in direct competition with various media streaming services like Netflix, Hulu+, YouTube…etc even more and only shows how Facebook looking to become a central monopoly of everything you do in the same way Google is and has been.
Final Thoughts
I soon expect you will be able to do searching of stuff on the web and results display right from within Facebook and perhaps frame everything inside Facebook and never have to leave the site but do all  your online activity from within a Facebook frame.  It also shows have Facebook is looking to become everything people are complaining Google is now.
In my own experience on what I have read and seen from the F8 conference today, I see Facebook being true to it's core "regular users" while many of the features provide less benefit to bloggers or online entrepreneurs who struggle to get readers to their own blogs to try and get traffic and monetize that traffic.  By sharing all of the reviews, information you would on Facebook you only kill your revenue stream unless Facebook starts allowing for a revenue sharing program on your own timelines in the same way AdSense does for monetizing displayed ads on your own blog.
What are your views on the upcoming changes in Facebook?  Will it hurt their user base or will these features online increase influence and usage?
I don't think Facebook will lose users in droves as Google+ and other services have many of the same features and will likely implement others rapidly, so I do see Facebook gaining ground and being even used more often by the same users who frequent it already.
-Dragon Blogger