It took just a little less than a week for Google to return the FriendFeed friends count back into the Feedburner subscribers for a blog RSS feed.  This change was noticed this morning after checking my blog sites.  I don't know whether it was an initial glitch or a deliberate removal previously, but clearly many people were divided and the subscriber count restored.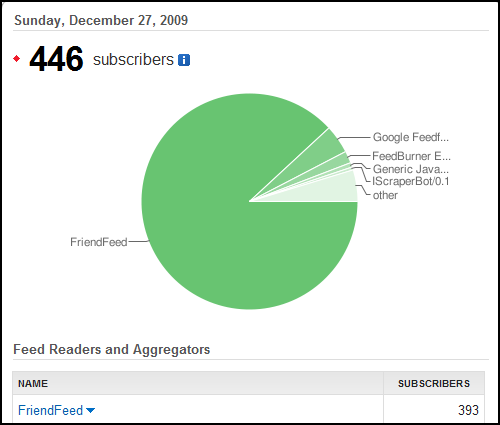 I still stand by the fact that FriendFeed is completely inaccurate being reflected as blog RSS subscribers, people who follow your account on FriendFeed are no more blog RSS readers than Twitter followers or Facebook friends.  Maybe some of them are, but majority do not visit your blog and therefore should not reflect in the RSS subscriber chicklet.  It artificially inflates the RSS subscriber on your blog, and people who socialize on FriendFeed can make their blogs appear to have more readers than they actually do.  Notice DragonBlogger.com still has 131 readers before and after the change, this is because for some reason out of the 8 blogs I have listed on Feedburner all of my FriendFeed subscribers went to my personal blog JustinGermino.com (for reasons I don't know).
So what do you think?  Are you glad your RSS stats are backup to higher numbers, or do you think that Google should have left FriendFeed off of the subscriber count?
-Dragon Blogger