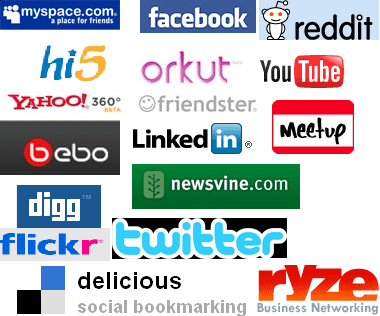 You can definitely go to the individual Social Networking sites and import your Gmail contacts list, but it is not advisable for 2 reasons:
Importing the contacts list by entering your Gmail Username and Password on new sites might possible land you in a phishing net. Thus your Gmail account may be hijacked by miscreants or the contacts may be spammed using your Email address!
Importing all contacts might not be useful if you need to filter out individual email ids from the Gmail contacts list again.
There is an easier and more efficient way to find and add your Gmail contacts to your Fiends lists on various Social Networking sites. Using the Rapportive Browser Extension/Addon. The feature is added to your Gmail inbox, and when you are viewing an Email, a box appears beside the mail column with all the public details of the Gmail contact. Some of the details are Name, Occupation, Location and links to various social networking profiles like Twitter, Blogger, Facebook, Linkedin and Skype apart from the Google Profile Page.
The best part is that unlike many add-ons and extensions for either Mozilla Firefox, Chrome or Safari, the Rapportive extension/add-on is available for the following 4 browsers currently:
(Click to Install)
After you have installed the Rapportive Addon/Extension you can go to your Gmail contacts' Social Networking profiles just by clicking on a link beside the Email column. Also, you can add private notes about the contacts which can be accessed by logging into your Gmail account anytime.
Rapportive is especially useful for people who spend a lot of time on the internet and get frequent emails from colleagues, friends and new contacts, such as Bloggers, Internet Marketers and College students.
I'm a Generalist Researcher working on a Theory of Reality, Horticulturist, Blogger, Natural Systems Analyst and Amateur Architect