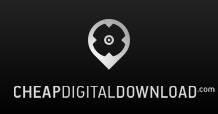 Over the last five years, gaming has been going through an interesting transition. As there are more data clouds, peer to peer data sharing sites, and online media streaming, gaming has begun to move away from disks and cartridges. Many a modern gamer prefer to receive a license for the games (and movies) that they want to enjoy so that they can have them sooner. This has even moved beyond PC games and into console gaming. This has caused some interesting trends in the gaming market. Many a dollar has been spent to catch game sales which can now happen universally, rather that be dependent on the retailer's location. Because of this, many thrifty individuals have started to wonder what the best way to purchase a game is, to ensure that you get the most game for the least money. Enter Cheap Digital Download. CDD does just what it's name implies, that is, provide cheap digital copies of your favorite games as well as some software and console codes , and they do a very impressive job.
"We select the best Digital Download stores providing impeccable service and the best prices. We have tested and regularly continue to anonymously test vendors that we display to offer you a great quality of service and enable you to buy with confidence. "
These aren't home brewed flash games or overdone copies of Flappy bird either. They have many of the newest and biggest titles, as well as some sweet indie games that I've always wanted but never been willing to open my wallet to. You can also reserve your codes in advance for games which will be released in the next few months, just for peace of mind. Not only that, but if their trusted vendor list doesn't have what you're looking for, you can check their "other stores" listings to find what you want, you rebel you. Are you worried their non trusted vendors will infect your gaming machine with an unruly virus? No sweat because CDD has anti virus software up for download as well. So while that's an option, it's not something you will really ever need to do because of the frequency with which they check up on their vendors. In addition to providing some of the cheapest games I've seen available, the website has a point system which will allow you to accrue credit just by getting the word out on twitter of Facebook or whatever media site you most frequent.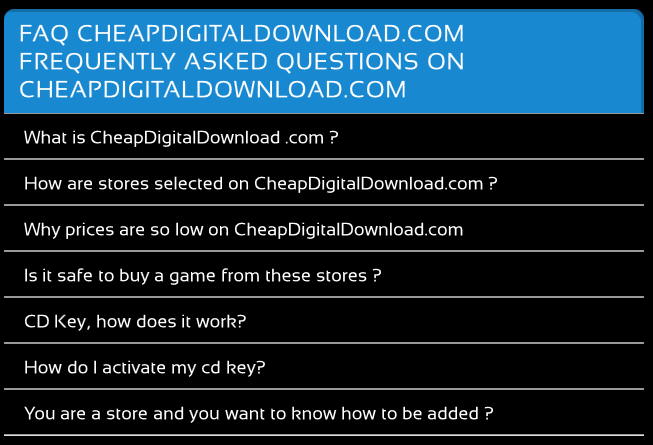 They address it all.
There are also many promotions and giveaway which can score a miserly gamer quite a few hit titles without spending a dime. I'm usually pretty skeptical of direct download games because many of them a pretty sketchy, so it's nice to see CDD have it's stuff together. It legitimately is a website for cheap digital downloads, so check it out. You won't be disappointed.
All you do is visit Cheap Digital Download
Browse what game deals they have, or search for a game you want.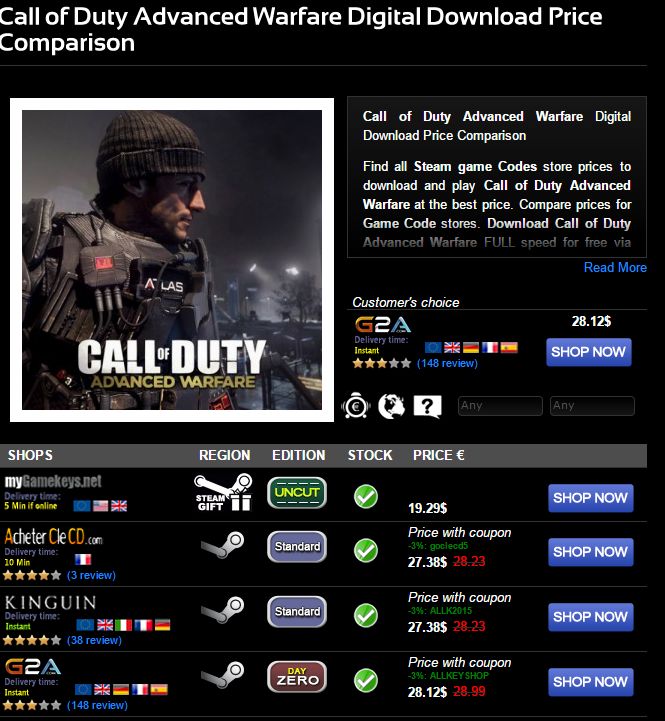 Then select the site that you want to buy the game from, note it specifically tells you which version of the game and price and price with coupon (with the coupon to use).  You can see Call of Duty: Advanced Warfare is only $19.29 from MyGameKeys.net at the time of this search which is much cheaper than comparison sites even with the coupon.    It also lists how long it takes to deliver it to you online after you order.
As mentioned you can also earn points for doing things like commenting, sharing on social media daily and you can earn thousands of points per day.  These points can be traded in for full game CD Keys, here is just an example screenshot of some games you can get.

Bottom line before you buy that PC or Console game at full retail price, check on Cheap Digital Download to see if you could be getting it for a better price.  Many Steam games can be found for 75% off when they are not on a Steam sale.