Fitness savvy people are always hungry to find out new ways of staying fit and keeping up with their workout programs and android and iOS have been playing an important role in the allowing them to do so. Fitness is one of the most popular categories in Google Play store and it reinforces this. Off course, anything would seem boring if you don't have any companion and that's probably the reason why you have plenty of Android fitness apps available in Google Play Store. If you're one of the kinds of people who loves to stay fit and most of all like tracking your activity, then  go on and read the article as I list out few Android fitness apps.
Runstatic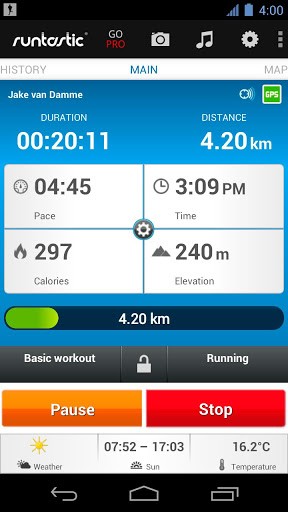 Runstatic is an application dedicated to those who love running, biking and other sports activities. Runstatic maps your workouts in real time with its built in GPS functionality and helps you to monitor your statistics and progress over the period of time. These statistics particularly include what time you took to cover a particular distance, your speed, the approximate calories burned and so on. If you would like to compare your current stats with old stats, you can simply open up history stats and find out the differences.
Runstatic Earth view gives you a 3D view of workouts which also includes mountains, buildings and other structures. However, this feature requires you to have Google Earth installed on your device. Runstatic also comes with a graphical chart approach which gives you a crisp clear idea of what's going on with your fitness in terms of altitude, pace, speed and heart rate. It also allows you to enjoy your workout with an integrated music player. Finally, you can share your activities on Google+, Facebook and Twitter.
JEFIT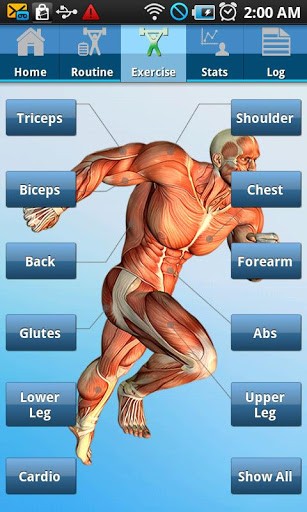 JEFIT is a complete application for serious bodybuilding lovers. It is equipped with Workout routine planner, smart logging system, two-way synchronization, progress tracking, detailed exercise system, resting timer and interval timer.
Workout routine planner or manager helps you create your own workout routines using default built-in exercises or custom exercises. It supports multiple routines and therefore allows you to switch between various sport specific routines or other workout programs seamlessly. The smart logging system automatically puts weight and reps and saves your best lifting records each time you do lifting. Two-way synchronization ensures that the data is replicated on your Android device and online system in no time. The progress tracking system creates a graph from your statistics and calculates body mass index (BMI) automatically.
Daily Yoga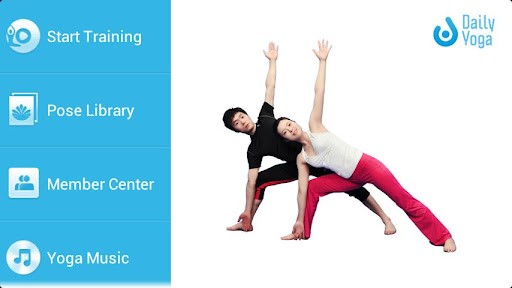 Daily Yoga is a perfect coach for Yoga lovers. It provides interactive yoga sessions with different time durations and levels. These sessions are recorded in HD and voice instructions are very useful to understand some stiff yoga positions. It is packed with 26 yoga sessions, 200+ yoga posses and 6 background music songs/tones. The only negative I see is that each session requires you to download an independent plug-in and it might just irritate some folks out there.
Calorie counter – MyFitnessPal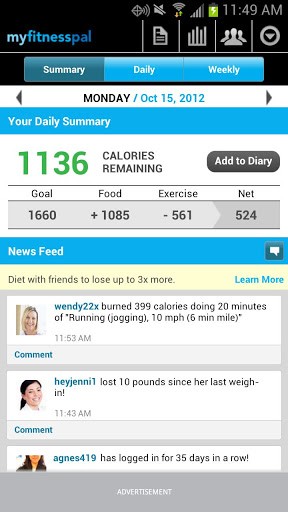 Calorie counter by MyFitnessPal helps you to lose your weight by tracking the number of calories that you've burned. Calorie counter is equipped with a 2,000,000+ food database which saves your time in entering calories for each food that you've consumed because you don't have to enter most of it manually it is easy to look up and enter. If any food recipe is not present, you can add it by yourself by giving ingredients that you've used. There are over 350 exercises available to track your training and achieve your daily goals.
Push ups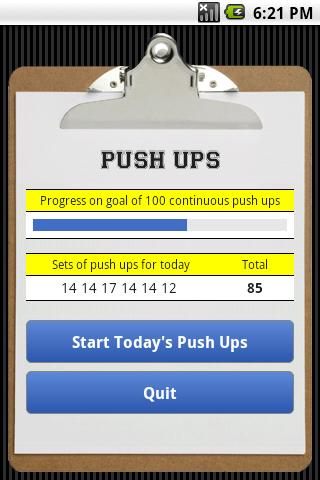 So, what's the maximum number of pushups you do in one single round? Push Ups app from Rittr Labs helps you to keep track of pushups and complete them as per your schedule. You simply enter the number of pushups that you would be able to do in single round and start your workout. It will track your number of pushups (as per your record) and ask you to do remaining pushups to complete scheduled daily task.
Which is your favorite fitness app to help you stick to your workout programs?
A young and passionate blogger who loves writing about Android and Geeky Stuff.