I was having trouble with my feeds on all of my WordPress blogs. Feedburner was only showing posts from thirty days ago on all of my blogs and would not pick up any recent feeds. I scoured the internet searching for a cure for the problem and after some help from Damien Riley (who still always seems to know something that I haven't figured out yet in the world of blogging) I was able to fix the problem. This post goes one step further to show other WordPress bloggers exactly what to do if you have problems with Feedburner not picking up your most recent blog feeds.
This post assumes that you are using Google Feedburner and that you are using the /feed on your WordPress for RSS Feeds. Feedsmith appears to have been deprecated and if you are using the legacy /rss2 URI for feeds, update your feedburner account to use /feed and disable feedsmith first.
Then follow these easy steps:
Step 1 – Activate Feedburner PingShot
Log into Feedburner
Click on your feed name to go to your "Analyze Feed" tab
Click on the Publicize tab
Click on the "PingShot" on the left hand column
Click on "Activate"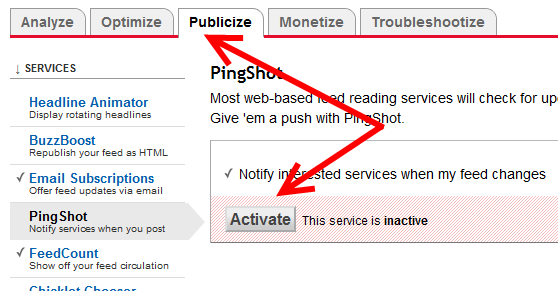 Now your feeds will actively ping instead of passively whenever a new post is published.
Step 2 – Ping your Feed
Click on the "Troubleshootize" tab
Click on the "Pinging Feedburner" link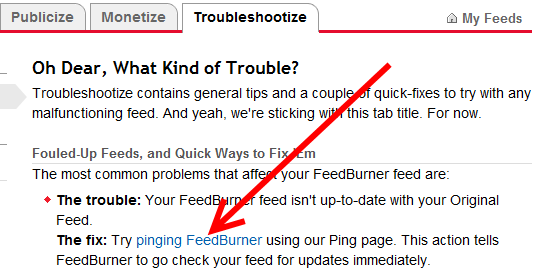 Type in your blog URL (not the feed URL)
Click "Ping Feedburner"

Step 3 – Sync Your Feed
Back on your "Troubleshootize" Tab
Scroll down toward the bottom and click on "Resync Now"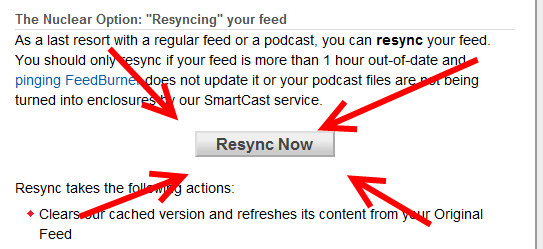 Step 4 – Write and Publish a New Post
Following all of the above steps I was able to fix the Feedburner Feed on all 7 of my blogs where the feed was broken, Step 1 is the most important, but Step 2 and Step 3 can sometimes fix your feed without having to publish a new post. In one blog case I had to publish a new post to trigger the refresh.
Last Ditch Effort:
If the above doesn't work then you would be where I was with my personal blog, and I figured it out last night. My WP-SuperCache had my feeds cache stuck from a month ago, this had to do with hardening my WordPress install and my wp-content/cache and wp-content/wp-cache-config.php files were not able to be written to. I fixed these file permissions and flushed my wp-supercache which fixed and solved the final issue with my personal blog feed.
Hope this helps my follow bloggers who have problems with Google Feedburner not updating their WordPress Feed.
-Dragon Blogger