Tim Burton is famous for stop motion-animated films due to Nightmare Before Christmas and his newest edition to this history will be Frankenweenie.  This movie is actually a remake of a short film Burton created with the same name in 1984.  The 3D movie is in black-and-white to pay homage to the original Frankenstein film and book by Mary Shelley, although it's a parody.
In Frankenweenie a boy named Victor (haven't we heard this name before in another Tim Burton film?) loses his dog and is greatly saddened by this.  From the previews, a comment is made about seeing his beloved Sparky again and this gives Victor the idea to use science to bring the dog back to life.  Of course, Victor tries to conceal what he has done and instead there is havoc created when Sparky gets out.
Several actors who have worked with Burton on previous films return for this horror-comedy.  Catherine O'Hara, Winona Ryder (who will play Victor's love interest Elsa), Martin Landau, Martin Short, Conchata Ferrell, and even Christopher Lee; although his Dracula cameo is unaccredited.  The music is done by none other than Danny Elfman, who composed music on more Tim Burton movies and I can count.  It's interesting to note the lack of Helena Bonham Carter and Johnny Depp, who have worked with the director on many feature films in the past.  This could be due to when Frankenweenie was filmed since it took about a year longer to release than originally planned and has been in the works since 2005.
From what I have read, the dog will speak at some point, possibly to other pets since once Sparky escapes several children want their pets brought back from beyond the grave.  This can't bode well for the children, deceased pets, and the town itself.  The only way to truly find out is to watch this delightful looking film.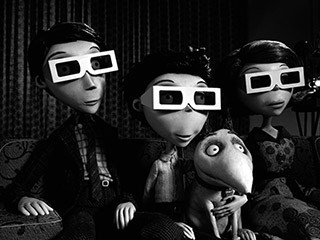 Watching the preview, this looks to be one of THE movies to see this fall.  It appears light-hearted enough for anyone to enjoy yet with a touch of horror to it.  It is rated PG for action, thematic elements, and scary images.  Slated for release October 5, this looks to be a great film to start the Halloween movie season with.  It will not only be a 3D movie but is the first stop-motion film AND first black and white feature to be released in Imax 3D.
I have been a gamer for over 20 years. My preference is RPG, fighter, action, adventure, defense, and strategy although I will play just about anything. I also prefer console to PC gaming. Depending on what interests me, I watch TV and movies. Some things every week or when its new and others as they catch my fancy. Here I prefer dramas, fantasy, sci-fi, and action. I also am an avid reader and writer.