Let me give a huge thanks to Jaypee for showing off and telling me about WiseStamp which is a program which allows you to create the most amazing email signatures for FireFox, Chrome, Flock or Thunderbird web/mail clients.  I encourage you to visit Jaypee's WiseStamp Review which has detailed instructions on how to install, configure and use WiseStamp for FireFox.
Since I don't use FireFox, but I use Thunderbird to manage and handle all of my email accounts I wound up running into some different experiences than Jaypee noted on his article which was specific to FireFox installation and usage of the add-on.
Downloading and installing the plug-in is as easy as can be, all you do is go to the WiseStamp website (see below links) and click on the add-on for your email client.  Once you install the add-on, you will see a WiseStamp dropdown in the Thunderbird Tool Menu.
Customizing it is easy, and instead of showing you screenshots of how to do it, Jaypee already did that on his blog post so go ahead and click over there (link above) if you want to see how to configure it, it works the same way on Thunderbird.
Here is what my final email signature looks like, complete with full working social icons that link to my social networks.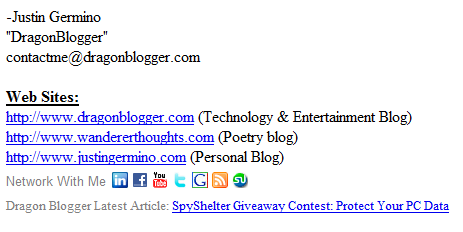 Here are some gotcha's with the plug-in for Thunderbird  at this time:
#1  – Default Signature applies to all email accounts
If you manage multiple SMTP accounts in Thunderbird, you are going to have only 2 signature options (Personal or Business) and if you have signature default added to all "new" emails it is the same signature on all of your SMTP accounts.  You can change your signature with the Wisestamp button, but there should be a way to tie a specific Wisestamp signature to a specific SMTP account to make things easier.
#2 – Reply / Reply All issues with other users who use Wisestamp or your own email chains (Thunderbird 2.x only)
There is a bug where if you reply to somebody who uses Wisestamp in their own signature, or you reply to an email where your own Wisestamp email signature was earlier on the chain, you will get an error that looks like this:

It took me a while to figure this one out, I should have just read the FAQ on WiseStamp because it was listed as a known bug.  The solution is just to delete the Wisestamp signature from the previous email you are replying too.  There can only be 1 Wisestamp signature in an email chain, so make sure you are aware of this if replying to emails you already sent out or are emailing people who also use WiseStamp.  Note this issue is listed with Thunderbird and I don't think it occurs with FireFox or Chrome versions (at least I couldn't tell, since Jaypee didn't have the issue emailing me, I assume it doesn't happen with FireFox or he would have noticed it).
Update:
I upgraded to Thunderbird 3.0 over the weekend and noticed that the reply / reply all functionality works just fine with WiseStamp even with the broken image icons in previous message thread.  This means that this issue does not appear to exist with Thunderbird 3.0.
Summary:
Despite the few bugs I found with the WiseStamp email signature on Thunderbird, I highly recommend you use the add-on if you use one of the email clients above.  I used it for my Gmail and my self hosted "DragonBlogger" email clients and am really enjoying the way my email signatures stand out.
You can download the WiseStamp Thunderbird Add On directly from this link or go to WiseStamp website to get the links to the FireFox, Chrome or Flock addons.
I also recommend you read the WiseStamp Usage Faq which covered many of the issues and items that I encountered.
-Dragon Blogger
We are the pioneers in providing oracle certification dumps and pass4sure security+ tutorials with 100% exam pass guarantee. Download our latest Testking 300-206 & Actualtests 100-101 questions to pass real exam of VMWARE training in time.