Freemake Video Converter is known as a free universal tool for converting online and offline videos. It accepts over 500 audio, video and image formats and transforms them into MP4, AVI, DVD, MKV, MPEG, and other popular video extensions. Besides that, Freemake Video Converter has a built-in video editor that allows users to perform simple changes in a couple of clicks. And that's not all. Among multiple core features described on the converter homepage, there are ten hidden ones that can enrich your experience in video conversion.
Let's have a look at these features and learn to use them.
Resize Video File
Whenever you want your video to weigh less to be able to send or upload it online or to clean your hard disk space, you can easily change its size without serious quality loss. To do that, follow these steps:
Download and install Freemake Video Converter. Please note that the software can be installed on PC and laptops with Win Vista or higher.
Launch the software.
Use "+Video" to add your video or simply drag-n-drop it into the software.
Choose a necessary output video format.
Select video quality.
Click the weight sign in the bottom right corner.
Choose to set the size manually.
The software will show you the range of allowable output size. Please don't go below the lowest number or your video might lose quality.
Click "Convert" to change your video size.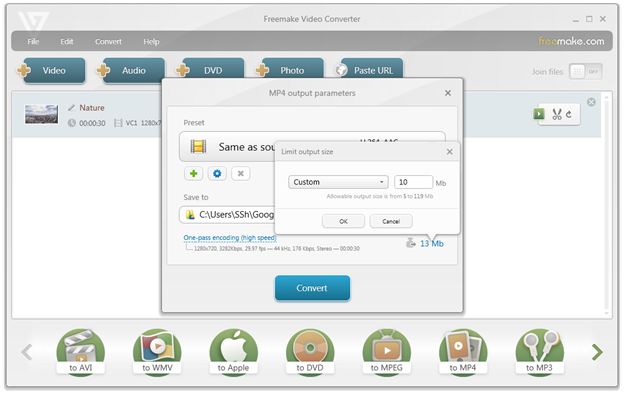 The software will do the rest for you. The conversion process might take some time depending on your PC capacities, input file, and output settings.
Convert PAL to NTSC
It's not too popular now, but if you have a collection of old videos, one day you might need to go for this option. As you know, the difference between PAL and NTSC is that PAL is a color encoding system used in most European countries, Australia and Africa, while NTSC is a standard in Japan and USA.  PAL uses a frame rate of 25 fps and a 720×576 aspect ratio. NTSC delivers a frame rate of 30 fps and a 720×480 aspect ratio. To change PAL to NTSC or vice versa in Freemake Video Converter, you should:
Add a video into the software.
Choose "to DVD"
Pay attention to the line above the "Burn" button.
Choose 16:9 or 4:3 aspect ratio and PAL or NTSC for output.
Insert a blank DVD and click "Burn".
When you are done, check the DVD on your PC and DVD player. Keep in mind that you can burn up to 40 hours of video on one DVD.
Convert with One-pass or Two-pass encoding
Freemake Video Converter allows you to convert videos using one-pass or two-pass encoding. To keep a long story short, a one-pass encoding gives you a faster conversion and constant video bitrate. Two-pass encoding usually takes more time and provides variable bitrate. At 1st the converter analyzes the input file and chooses the right bitrate for each video part. During the 2nd pass, the conversion takes place. At lower bitrate, the 2-pass encoding gives a file with better quality. To choose a preferable type of encoding, check this guide:
Add video into Freemake Video Converter
Choose an output video format
Check the line above the "Convert" button.
Choose 1-pass or 2-pass encoding.
Convert your file.
You may convert one file with both types of encoding to check which one is better for you.
Create a slideshow
If you need to create a simple slideshow with pics and music, Freemake can help you. It'll take just a couple of minutes. Here is what you should do:
Add photos into the software.
Click the green arrow button.
In the Editor, choose the necessary time interval between the pics.
If you need to reorder pictures, click the button with an image sign.
Select an audio track for your slideshow.
Click "OK"
Convert your slideshow into a video format or upload to YouTube directly from Freemake.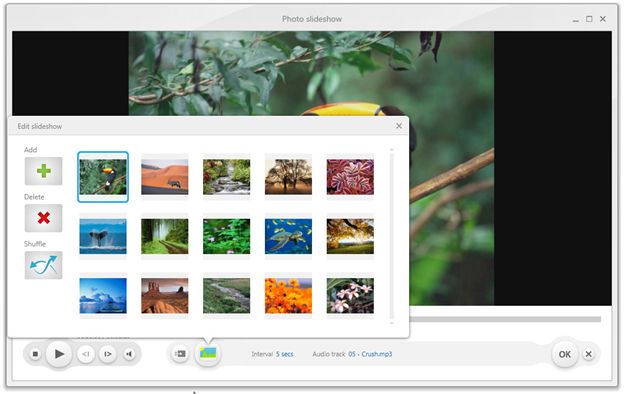 Although Freemake doesn't provide a wide range of options for slideshow making, it might be really helpful when you need to make something simple in a short period of time.
Extract Music from Video
This feature is right for you if you have a lot of music concert recordings and want to listen to them without a video line. Freemake Video Converter will extract music from your video to MP3 format. The steps are quite easy:
Add a music show video into the software.
Click "to MP3" green bubble.
Select the audio quality.
Click "Convert" to extract music from video.
In a few minutes, you'll get an audio track from your recording. Upload it to any device with MP3 support and enjoy the music without a video.
Add Audio to Video
If you download videos from the Internet, you might know that sometimes audio and video differs in quality. In case you want to change your audio track for a better quality one or add your pre-recorded voice comments (done for example with voice recording apps on iPhone), read the how-to guide below:
Add a video file into Freemake Video Converter.
On the video line, click on the audio settings.
Select the "Add audio" option.
Choose a future audio for your movie.
Convert video to save changes.
Please note that the software won't sync audio and video automatically. It's up to you to make sure that the timing is correct.
Add Menus to DVD
Freemake has a great option for all users who prefer watching videos on a DVD. You can make a custom DVD menu with your pictures or photos or use a ready one from Freemake collection.  What you need to do, is to:
Add videos you want to burn onto a DVD into the software.
Select "to DVD" option.
Click on the square in the top right corner (there can be a menu preview or "no menu" sign).
Choose one of the ready pics or select to use a custom background.
Click "OK" to save the chosen menu.
Burn video to DVD to apply changes.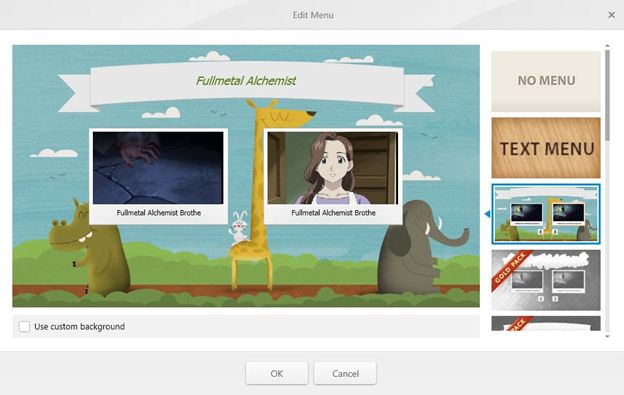 If you don't have a blank DVD, convert the file to a folder or to ISO format to burn to DVD later.
Cut Black Bars
Some videos come with black bars. While most people don't pay attention to them, there are those who'd like to get rid of them. Let's check h to use Freemake Video Converter for this scope:
Run Freemake Video Converter.
Activate the Gold Pack option in Help – Get Gold Pack.
Add a video with the black bars.
Go to File – Options – Black Bars to make sure the option is enabled.
Convert video to cut the black bars.
Please keep in mind that if you want to convert a video to a higher frame size, the black bars will be added automatically to your movie to prevent quality loss.
Save video projects
We all know how sad it is to accidentally lose a project you've been working on for hours. To prevent this from happening, Freemake has an option to back up your work.
Add the files you want to transform.
Make some editings (cut, rotate, join, etc).
Click File – Save Project
Now you can close the software and return to your project later. Please note that you can save only one project at a time. Don't save more projects unless you finish with the current one or it'll be overwritten by a new project and lost. One more thing to keep in mind here is that a project is not a ready video that you can watch in a video player. To get a real video, please convert your project to one of the video formats.
Change Video Settings
This option will be helpful to advanced users who know pretty well what such words as bitrate, codec and frame rate mean. Apart from many ready presets for video conversion, Freemake offers to create a custom one that will perfectly suit your needs. Let's check how it works:
Again add your video into Freemake.
Choose a needed video format.
Click the blue gear sign.
In a new window, select the necessary settings for your future video (bitrate, codec, frame rate, frame size, and so on)
Click "Convert" to save your video with new parameters.
You may save the settings for future using. If you want to do it, click the "+" sign, name your preset, and choose all the parameters it should have.
That's how you can use Freemake Video Converter hidden features.  If you know more ways to use this software, please share your knowledge with other users.