As a blogger for over two years I can attest to the value of backlinks for getting your articles and posts ranked better in the SERP results.  If traffic is the beating heart of a website then backlinks are the veins and arteries.
Backlinks are one of the only methods for getting your page higher in the SERP and improving your PageRank and compliment any SEO and keyword optimization you already do for your articles.  You can build backlinks manually buy commenting on blogs, posting on forums, listing sites in article directories and I encourage everyone to do this.  In several cases if you run a company, small business or sell a product/service you may want to invest some money in building backlinks to help improve your SERP/SEO faster than doing it the manual old fashioned way.
I have reviewed one linkbuilding service after another on this site over the years but only recently read about and decided to try Teliad as a publisher.  As it currently stands I don't have the advertising dollars yet to buy backlinks for DragonBlogger.com but I may at some point if my site starts bringing in enough.  If your site has a PR0 or lower there probably is no harm in testing out a few backlink investments as it can't hurt and can only possibly offer a quick boost during the next updates.
When listing my site DragonBlogger.com on Teliad as a publisher my site was given a Ranking Score of 157.93 out of 1,000 and using the site's tools I ran a check of my Ranking Score and RankingIndex which was 68.50.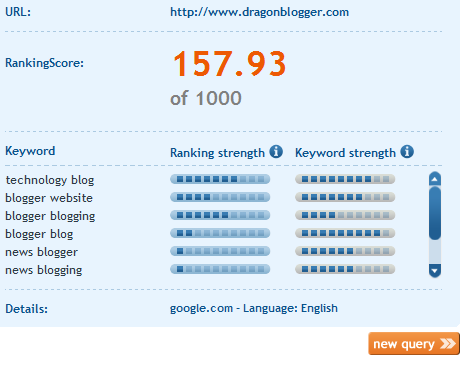 If you are looking to purchase backlinks to help improve the PageRank and SERP of your site or if you are a publisher looking to make some money by leasing out site links or writing sponsored articles then www.teliad.com is another service to consider adding to your arsenal. At this time I can't say that it is better than other services as I haven't used the service long enough, but I can say the site has some pretty decent offerings and you could have some potential to earn from it.
I will be sure to write a follow up about Teliad and how well it does for DragonBlogger.com as far as being an income source for publishers.  Stay tuned for future updates.
How many of my fellow bloggers / advertisers have purchased backlink packages?  Which services have you used and are you happy with the results?  Has anyone used Teliad as an advertiser or publisher before, feel free to share your thoughts.
-Dragon Blogger