I have tested quite a few giveaway platforms online and Gleam has something that none of the others have that you may want to look at if you do a lot of giveaways, contests or sweepstakes online.

Now, when I first tested Gleam I made the decision to try a contest instead of a giveaway which turned out to be a poor choice but this wasn't any fault of the Gleam.io platform as many of my readers who wanted me to run a contest didn't turn out and most of my readers preferred it to be a giveaway instead.
Besides that, Gleam.io is a fantastic platform though some of the best features are found in the Pro and Business Plans.
First, know that Gleam brands all giveaways, sweepstakes or contests as competitions.  This is an important distinction and how they refer to any thing you want to setup with the platform.  For my Video Game Giveaway, I started looking at what entry types are permissible as the most important features of any platform is how flexible you can make the entry types.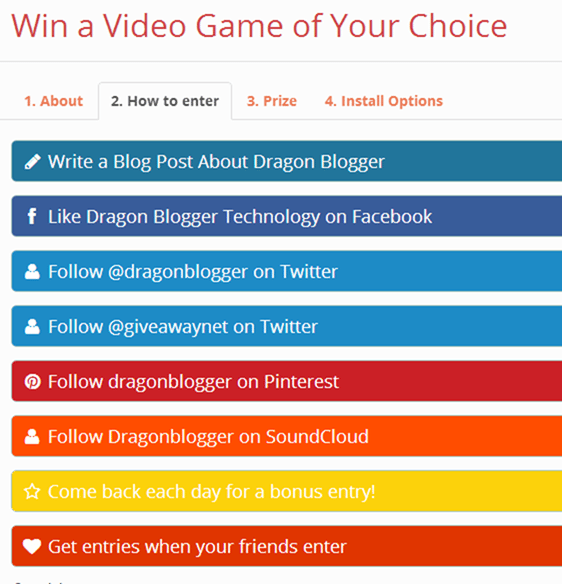 Adding entries is very easy to do, easier than almost any other platform as no separate popup is required to simply drag and configure the entries.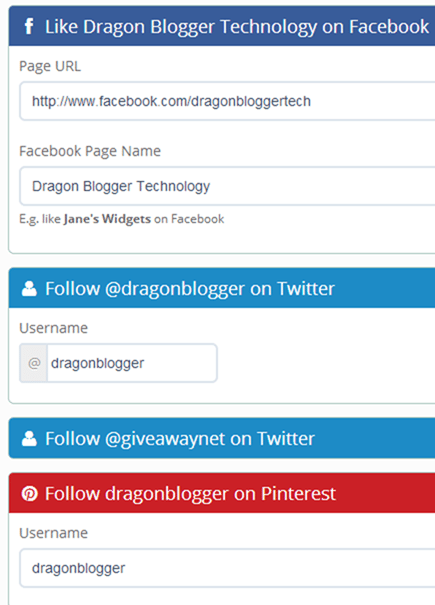 Gleam.io has all the ones you expect, Twitter, Facebook, Email sign up, Visit a Page, Pinterest, but it also has some built in ones that NO other platform I have ever tested has.
Highlights of Some Gleam Entry Options
Questions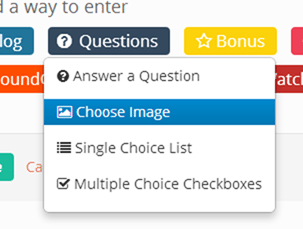 Built in Ask a Question options are available which include answering a question, choosing which image they like better, a single choice list selection or multiple choice checkbox selection.  This is ideal because you basically can do this when you have multiple prizes in the same competition and ask a question with a check box or choice asking which prize the winner would want from the pack if chosen!
Watch a Video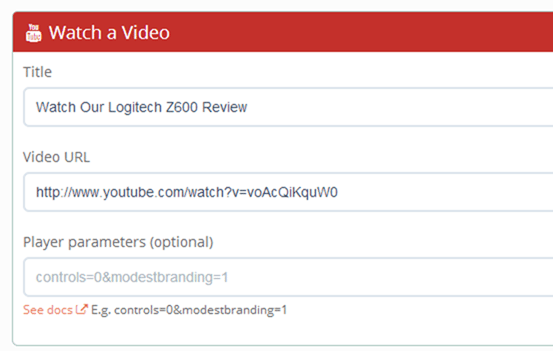 Yep, if you are big on YouTube or Vlogging, you can have an entrant watch a video directly as a means of gaining an entry. In other platforms you have to have user click on a link and trust that they completed the video watching, there is no way to validate.  Watch a video supports YouTube or Vimeo right now with separate entry buttons for them.
SoundCloud Options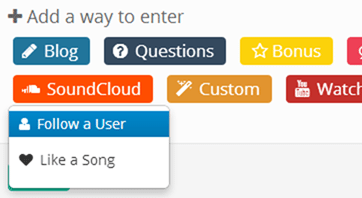 I recently purchased a SoundCloud membership and moved the entire DragonCast which is our DragonBlogger Podcast over to SoundCloud.  Gleam.io allows you to put an entry option to Follow a SoundCloud user or to Like a Song (audio track).  This is fantastic if you run podcasts and have them on SoundCloud, again a very specific feature but if you are a SoundCloud content provider and run giveaways this platform is the only one that has this feature that I know of.
Daily Entry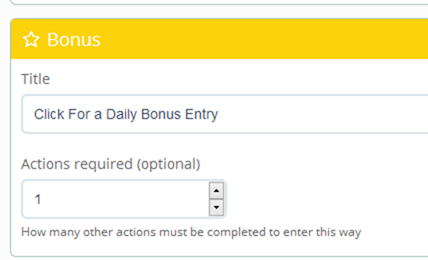 You can easily create a separate daily entry that the user can come back and do to make sure they get a bonus entry every day. You can also set the number of actions they have to do daily for the bonus entry like tweeting about the giveaway for example, or you can set 2 or more actions though typically you would want 1.
Viral Share

Most of the best giveaway platforms have Viral Share, but this one has a way to set # of required actions that have to be completed before Viral Share opens, plus is the only one that has Tumblr and Google+ as part of the viral sharing off the bat.  In addition it provides a custom URL for an entrant to copy and paste and share across any other network.
Custom with Tracking for Business Plans

Custom Entries are excellent for out of box things you want readers to do, Gleam.io has a completely flexible custom entry system but the business plan goes a step further and can build custom tracking so that you know that all of the actions are completed instead of having to validate them manually which needs to be done with every other giveaway platform.
When your competition is created, you are presented with a very clean looking widget.
Gleam was impressive and I like the way it validates entries.  Gleam however did have some limitations that I found during my initial testing and one Gleam resolved  by the time my giveaway ended and the other is still potentially ongoing.
First, Gleam.io didn't have an automatic system to weed out and remove false referral entries when I first tested.  This lead to thousands of false referral entries and pointed out a weakness in the referral system.  They had since corrected this issue and put in better spam filters and false entry checks and all those false entries wound up being removed.
Second, the Gleam custom URL had an API limit so some of my entrants would sign up and see no custom URL to use, this is because the platform hit an API limit and couldn't create more custom URL's for that hour or whatever time period.  Gleam is working on this, but I haven't heard that a permanent fix is in yet.  It is minor and they now display the full URL instead of the shortened one in the meantime.
Gleam also has user tracking and email subscription capabilities though these are in the Pro or Business plan.  One thing that Gleam does that no other platform does is list every user that ever signed up for every competition and show the total number of entries.  So if you have a user who entered 5 giveaways and did the most he will show up at the top of the list, this could be a good way to create rewards around most active and loyal entrants who just can't win anything and is a good way to also build email newsletters and marketing campaigns around this information.
Gleam doesn't have the best analytics and reporting as a giveaway platform, though it gives you the basic information you would need.

You get a summary of all your actions, plus the ability to export every single entry in the giveaway platform.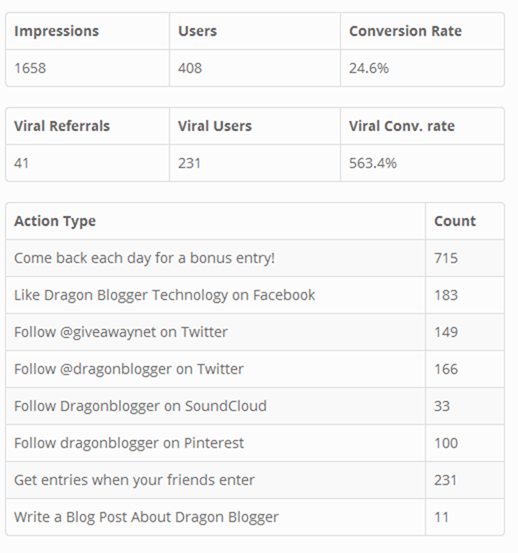 Overall I found the Gleam Platform to be very flexible and have some features other platforms do not have.  There is a cost however for some of the best features and some of those features are found free in other platforms.  Like the ability to publish the winners in the widget is only available in the Pro or Business plan and this is something in most free plans, this is important and makes the giveaway or competition not look like a scam, so my opinion is publishing the winners should always be part of the free option or else other entrants can't really see who you selected and may think you are scamming with the giveaway. Geographic Entrant breakdown in reporting would be a nice feature too showing how many entrants came from each country without having to do an export of the entries to figure it out.
Gleam also has a reward platform in addition to a competition platform as well where you can specifically reward readers instantly for completing a certain amount of actions instead of it being just a competition where someone is chosen.  This could be a great way to offer a coupon or eBook for just a certain amount of actions for a user to complete that they can unlock immediately for example.
If you use other giveaway platforms and you haven't tried Gleam yet, then you should check them out at gleam.io it is an especially excellent giveaway platform if you want entrants to watch YouTube videos, Vimeo Videos or engage in  your SoundCloud platform.  I also particularly like the Gleam rewards platform for giving away free stuff after a reader does a certain number of entries, I get license keys for software all the time and this is a great way to give them to readers instead of for readers who just leave a comment I can have my software sponsors get some follows and fans in exchange for a license too.
In the same day this article was written, Gleam confirmed that winner publishing in the widget is now supported in the free plan and that the custom referrer share URL is now a custom URL based on Bit.ly API and should not have the limitation of API limits.
Update 12/13/2013
Gleam.io now has a referral program where you can win $5 credit to refer even free users to use the platform and $10 or $15 per referral for users who leverage the pro or business plan of Gleam.io
I have been obsessed with computers, tech, gadgets and games since the early 1980's having grown up on the Commodore 64 and Amiga computers.
By day I work in the IT Security Industry and have been in IT for over 20 years. On my spare time I am a Vlogger, Blogger, Streamer, Gadget Reviewer, affiliate marketer, influencer and entertainer. I am also an avid movie fan, TV Show fan, Anime fan, video game fan and fan of trying anything and everything new.