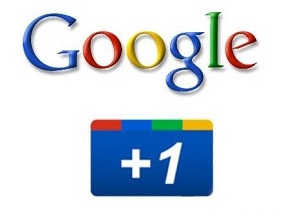 It's here! Google officially releases its 1+ button for webmasters to place on their site. In a post made today by Timothy Jordan, announcing anyone who signed up via their Google accounts, and participated in the beta process, were notified of the release. The +1 button customizes your search results and will recommend pages to your friends and contacts on sites and articles that may be more useful to you. In other words, more "qualified" site traffic. The button's focus is on enchancing search results. But many think that this is an attempt for Google +1 to be more like the Facebook "like" button.
There is a small snippet of code that is available for your to add the button to the pages you would want your +1 button to appear. To obtain this code–you have to be logged into your Google account. You can find the line of code here. For many, the +1 button is already available, and they have installed share button/bar automatically. Use the +1 button to show your friends and contacts what articles and products you enjoyed reading or using on the web.
This will be Google's first attempt at making an impact with its social-sharing button across the web. Mentioned in a previous article relating to the button's announcement, the button only showed up in search results for those participating in the open beta program in March. The button will now appear next to a link when the person is logged into their Google account, while the person is using the search engine. The button will inform the user just how many "+1's" a particular page has received. The button already appears on all Google sites–including the apps in the Android marketplace.
We already have the +1 button installed here on Dragonblogger.com in the left sidebar. So, if you like any post here on the site, feel free to give us the "+1-up" vote anytime!
So what are you waiting for? +1 an article today!
[youtube width="555″ height="261″]http://www.youtube.com/watch?v=OAyUNI3_V2c&feature=channel_video_title[/youtube]
UPDATE!
WebProNews has some interesting tidbits regarding the +1 button that I thought would help to answer some questions you may have and might be of interest to everyone:
The +1 button will influence search rankings. Here is the exact quote from Google's David Byttow, from when the feature was first announced: "We'll also start to look at +1's as one of the many signals we use to determine a page's relevance and ranking, including social signals from other services. For +1′s, as with any new ranking signal, we'll be starting carefully and learning how those signals affect search quality over time."
Google

may crawl or re-crawl pages with the button

, and store the page title and other content, in response to a +1 button impression or click.
A lot of sites have already replaced the Google Buzz button on content pages with the +1 button.
By

placing the <script> tag at the bottom of the document

, just before the body close tag, Google says you may improve loading speed of the page (which is another factor Google takes into account in terms of ranking).
Google says publishers could see "more, and better qualified traffic coming from Google" as potential visitors see recommendations from friends and contacts beneath their search results.
There is now a WordPress Plugin that will install the +1 button code for you. The plugin was developed by WPMU developers. You can now download it from the WordPress.org depository here. The plugin is extremely customizable and will add the line of code you need to your WordPress post and pages effortlessly.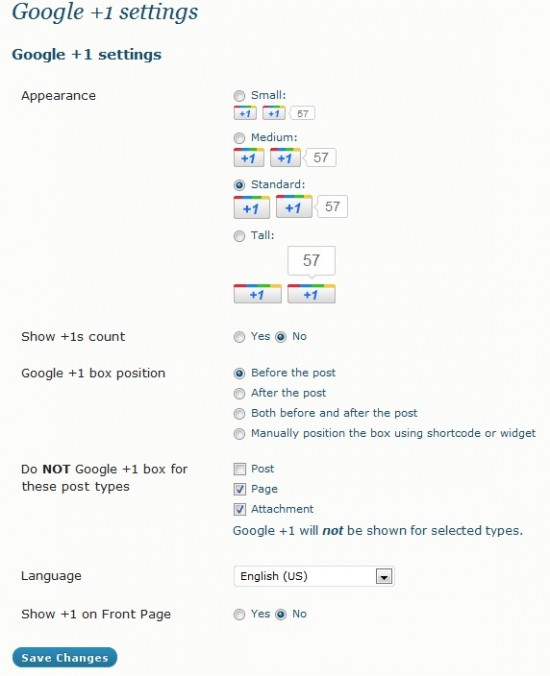 There are still a lot of questions and speculations about the implementation of the new +1 button, for updates, join this Google group for updates. So, what do you all think?
For those of you who use ShareBar, here is the code you just put in the "Add New Button" to add a Google +1 button to your ShareBar Plugin:
Just add the above code in your "Big Button" section and you don't have to add anything to your header.php at all, this includes both script lines.
When AIDY isn't writing poetry, she likes to write film reviews. If she is curious about something she seen or heard, she'd maybe write about that, too.