As I used Feedburner Socialize to tweet out my blog posts when they publish live I didn't like that I couldn't previously see how many clicks my tweets were getting when shrunk with Goo.gl URL's.  That has all changed now that Goo.gl has opened up its URL shrinking service to the masses.
You now can just shrink a URL and see real time information on how often the shortened URL is clicked, though this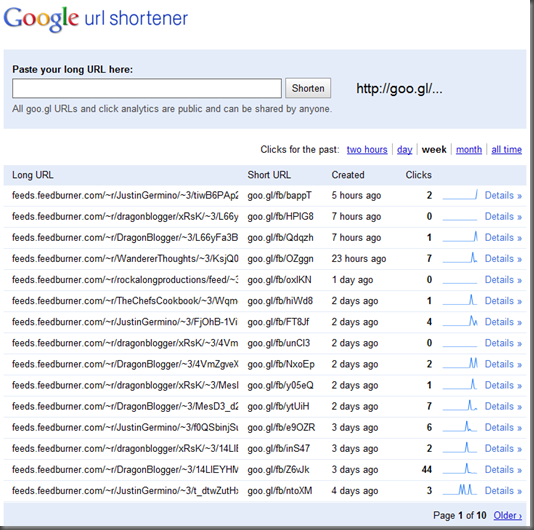 When clicking on the details you can also get a fairly good amount of analytics information from your visitors: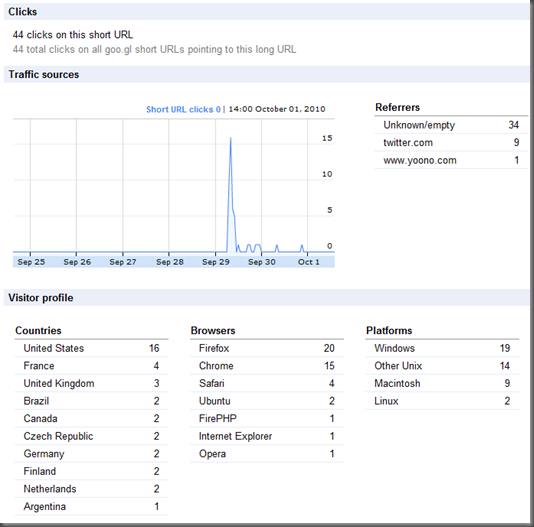 I can clearly see that most people are using FireFox and Chrome who click on my links though I am not sure why if Feedburner only puts my Goog.le links out to Twitter how come 34 clicks are from unknown/empty?  This makes me think the tracking isn't  as accurate as Bit.Ly or Hootsuite Ow.ly at this point.
Either way, I am still waiting for T.CO the twitter shortening service to have analytics capability.  I really like the Bit.ly method of putting a + after the URL to seeing detailed stats about that link, you can sort of build a manual link details with Goo.gl links by taking your shortened URI and adding http://goo.gl/info/fb/ in front of it.
Example, take your URL:  goo.gl/fb/bappT
change to: http://goo.gl/info/fb/bappT
You can see details about that one tweet though this isn't as intuitive as just adding a + sign.
What are your thoughts on Goo.gl URL shrinking, does it stand a chance of competing with Bit.Ly and Twitters T.CO?
-Dragon Blogger