In supporting fellow bloggers who helped create and produce the Growmap Anti Spambot Plugin I decided to install it on DragonBlogger.com last week and see how it sat with my readers.  Any plugin that cuts down on spam can be a benefit if and only if it doesn't cause trouble for your readers when they try to leave a comment on your blog.
I was using Akismet + Conditional Re-Captcha which worked very well at first but gradually I started seeing 80+ spam comments per day showing up in my bucket and realized that it was being thwarted more easily as time passes which is only natural with anti-spam measures.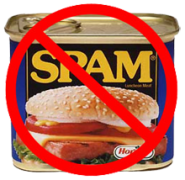 GrowMap Anti Spambot plugin adds a checkbox to your comment area that a user must check to declare they are "human" and it does this with Javascript which requires the browser to have javascript enabled.
I don't know all the mechanism behind the scenes, but the system has a hidden "email" field which is not visible by normal browser visitors and it automatically rejects anything that populates this field as spam.  Since most spam bots will fill in every field, this is a pretty clever check in my opinion.
While testing the original release of the plugin, I had too many of my regular readers report the following when they tried to leave a comment:
You may have disabled javascript. Please enable javascript before leaving a comment on this site.
After troubleshooting, I realized that people were forgetting to checkmark the "Confirm you are NOT a spammer" yet it should have been displaying the "Please check the box to confirm that you are NOT a spammer" which is defined in the "Checkbox not checked Alert"
Instead the plugin was displaying the message in the "No Checkbox" definition.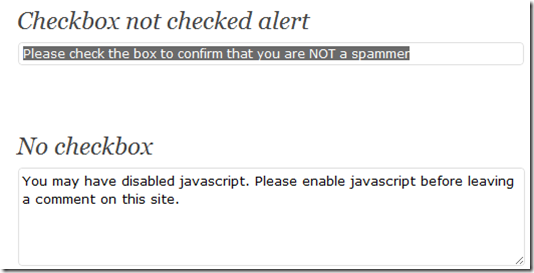 I reported this to Andy Bailey the creator of the plugin and he released the latest version 1.0.1 which includes a fix for blogs that were having this problem with the plugin.
In using the plugin for about 5 days I have already noticed significantly less comments in my SPAM folder and pending folder as a result and have only had complaints related to people forgetting to check the plugin.
I am no longer using the WP-SpamFree WordPress plugin for  comment spam management and have stopped using Akismet + Conditional Captcha relying solely instead on the Growmap Anti Spambot now and it seems to work pretty well.  In the past 3 days with only using the G.A.S.P plugin I have only seen 6-8 comments appear in my pending folder and these were all from people who hadn't commented previously.  Not one spam comment has been seen on my site since installing the plugin and I am almost comfortable enough that I wouldn't have to hold comments for moderation if they hadn't previously commented.
Here is a video demonstration of the the Growmap Anti Spambot Plugin for WordPress:

I always enjoy testing new WordPress plugins, but this is the first time I have seen a new plugin provide a serious alternative to the Akismet anti-spam  and additional plugins, for a free SPAM blocking WordPress plugin, you can't go wrong with the Growmap Anti Spambot.  Your readers and commenters will prefer the checkbox system over Captcha anyday.
-Dragon Blogger