FireFox 4 Beta 1 has is publicly released and I decided to take the new version of Firefox for a spin and see how it fares against a variety of websites based on HTML 5, Flash and WordPress. Unfortunately the Beta Version of FireFox 4 is so unstable that my tests ended just a few minutes after they began.
The first two websites I decided to try either didn't properly display on FireFox 4 Beta 1 or crashed the browser entirely 100% of the time in more than a few scenario's. I am not actually sure how PCMag and other websites were able to do a thorough review of FireFox 4 Beta 1 when I found it so unstable just from the few sites I tested.
Hootsuite and FireFox 4 Beta 1
Don't even think about it, just trying to load the Hootsuite Twitter Client interface will show you a blank screen where none of the streams will be able to load while using FireFox 4 Beta 1. I reported the bug to Mozilla after finding it.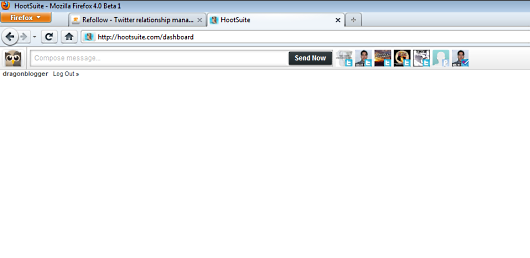 Twitter Oath Applications and FireFox 4 Beta 1
Refollow.com or any other website I tried which has to do an OATH authentication to Twitter caused an immediate FireFox 4 crash which promptly brought up the crash reporter: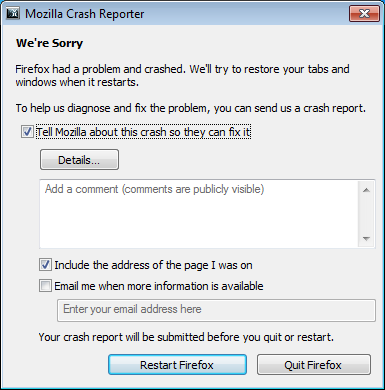 Closing out the browser and testing several times always produced the same results. I closed the browser, opened Firefox 3.6 and all the websites worked perfectly fine.
Summary
Firefox 4 promises faster web browsing and increased performance but the initial Beta 1 release I found to be so unstable I couldn't even use it very long for testing purposes. I will re-review Firefox 4 when a later Beta is released or when RC1 is ready and available to the general public.
-Dragon Blogger