ExtremeJohn did a fantastic write up of RockMelt on his blog that pretty much showcased much of what I was going to focus on bringing to my readers.  My own take on RockMelt is that it appears to be little more than an enhanced Google Chrome which as John mentioned is a good thing if you are used to using Chrome as I was.  Vinay Gowda of Tech18.com also wrote a fantastic overview of the 30 rocking features of RockMelt which goes into a little bit more detail on the social media integrations rather than summarizing as I am doing on my post.
I was surprised that neither article talked about the RockMelt RSS feed reader built in which I found to be even more valuable than some of the Social Media features.
First thing to notice about RockMelt is that it has immediate integration to your Facebook and other Social Media accounts.  You have your Facebook dedicated on the left and you can set it to show all your friends that are online, or filter it to a specific list of favorites.  From here you can manage your Facebook online status, provide updates, perform live chat and more.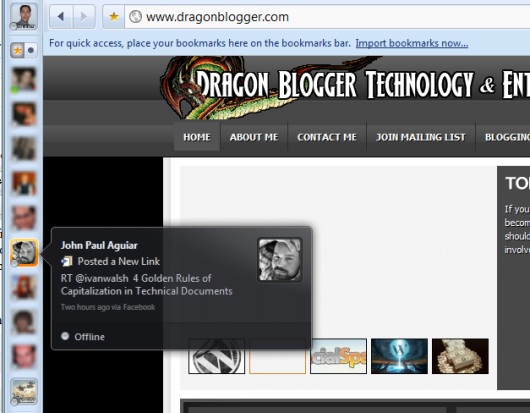 As heavily as I am into social media, I am rarely active or using Facebook except at night or on weekends on occasion.  So this particular feature is of little benefit to me, but is for those who are extremely active Facebook users.
The most benefit I saw from RockMelt for me comes with the following three features RSS Feeds, Site Sharing and Searching Interface.
RockMelt RSS Feed Integration
RSS Feed Integration which is something I do use heavily.  I have a Google RSS reader filled with feeds as well as receive dozens of other RSS feeds via email, it is really nice that RSS Feeds can be directly feed into RockMelt and you can easily keep track of your favorite sites right from your right toolbar.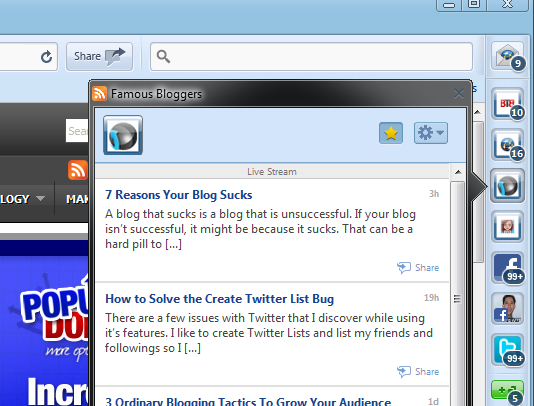 With the RSS feeds I can simply see which of my sources have updates and read them from my built in RockMelt reader without having to collect dozens of emails or go to another site to read my feeds.  You can also type any URL and it will try to find the RSS feed from the site automatically, you don't need to know the specific feed URL for a site.
RockMelt Share Button
The Share option is also very useful and allows you to share any URL you are on instantly with one of your joined social networks (Facebook or Twitter) by clicking on the Share button on the right hand side of the URL bar.  Again this is pretty useful for sharing on Facebook or Twitter, but it lacks many social networks and has no ability to share across multiple at once which doesn't save me as much time as I would have hoped.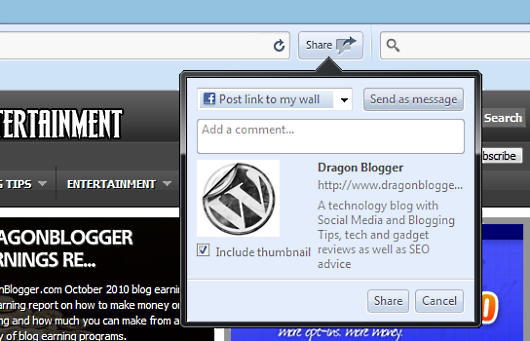 I would like to see it support StumbleUpon, FriendFeed or even share with Ping.FM so that you can cover all of your networks with 1 share.
RockMelt Search Interface
Not really a full interface but how RockMelt implemented the search to where you type in what you are looking for and see your results in a little drop down window without ever having to leave the site you are on is fantastic.  The fact that you can click on a search result and instantly see the result in your browser window while leaving the other results up so you can check them out one after another is simply brilliant.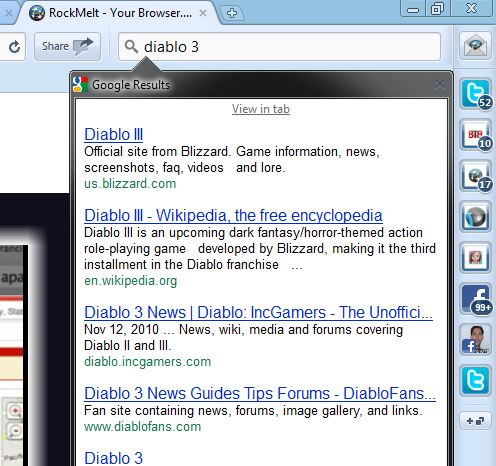 All of the Google Chrome Extensions I tested including SEOQuake worked fine on RockMelt, I didn't run into issues with Extensions that ExtremeJohn had, but I don't use some of the same extensions either.
RockMelt Summary
Some really nice features help it stand out from vanilla Google Chrome and the integration with Social Media show you the direction that web browsing interfaces will be taking over the next year in general.  I already consider RockMelt good enough to make it my standard over Chrome, it is more like Google Chrome + in how I view it now as well.  The biggest con of the browser is its ability to distract you from reading the web page you are on, the more things you can do at your fingertips the more people who multitask tend to get distracted and this can really hurt productivity (or help it) depending on how you leverage these features.
I have some invitations i can send out, so if you want to try RockMelt leave me a comment and I will send you invites on a first come first serve basis.
-Dragon Blogger