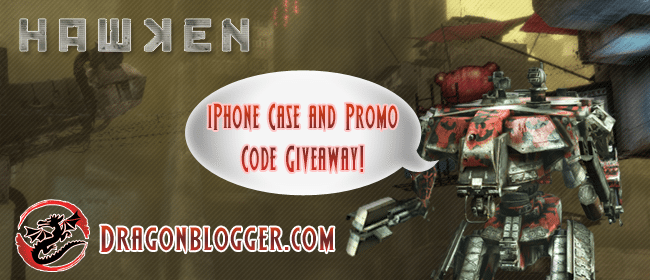 Greetings to the HAWKEN pilots and Dragonblogger fans out there. Quite a few of you have been on the hunt for a HAWKEN promo code lately and it just so happens that we recovered one from the battlefield. Well – we arranged for Meteor Entertainment to give us one but of course that's just as good! Enjoy the free 2,000 HAWKEN credits and be sure to share the promo code with your friends quickly before the number of charges runs out. Still want more? How about a HAWKEN themed iPhone 4/4S case to keep your phone safe from incoming TOW missiles?
UPDATE: A winner has been announced!
Promo Code: DRG2013
How to Win the Case
The case shown in the video above is compatible with the iPhone 4/4S. It's a stylish hard case that features essential cutouts for the audio jack, volume toggles, rear camera, and dock connector. Everything about the case pretty much screams, "Don't mess with this fuzzy bunny." As a bonus, we will also throw in an XP booster pack code to go with the case. In order to get your hands on both the case and the code, simply complete the entry methods listed in the giveaway widget below. Bear in mind, each extra entry method you complete gives you another shot at winning the giveaway.
Complete as many or as little entry methods as you like.  To skip an entry method you do not wish to do just click the right arrow.  Take a peek at the section below the widget for other ways to win!
More Ways to Win
Are you bummed out by the thought that you may not get a chance to an iPhone case for yourself? Believe it or not, we actually have stashed away quite a few XP booster pack codes just for you! Every now and then we will post to our staff accounts for Twitter (@dragonbloggers), Facebook, and a few other places about ways you can snag yourself a code. Just keep your eyes peeled on the Dragonblogger and HAWKEN social media accounts and chances are you will surely get a booster pack of your own to enjoy. It wouldn't hurt to keep an eye on our promo code article or the comments of this post for other chances to grab a code as well.
Have fun everyone and I wish you good luck on behalf of the Dragonblogger team!
Winners Gallery: View at the Following Link
Mitra Faridian first joined the site in 2011 under the handle "Persian Poetess." Her gaming and entertainment taste is very eclectic and she's always open to a fun new virtual adverture. Email her at the following address: mitra [at] dragonblogger.com