I have used HireWriters several times before as both a writer (someone who is paid to write articles) and as a client  (someone who hires writers to write articles) however this overview and review of HireWriters.com will focus specifically on the client side of this service and offer my opinions and feedback on how this article writing service allows you to find quality content writers for your site.

First,
Why Hire Writers?
As a blogger who runs 7 blogs I just simply can't create enough content myself and I occasionally turn to writing services sites for some articles on my smaller more niche blogs.  HireWriters.com is one that I have used more frequently than others and I like that the service is only offering writers, so you don't have to weed through freelancers of all types to get just someone to write articles.  Sometimes you need to take a vacation and guest posts just aren't going to cut it because you don't want to include the backlinks in the article or they just don't have a pool covering a topic that you want to cover, this is where writing services come in like HireWriters.
HireWriters as a Client
So HireWriters is an article writing service where you sign up and you deposit credit and use that money to hire writers for articles that you need.  From the Client Dashboard you can quickly and easily see and gain access to the following features.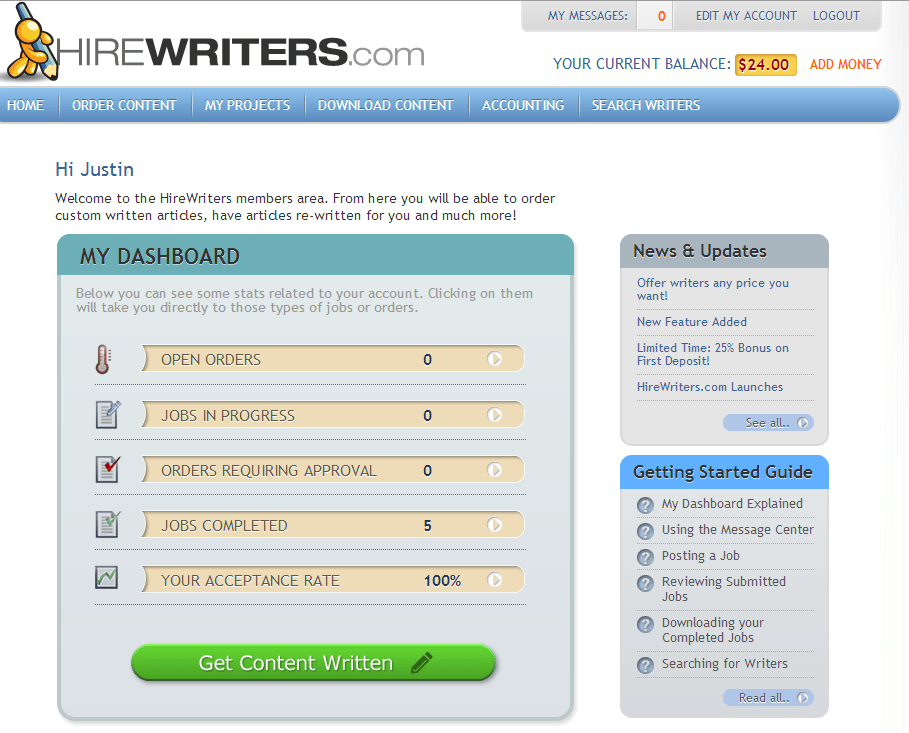 Open Orders
This lists your open orders and how any are active in the system that don't yet have in progress status, typically you won't have open orders for too long as there are a lot of writers in the system and jobs are snatched up pretty quickly.
Jobs in Progress
This is where writers have accepted and agreed to produce articles for you to review on your open order, but it is in progress as in they haven't yet submitted the article for review.
Orders Requiring Approval
When writers have submitted articles for you to review for the job listing you posted, you will see it here and you can go through and review articles for approval (more on that later).
Jobs Completed
These are the total number of jobs completed through HireWriters basically a total of all your open orders that completed.
Your Acceptance Rate
This is the total # of jobs where you have accepted an article for.  Basically if you accepted 1 submission for any of your open jobs, then your acceptance rate will be 100%.  This doesn't mean you accepted every article sent your way, it just means you accepted at least 1 article for each open job.  I got between 3 and 5 submissions on some jobs and I only accept 1 article per job (though you can open a job with multiple article submissions accepted).
Ordering Articles on HireWriters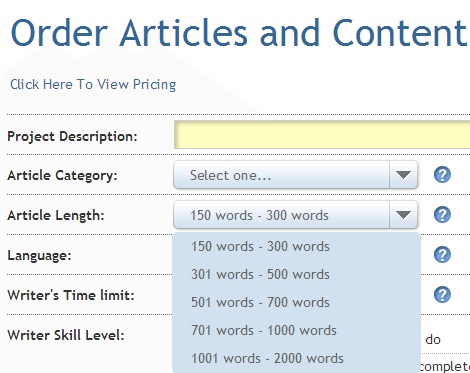 Clicking on the Order Content Link and you can Order Articles, Order Rewritten Content or Order a Facebook Wall Posting.  When ordering an article you will have various criteria you can set for for writers to see.
Obviously you want to name your project as specifically as possible and as concise as possible and select a category that best matches the type of content you are looking for.
You can specify your article length and this can range from shorter 150-300 word articles, to longer 1001-2000 word articles if you want, but remember there is higher cost for longer articles. You can choose the language that fits your need based on what you signed into the system with, my only options are American English or British English.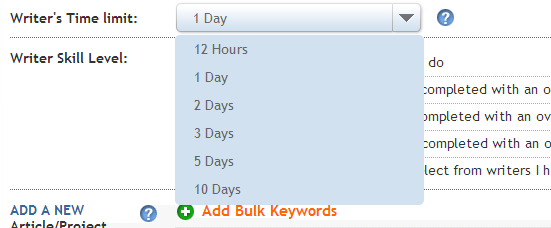 You can set a writer time limit, if you need a rush article put 1 day or 12 hours, but remember detailed articles need research time so you may want to increase this to 3 or 5 days especially if you want an article over 1000 words.
Writer skill level is important to consider next, there are a lot of writers in the system but the price in writer goes up quite a bit for more skilled writers.

Typically I will look at skilled writers or expert writers, but if you aren't getting any offers or your payment rate is too low you need to look at general or if you want to take a chance on someone who isn't rated yet you can open up to beginner articles.
Keywords and Article Tone are also important, this tells the writer to target those keywords in the article and leverage them.  You can put a few I would recommend 3-5 that are mentioned and focused on.  You can also specify the tone of the article, sometimes you want review style, professional, friendly or funny if you want entertaining articles that have personality.

Feel free to add special instructions to the writer you are hiring as well.
Note, Pricing for writers by default:
The combination of article length and writer skill will determine price per article, and if you go to 1000+ word articles and want an expert writer, you can be at $32.00 per article.

I typically have stuck to 500-750 words and found some good writers in the skilled category for the rate of $8.50 per article.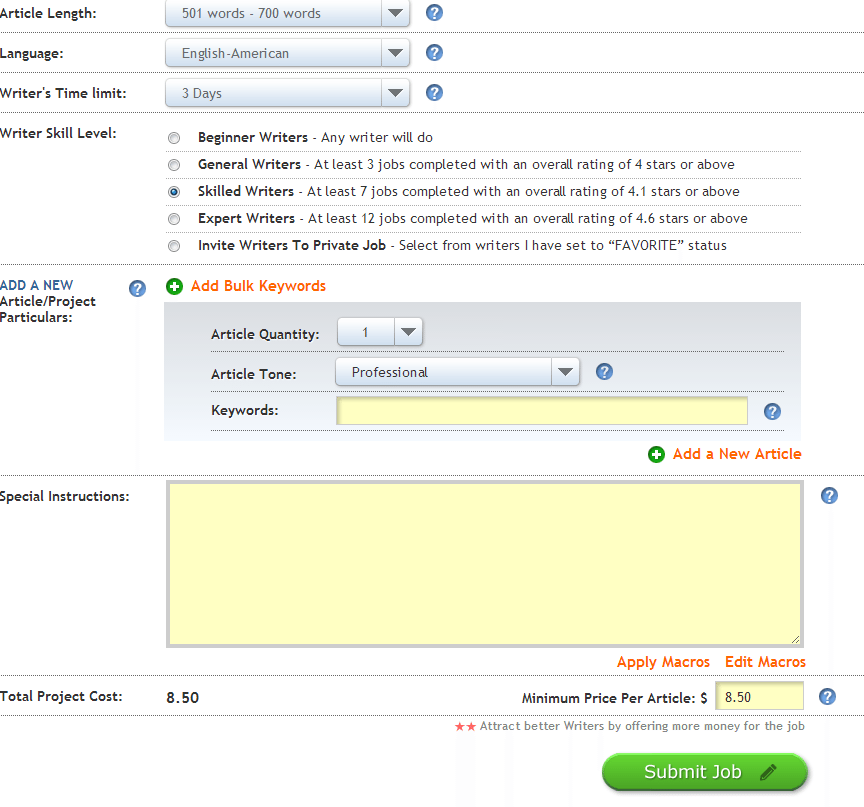 Now, I get sometimes good articles and I sometimes get rather poor submissions. This is where you start reviewing submissions to determine if you accept them.  With every submission that comes in you have the ability to see a preview of the writers submission with a watermark.  This allows you to read the full article and see the formatting before you accept it, this means you don't have to accept the articles submitted unless they meet your quality criteria.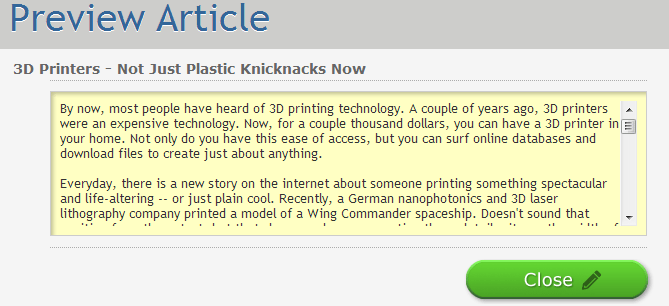 You don't have to accept any articles you don't like, this means writers are vying for your job opening and they will submit you their best work, why?  Because if you don't accept their article they make nothing, you aren't committed to paying for articles you don't like unlike a Fiverr gig or other type of random gig writing service where you hire the person first and see the article after.
Some other great features of HireWriters for people who spin content or guest post everywhere is that you can download spin versions of the articles which have suggested word replacements to allow for article re-spinning.  I don't do this, but I know this is leveraged a lot in the guest blogging community so I am pointing it out that you can get 2-3 re-spun copies of the same article by just hiring and paying for the 1 article.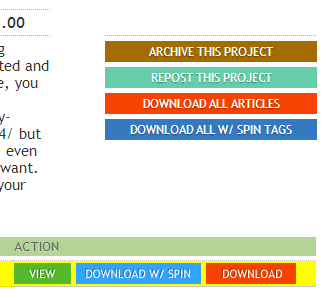 When a project is completed you also can repost the same project to open it back up and get more articles on the subject, this helps if you keep generic terms and categories of content rather than very specific topics for jobs.  You can also access all your previous accepted submissions and re-spun downloads from the Download Articles page in Hire Writers.
One of my favorite features of HireWriters as a client is the tipping the writer feature, after an article is accepted you have the ability to pay the writer a tip on top of the normal rate as a way to show appreciation for the quality of their work.  These amounts range from $1 – $5 if I remember correctly and are a great way to build a relationship with the writer.  You can also favorite the best content producers and directly invite them or offer them to take jobs you open later on as well.  At any time you can access writers in the system by searching for writers based on category, experience, country and more.  This allows you to pre-screen and find the writers you want to invite before you even open a job for more specific writer targeting.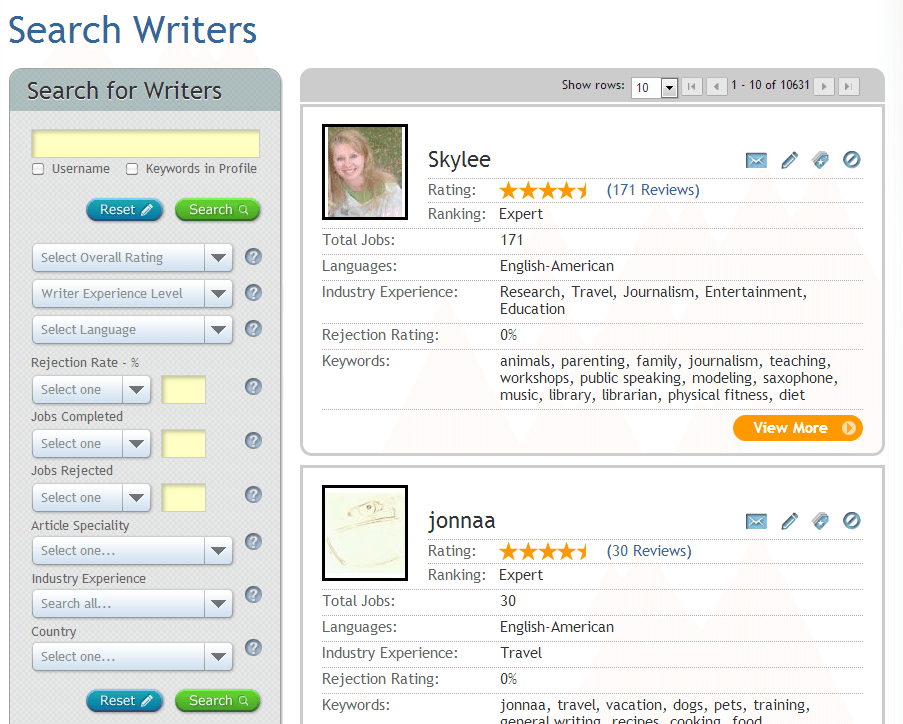 Facebook Fan Page Post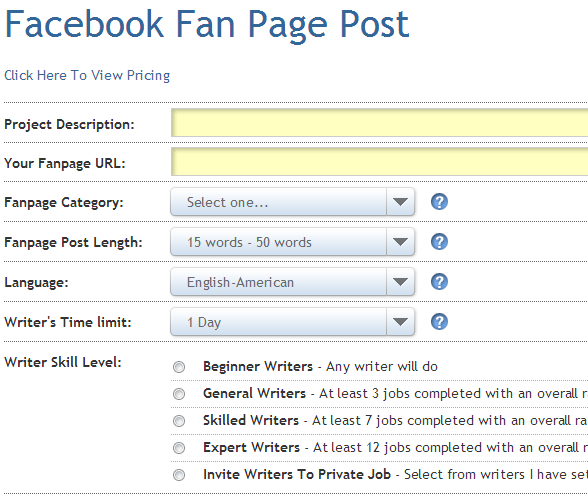 Facebook Fan Page post is the area you go if you want to hire someone to produce content for you to publish on your fanpage, typically this is engaging information that is much smaller in length than a blog post and provides information or engages an audience.  You can hire a writer to produce content that can provide information, solve a problem, ask a question or more and you can hire based on word length of the post.

This is particularly useful if you don't really run a blog and manage everything based off a fanpage and want to constantly feed out information, but this service is hiring someone to write information that will post on your fan page wall.  This isn't hiring someone to promote content on their social media property.
In Summary
HireWriters is a fantastic service for finding writers to create content for your site, the good thing is the service rightly puts price per article based on the quality of the writer as well as length of the content and the writers can make a fairly decent amount compared to really poor content scraping services. You will find some beginner writers and entry level writers who produce lower quality content but you will also find excellent writers in the system. There is no shortage of writers in the system who are looking for jobs, and I can say I highly recommend Hire Writers as an article writing service where you can find quality writers to produce content for your site.
I have been obsessed with computers, tech, gadgets and games since the early 1980's having grown up on the Commodore 64 and Amiga computers.
By day I work in the IT Security Industry and have been in IT for over 20 years. On my spare time I am a Vlogger, Blogger, Streamer, Gadget Reviewer, affiliate marketer, influencer and entertainer. I am also an avid movie fan, TV Show fan, Anime fan, video game fan and fan of trying anything and everything new.