Disclaimer: This was a sponsored post, commissioned by HostWisely.com. I was compensated to learn about the service and share my thoughts and opinions. The words and opinions are mine and mine alone.
---

It is ironic that my current hosting provider was having severe outage problems this morning with DNS and none of my three blogs were working when a request came in to review HostWisely which is a website which provides information, user reviews and coupons on over 50+ hosting providers. I decided to take a deep walk through of the website found that the "coupons" tab is something unique and different than the other web hosting review sites I have done.
You can find coupon codes for everything from shared hosting plans, to private hosting and dedicated servers. The coupon codes were all current and applied to February 2010 when this article was written. One happened to be for a dedicated hosting by PronetHosting for $49 per month which is about 1/3 what normal dedicated hosting costs and was truly a good deal.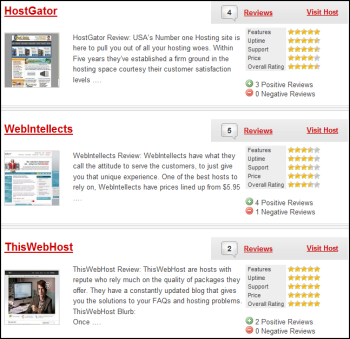 The site is easy to navigate and you can quickly see the top reviewed company on the homepage, HostGator was the #1 listed site based on reviews and it isn't surprising, I have seen HostGator in the top category on many hosting review sites. You can search for best hosting, cheap hosting and find what you are looking for. I found the cheapest web hosting I have ever seen from a company for $2.99 per month that they bill as a starter blog hosting plan under the budget hosting and this includes unlimited bandwidth.
This hosting provider also provides other valuable information and articles about topics that range from SEO to Blogging and Social Media in the articles section. They had some good articles about writing for and using Squidoo as well which I found interesting (I haven't used Squidoo very much so am not very versed about it and don't leverage it much).
If there was one thing that the site could improve upon it would be needing more user reviews for the hosting providers, so I added my own review of Dreamhost to the mix and was the first and only person to review that particular hosting plan at the time.
If you are on the quest to find a new or replacement hosting provider to house your website, online business or blog then you can find good information on some of the top web hosting providers by going to HostWisely.com. I would check out their coupons tab to see what kind of discounts and deals are available for the hosting providers right now.
Update:
HostWisely is giving away $100 to one lucky person who submits a review about their hosting provider between February 12 2010 and March 13th 2010, 5 people will be awarded prizes ranging from $100 to $10.   If you haven't submitted a review yet, I encourage all my readers to submit a review of your web hosting provider starting today and you would win a cash prize.
-Dragon Blogger