I was visiting Ben Spark's blog the other week from my blackberry 8830 and noticed his site rendered quickly, and with no images, ads or banners from my blackberry browser. I inquired to what he was using to make his site render differently on mobile devices. He told me about a Mobile Plugin for WordPress and I decided to do a little digging and find my own.
With the Mobile Plug-In For WordPress it comes as a plug-in and a theme, you install the plug-in, and you have to unbundle and install the theme as well. When you activate the plug-in (make sure you have theme unpacked to the themes folder first), your blog will now display a much lighter weight blog version to mobile devices.
I tested on my wifes Blackberry Storm and Blackberry 8830, but you can see in the settings all of the blackberry browser types that are supported by the Mobile Plug-in for WordPress.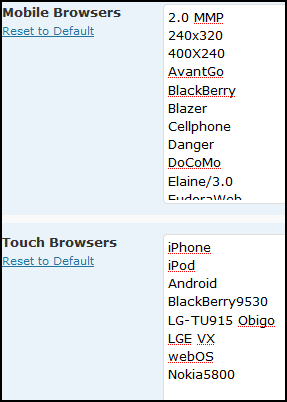 The advantages to using the plug-in are that your site will load instantly on mobile browsers, they will only see your titles and then can go into your articles upon selecting a title. This prevents them from seeing any images, ads or banners at the benefit of having instant access to content.
From my experience for mobile phones with such tiny screens and slower load times than home broadband connections, you can't afford to have 20-30 second page load times from someone who is on the go, they simply will leave your blog and move on to another news source before your page even finishes loading. It is better to provide immediate access to content so the user keeps coming back on a mobile device, mobile users are least likely to look at and click on sidebar ads which may not even be visible unless the user scrolls the screen on a mobile browser in some cases.
So if you are running wordpress and particularly if you have a theme with lots of widgets or embedded video, consider improving your blog experience on a mobile device and try the Mobile Plug-in for WordPress. I am now using it on dragonblogger.com so if you are reading this article from an iPhone, Blackberry or other mobile device, let me know if you like it.
-Dragon Blogger