This is a review of Inateck's Bluetooth Wireless speaker with tablet cradle and kickstand.
The Inateck Bluetooth Speaker supports 3.5mm AUX port, enhanced bass boost, Bluetooth V2.1 + EDR, built in mic speaker system, with a rechargeable battery.
This speaker in mostly black with some silver accents.  The look is long and rounded with a low profile.  It will stand on it's own without a tablet or phone in the cradle but the kickstand is needed for most devices that fit into the cradle to maintain stability.  A Nexus 7 tablet will sit in the cradle without the kickstand but if you were to bump a table with it on there it would tip over.  If your device has a case it most likely will not fit into the cradle however.  Which makes sense, if the slot was too wide there would be even more instability.  With the slot size and the kickstand I felt comfortable my device was safe even if a table took a little bump.
The only draw back to the cradle when putting the Nexus 7 in horizontally is you can't get to anything but the home button.  You have to remove the tablet to get to the other buttons.  If you put the tablet in vertically you do have access to all three buttons but I was not as comfortable with the tablet set that way.  It is still some what stable but not something I would want to leave while doing other things listening to music.  So as far as the cradle goes it is hit or miss if you want to actually rest your device in the cradle which is much better for phones, less for tablets.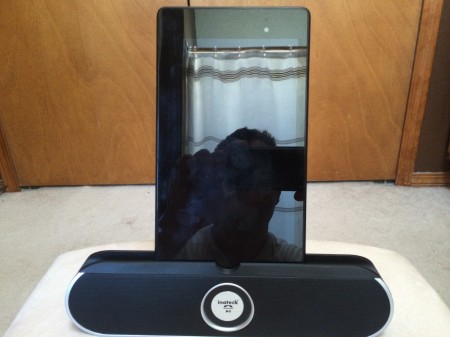 You have your standard Bluetooth v2.1 for wireless connectivity to your devices this is a little dated but expected for a device at this pricing.  It also has a microphone for hands free conversation via you connected device.  Sound quality for phone calls was decent but people on the other end said I sounded like I was in a warehouse, too much echo when I was speaking.  I tried in my bedroom, vaulted ceiling living room and 8 foot ceiling living room with the smaller rooms being a little better.  I also tried a Google Hang Out and it was pretty comparable to doing the same on a PC and like a PC with the cradle I did not have to hold the tablet during the conversation. Sound quality for podcasts is good, and was perfectly clear without distortion.  Music was a little less to be desired.  I have reviewed better quality Bluetooth speakers with better bass and actual sound quality.  Not unusable and fair sound but maybe a backup device vs. my primary of comparable priced Bluetooth speakers.  Music not so bass heavy isn't so bad and lyrics are clear but there is a little less clarity for the instrumentals.  A lot of bass in the music accentuates this issue and makes the instruments even less clear.
You also have the aux out with provided cable.  Sound quality was about the same if not a little worse.  Could be the quality of the cable that it comes with that makes  it sound perceivable worse than Bluetooth to me for the same audio track.
There are no volume controls on the actual devices, which is different from some Bluetooth speakers.  All volume control is done from the connected device.  You also have a micro USB connection, with provided cable for charging the device.  It does have the aux out as mentioned, and a on off switch.  On the front there is a single button for play/answer a call and pause.  There are visibly lit indicators of how a device is connected.  Whether that is via Bluetooth you see the Bluetooth icon or you see AUX if the aux cable is connected.  If the AUX cable is connected the Bluetooth is turned off by default.  There are also audible tones when the device turns on then when a Bluetooth device or AUX device is connected.  As is pretty normal when turned on it will be in pairing mode and will wait for a new device to connect or connect to the last connected device if it find it.  I used Nexus 7, IPhone 5s and a Galaxy S5 and connected without issue.  Pairing with the iPhone took two tries but not a big deal.
Battery life was about what is advertised.  I got around 5 hours a couple different times I fully charged it and ran it completely out.  5 hours 23 minutes was the high and 4 hours 57 minutes was the low.
Overall I thought the Inatek Portable Wireless Bluetooth Speaker was a fair speaker and not bad, and while it may not be my first choice the cradle is something to consider as a plus.  It was nice to set the device in the cradle and walk away not worrying about it.  The ability to do hangout without having to hold the tablet or phone is nice touch for the speaker and sets it apart from most other Bluetooth speakers, especially in this price category.  The speaker wasn't great for music, especially bass heavy music but this may be a mobile music device I could see listening to podcasts, watching TV shows and doing my online video chatting with family and friends as one of the primary purposes for this speaker.
I am just a geek getting older but keeping up.