I had a conversation with Caleb recently over at The Market Secrets Blog about installing WordPress plugins and Caleb happened to mention he saw a plugin called Improved Plugin Installation that will allow you to instantly install as many WordPress plugins as you want just by simply listing the plugin or the URL on a multiline field.
I had to try this plugin for myself and as a WordPress administrator this plugin will save so much time if you create a custom/paste list of all plugins you want for new WordPress blogs.
I installed the Improved Plugin Installation WordPress plugin and saw it presented a list of options on the "Install Plugins" screen in my WordPress Dashboard.  I tested it out by listing a slew of WordPress plugins and clicking "Install Now"

This plugin does exactly what it says and will instantly install all plugins listed, note though that you have to have the formal plugin name exactly pasted right (or the plugin URL from WordPress.org/extend or else it will fail to find the plugin.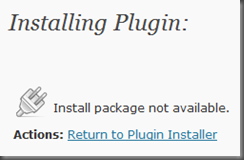 If you are a WordPress blogger and you like to  install/configure plugins regularly or you build WordPress sites for clients then this plugin is fantastic at automatically installing a group of "predefined" plugins instantly from the WordPress dashboard.  This is ideal for situations where you don't have FTP access to a clients web hosting provider and doesn't even require you to download the plugins to your PC to upload them to the site first.
You can easily see a results page which shows which plugins succeeded or failed: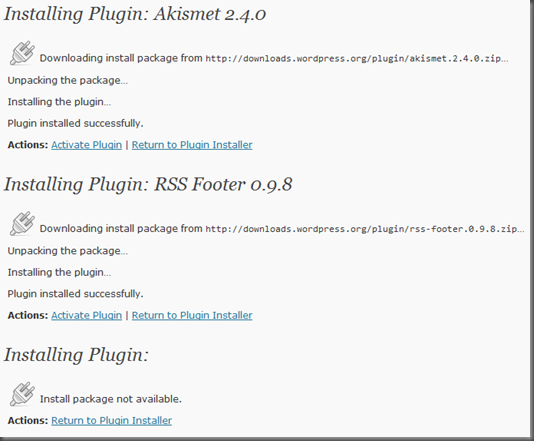 The only ones that have failed are ones that are already installed or the name of the plugin was typo'd from my testing.
If you are a WordPress admin and work on more than 1 WordPress blog or setup blogs fairly frequently, then I recommend you give the Improved Plugin Installation WordPress plugin a try, this is now one of my Must Have plugins for WordPress.
The plugin also comes with a bookmarklet to let you instantly install WordPress plugins while you are visiting the WordPress.org website and browsing plugins.
-Dragon Blogger