After my experiment with Backlinks.com ended DiTesco mentioned another service called Intellilinks which also offers a similar service in that it allows bloggers to sell links in post articles or on homepage and be paid monthly for them.  This service offers in post links where specific keywords targeted in your posts can be sold so the in post links are more effectively hidden and look proper instead of having the links just listed at the bottom of your footer like in Backlinks.com.
I decided to take the plunge again and risk my sites PageRank in the efforts of testing so that I could provide accurate information to my readers who are trying to make money with their blogs.  I signed up for an account on Intellilinks and listed my website below: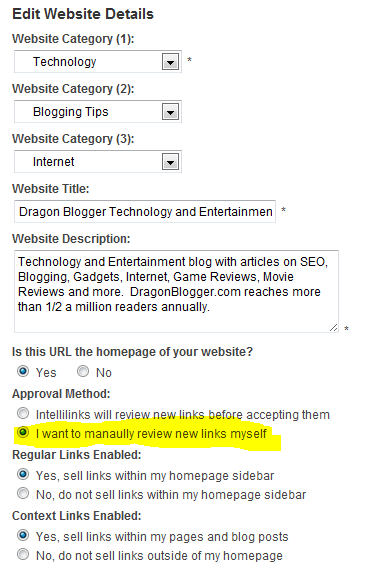 One thing to make sure is to manually review links, I don't trust advertiser systems and it defaulted to letting Intellilinks approve my ad links, I would like to see what is being offered and make the determination for myself.
I signed up for the service on March 16th 2011, and decided to leave my blog in the system for a month to see what kind of offers come my way.
So far as of April 30th 2011, I haven't seen a single offer or opp come available so I can't say if its due to my blog being a PR4 and too low or the system just has a very low amount of advertisers.
I can't recommend Intellilinks as a service to bloggers to try to earn from their sites at this time as I have had 0 offers in over 30 days.
-Dragon Blogger