Just last week Tom (or Joe) tweeted me on Twitter and we were discussing AdSense and monetization.  I wound up following his Twitter account back to his YouTube account and saw that Tom and Joe were twin brothers who started a venture to make Stop Motion Lego video's and post them on YouTube.  Their productions were quite impressive and their channel had over 19 million views!
I was fascinated by what these twin brothers were doing at their age so I decided to setup an interview with them which I thought would be beneficial to entrepreneurs everywhere and especially serve as inspiration to kids and teenagers looking to thrive with an online venture.
So without any further backstory, here is my Interview with Tom and Joe Hobbs.  (Note, they collectively replied to each question so I assume they collaborated on responses).
Interview with Tom and Joe Hobbs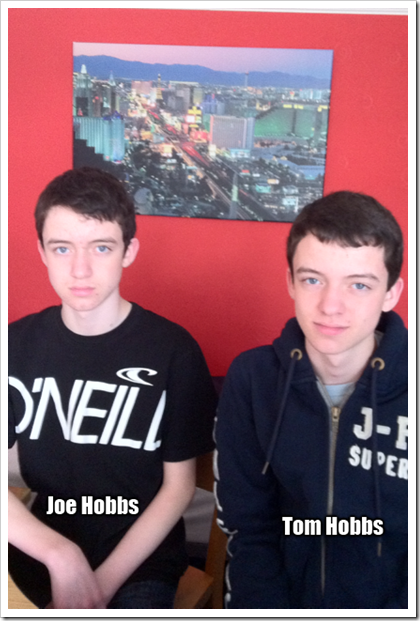 DragonBlogger: Go ahead and introduce yourselves here on DragonBlogger.com, let our readers know what your all about.
Tom & Joe: Our names are Tom and Joe, we're 15 years old and are twin brothers. We live in Essex in the North East of London and are currently going through our end of school exams. We both own the YouTube channel tomjoetwins in which for the past 3 years we have been uploading short stop-motion animations. Our YouTube channel currently has 18 animation videos and a total of 19,401,600 upload views and 24,600 subscribers. As well as this we have created a twitter page @tomjoetwins and tomjoetwins.com (which is still in the making) to help promote our Youtube page.
DragonBlogger: When did you decide you wanted to start a motion capture project?
Tom & Joe: We first decided we wanted to start a stop motion project about 3 years ago at the age of 11, we had both seen some animations on YouTube using clay and toy figures and having a digital camera we decided to do some experimenting. The basics of creating a stop motion were fairly simple, so we pretty much taught ourselves how to animate. At first we animated things like shoes, clothes and house hold objects and become fascinated by the outcome. We showed our friends and family and they thought it was great. We then started experimenting animating with Legos, the scale of the Lego pieces in relation to the camera meant it was easy to animate in small spaces like on a desk. After making some jaggy Lego stop-motions of our own we discovered that there were already a lot of YouTubers that were uploading Lego stop-motions and gaining a lot of views. So we then created our YouTube channel tomjoetwins and uploaded our first stop-motions.
DragonBlogger: I imagine putting your artistic experimentations on the web must have been a little nerve wracking at first, what kind of feedback and support have you gotten from viewers?
Tom & Joe: The feedback and support we've gotten from our viewers has been fantastic. When we uploaded our first animations we used their advice to improve the quality of them. As creating a stop-motion animation takes up a lot of time, we weren't always so keen to carry on creating them, but it was the feedback from the viewers that kept us going. Once we had developed the audio, camera quality and story lines of our stop-motions we were approached by a lot of people asking us to create animations for them. An American shopping channel asked us permission to allow them to show our videos along side some of the products they were selling, and a number of bands offered us money to create music videos for them. Also , we were approached by the animation company Loose Moose Productions, which produce a number of popular TV commercials for both the UK and the US. They offered us to do 2 weeks work experience at their studio in London which we found fantastic. We learnt a lot of new skills and how the animation and film production industry works.
DragonBlogger: So once your video' started becoming a hit, at what point did you think "Monetization" as a strategy and how do you monetize your stop motion capture projects?
Tom & Joe: We monetize our project using Google AdSense. At first we had no idea that we could make money from our YouTube uploads. But we later discovered what the YouTube partner program was. It meant that popular YouTube users who create unique, well viewed videos could earn revenue from advertisers being displayed on their uploads. It also meant that the user would get a host of new features only available to YouTube partners, such as being able to upload longer videos and having a banner feature on their channel. Also it means the user would get invited to exclusive partner gatherings and meet-ups where they would learn how to increase their AdSense revenue. We applied to the YouTube partner program 2 years ago at the age of 13, not thinking we would get in. We later received an acceptance email welcoming us to the program and inviting us to create a Google AdSense account to get started, we were over the moon! Once we had an AdSense account and allowed YouTube to display adverts on our videos we started earning money from every view and even more from every click on an add. Our AdSense account allowed us to monitor our earnings and clicks/views. In July 2009, we received our first check for £202 ($301) this was 2 months worth of earnings. We were so overjoyed by this that it motivated us to dedicate a lot more time to making the animations. Our revenue quickly increased and in December 2011 we earned £1,947 ($3,198) in a month. Our total earnings from June 2009 to May 2011 has been £19,000 ($31,211). Part of the monthly checks were payments from YouTube as well as Ad sense. It became clear that to increase our earnings we had to create more frequent uploads and gain a larger viewing audience. Earning this amount of money greatly increased our dedication to create the animations an greatly improved there quality, gaining us a wider viewing audience. Our viewers are key to our earnings, so by creating things like animation contests on our YouTube channel and replying to emails we helped keep our audience fixed. Another way we increased our revenue was by defining a clear viewing audience and creating our animation to fit their wants.
DragonBlogger: Thanks for sharing your experience with AdSense and YouTube Partner Channel you did a great job explaining how it all started and where you guys are at.  Your earnings are fantastic and the fact that you continue to earn from video's you created previously is great.  What was your strategy about leveraging other channels (Twitter / Facebook / Website) as a way to promote your primary strategy (YouTube video's)?
Tom & Joe: We haven't had much success yet in using our twitter and website to promote our primary strategy. But we are currently working on a much improved website and are hoping it will draw more people to our YouTube page. Also, by using our twitter pages (@tomjoetwins @tomhobbz and @joehobbz) we hope to promote our youtube channel even further.
DragonBlogger: I think that possibly embedding YouTube video's and bringing in pageviews from both sites could increase exposure, but clearly your YouTube Channel is your show and that is what you want to focus on.  What advice would you give to other kids or teenagers who want to do something online or start an online venture?
Tom & Joe: Our advice to any young person who wants to start an online project like this is to find something that you enjoy. You need to be willing to dedicate a lot of time to the project and if it's not something you're not going to enjoy along the way, it's not worth doing!
End of Interview
Now that you read the Interview with Tom and Joe Hobbs, see what it is they put together.  Here is the video of one of their awesome Lego stop motion productions!
Thanks to Tom and Joe for the interview, these kids have a great goal and are an inspiration to teenagers everywhere that they should set a goal and pursue it no matter their age.
-Dragon Blogger