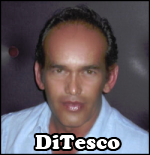 I have collaborated a little with Francisco Perez online for almost two months now and have grown to not only respect him as a blogger but also as a business man and person. Francisco whose most recognizable online as DiTesco runs several online blogs and is constantly learning and adapting his blogs to become an even better blogger than he is today. So here is my interview with DiTesco from iBlogZone.com and I highly recommend you visit his blog and follow him on twitter.
Begin Interview
---
DragonBlogger: Who are you? Let our readers know a little bit about you.
DiTesco: My real name is Francisco Perez (aka DiTesco). Father of two, I was born in the Philippines, raised in Brazil, lived in the USA, and now reside in Portugal. I had my share of travel (primarily on business in over 25 countries) and I have been in Portugal for a long time now. I am fluent in English, Portuguese, Spanish and a little bit of French too:)
I have a degree in Business Administration (from Brazil) and have been a management consultant for the past five years. My professional experience includes: Senior Auditor of PriceWaterhouseCoopers (Brazil); Regional Internal Auditor of AIG – American International Group (Latin American Division); Worldwide Internal Control Manager of ALICO (American Life Insurance Company – AIG Subsidiary, USA); Chief Operating Officer of ALICO (Portugal); Director of Finance and Administration of Banesto (Banking – Portugal); General Manager of Sensormatic (Anti-Theft Devices – Portugal). I presently manage my own company of Business and Management Consulting.
DragonBlogger: When and why did you start blogging?
DiTesco: I always have had this thing about helping people, sharing my experience with others and to continue learning, as it is a curve that never ends. I guess it has something to do with my past. I was very lucky to find mentors who where always there for me. I figured, the best way to share and learn something is through a blog. I started just about a year ago and one of the most important barriers that I had to overcome was what topic to choose. I came up with business online (MMO), which was easier because it was broad and, one can write about almost anything. Further down the line, and as my online experience grew, I started to blog about other related topics, such as SEO, Internet Marketing, etc.
Naming my blog was also complicated, I wanted something more related but everything was taken at that time, so I just kept on trying. So, there is nothing special about the domain name.
DragonBlogger: What makes your blogs different?
DiTesco: This is a tough one, but the one thing that I am particular proud of, is that I made it a point to only recommend or endorse products or services that I can trust and rely upon. Before suggesting anything, regardless of what it is, I will first try it myself and if that is at all not possible, I will research many times over until I am satisfied that it is something worth me writing about. I believe in a sense that this is what makes me slightly different from the rest and for that same purpose, my blog.
DragonBlogger: Do you try to monetize your blogs? If so, what do you like using?
I monetize my blog, sure, but I try to "sell" and display less intrusive ads on iBlogZone. I have squeeze pages and other blogs where I put more effort on for making money online. Despite this, all the ways I use are pretty much covered on iBlogZone. As for my choices on making a little extra money online, I will have to mention them in order of importance, i.e., the ones that works best for me. These are: AdSense, Google's Affiliate Network, LinkWorth, SponsoredReviews, Chitika, CJ, BlueHost, Mahalo, TLA and direct services. Although the later is not blog related, I would not have had contacts from clients if it were not for my blog. Having a blog nowadays is a must and it is amazing the kind of offers that one can receive if you know have the patience, and put the effort required to it.
DiTesco: Where do you see yourself and your blogs in 2 years?
Blogging is a difficult task and one must provide constant attention with the risk of it dying in no time. This is probably one of the downsides in blogging. The competition is fierce and new blogs are arising every day and are getting better and better. I would like to be one of the references in the MMO niche within this time frame, but most importantly, I would like to be part of the community and continue to provide information with value.
DragonBlogger: What other social networks do you primarily use and why do you prefer those to countless others?
DiTesco: Curiously, the social network that I primarily use is BlogCatalog (BC). I have always wanted to be a big fish in a small aquarium, rather than being a small fish in a big aquarium. At BlogCatalog, I built a good relationship with fellow bloggers. I created a group, which now have 2.200 members. Many of my online friends and loyal readers, I have met on BC. I figured that it is impossible to stand out if you are all over the place, so I concentrated on one and made it count. Now, aside from BC, I am an avid user of Twitter. It drives traffic to my site and using a technique called, multiple account management, I enjoy making a little extra on the side too:)
DragonBlogger: Who are some of your inspirations professionally or personally?
DiTesco: My professional inspirations are mainly from people I met offline. These are the ones that mentored me and for which I am grateful for where I am today. My professional background perhaps is playing an important role in my online journey. As for my personal inspirations, without any doubt today are my kids. They are the ones that give me the drive when I decide to do something.
DragonBlogger: What are your goals for your blogs?
DiTesco: There are two goals that I set up when I decided to blog. One is to prove to myself that with the necessary vitamins it is possible to achieve success online. The other is, if I can do it, so can you.
DragonBlogger: Do you have any funny or interesting stories about your blogs?
DiTesco: I am not sure you would consider this funny, but about two weeks after I started to blog, I received my first comment and I went to the roof. I jumped up and down and said to myself, you're the man. Needless to say the excitement I felt of being noticed, that someone actually read my blog. Needless to say that that comment was SPAM, lol
DragonBlogger: What advice can you give other people who are interesting in pursuing a similar blogging path?
DiTesco: Just like anything else in life, in you want to succeed, you must work hard for it and be patient. There are no shorts cuts to being successful in blogging. Forget what many tell you about getting rich in no time. If that were true, I would have stopped 6 months ago:) One important aspect to blogging is to know how to choose your niche. Choose wisely as you will be in it for the long run. Interact, reciprocate, socialize and be honest. You have to build your credibility if you want to be recognized in the blogosphere. Only then can you earn a decent income.
DiTesco: I'd like to take this opportunity to thank you, Justin, for this interview. It is always a pleasure to be interviewed by someone who is today an example of what a blogger should be. You are honest, helpful and genuine, and that is a rare commodity nowadays. Thanks again and to everyone's success.
---
End of Interview
I would like to also thank Francisco for the interview and sharing about himself, his blogging methodology and recommendations to other bloggers.  DiTesco is a founding member of Allied Bloggers a group of diverse bloggers who all joined together to help each other pursue blogging success, a group which I am a proud member of.
-Dragon Blogger
I have been obsessed with computers, tech, gadgets and games since the early 1980's having grown up on the Commodore 64 and Amiga computers.
By day I work in the IT Security Industry and have been in IT for over 20 years. On my spare time I am a Vlogger, Blogger, Streamer, Gadget Reviewer, affiliate marketer, influencer and entertainer. I am also an avid movie fan, TV Show fan, Anime fan, video game fan and fan of trying anything and everything new.