Mega successful internet entrepreneur Ben Behrouzi is running a contest on his Facebook Fanpage between now and April 30th that will win one person an iPhone 3GS by entering the contest.  To enter the contest all you need to do is become a fan of Ben Behrouzi on Facebook and post an Entrepreneur quote on his wall.  This quote can be anything that may pertain to an entrepreneur, like a phrase, saying, quote or motto.  You can post a famous quote (cite author) or even one that you live by or follow.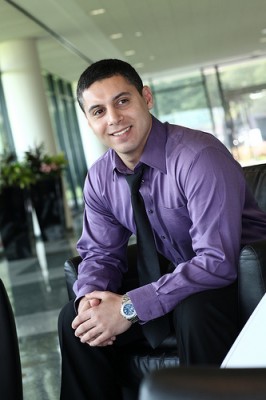 I actually hadn't heard Ben Behrouzi's name before I became a blogger and started delving into Social Media and Search Engines over the past several years and recently I have started seeing his name and companies often printed and mentioned on other major news sites or blogs regarding "Real Time Search" and other internet ventures he is involved with.  I was actually surprised when reading Ben's bio that he has founded 10 internet companies which includes DotNext and Reply.com by the time he was 26 with a combined worth of over 1/4 of a billion dollars for all his online companies.
Personally I have always envied entrepreneurs not really being one myself even though blogging is a kind of entrepreneur ship, it requires very little monetary investment so therefore has very little risk of loss associated with it.   I think that anybody who has the vision to create a company and the motivation, brains, talent and yes "luck" to achieve success deserves applause because this is true testament to someone forging their own career destiny where they created something from scratch from an idea or vision that they had.
So spend a minute and read about someone who had been involved with so many online companies that you probably have heard of some of them if not used some of them regularly.
Join Ben Behrouzi on Facebook and enter the iPhone 3GS Giveaway contest and you could be a winner.
Don't forget, to enter the contest you have to become a fan of Ben Behrouzi's facebook page and leave a entrepreneurial quote on his wall:
Here is an example type of quote:
"Innovation distinguishes between a leader and a follower." - Steve Jobs
-Dragon Blogger