When Daniel Lew contacted me letting me know that Keyword Winner 1.3 was released I was more than happy to take a look at it and share the information with my readers and fellow bloggers who visit DragonBlogger.com.  Keyword Winner is a WordPress plugin that helps you optimize and choose the best keywords for your WordPress title which can help improve your posts ranking in the SERP (Search Engine Results Page).  I was granted access to a few test sites by Daniel to experiment with how the plugin worked so that I could do a proper review and provide updates to my readers.
I want to tell you that I first tested Keyword Winner while doing a guest blog post over on ComLuv.com blog where they installed Keyword Winner as an SEO tool for guest bloggers to use.
What is Keyword Winner?
Keyword Winner is a plugin for WordPress that allows you to put in your targeted keywords in a post title and search to get results on how much competition there is for the keywords you are targeting and similar keywords which may be a better option to choose.  It works very simply, you just install the plugin after you purchase Keyword Winner.
Set the license key information in the license page part of the plugin:

Then configure the settings part of the plugin, I will be honest that this part requires  a Google email account.  I am not willing to provide my Google email account and password to anything since it also controls my AdSense, Buzz and everything else important.  So my suggestion is to create a new Google Gmail account for the plugin for security reasons, I may be paranoid but this is my recommendation.  You also only need to enter your ClickBank ID if you intend on affiliate promoting the product (more on that later).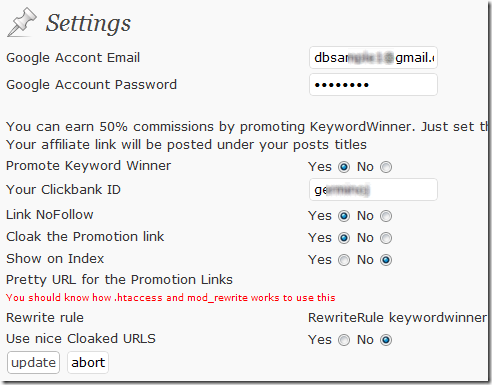 Now you are good to go, click on create new post and you will see a new "get suggestions" button under the post title, just enter a few keywords (it recommends 3-4) and click get suggestions.
Does Keyword Winner Work?
For my example I did a keyword target for "starcraft guide" as my keywords and you can see when I clicked "get suggestions" that it showed several results in red and one in yellow.

Red means that there is heavy competition for those keywords while yellow indicates a fair amount of competition and green means low competition.  You really want to find green keywords that have a lower number of SERP results to increase your chances of ranking higher.
Search Trends is a loose estimate on how much search traffic there is in recent history for those keywords, it is a general measure and doesn't provide any in depth analysis.
So based on the information provided I know that I should target something about the protoss guide to increase my chances of getting a higher SERP result rather than starcraft guide itself which had over 6.3 million competing pages ranking for that keyword.
So in answer to the question does Keyword Winner work?  The answer is yes, it will show you options and let you know if the keyword you are targeting has a lot of competition plus help you find other keywords that are similar with less competition.
That being said, I found that the plugin which measures results from actual searches on Google appeared to be more accurate when determining competition than using the Google AdWords Keyword Research tool directly.
So I used the same keywords "starcraft guide" and searched in the Google AdWords Keyword Tool and it pulled up the following top 3 results.

Why the hell would Google Keywords tool show there was low competition for a keyword with over 6.3 million result pages that match?  This means if you only used the Google AdWords tool you might believe that this would be a good keyword to target and you would be wrong right?
I mean if you click on starcraft guide link you would see this: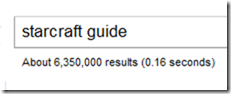 You would know that if you chose those target keywords you are going to have an SEO battle on your hands to try and get in the top 10 results when competing with 6.5 million other pages that match.
Now, this tells me that the AdWords tool is inaccurate in how it measures competition or that Google treats competition differently.  Either way this maybe why you see so many bloggers talk about how Keyword Winner is a great deal and is a valuable tool to help bloggers find better SEO keywords and  provide data to help their posts rank better in the search engine results pages.
At $77 dollars for a single site license (I always recommend the multi site license if you run more than 1 blog) which is only $20 more this plugin can be of value to help save bloggers time and improve their SEO and SERP results.
Keyword Winner Affiliate Options
If you decide to purchase Keyword Winner and use it, you may want to consider having it pay for itself by affiliate selling it.  Only sell the product if you genuinely stand by it as reputation is always key.  I wouldn't promote this product until I was able to get my hands on it and test it myself to confirm it would be of value to bloggers.
One feature that will probably be liked by affiliate bloggers is the Keyword Winner allows you to showcase that your title was optimized by Keyword Winner and link to your affiliate URL.  This can help drive traffic to the plugin and translate into a higher number of sales and is worth testing out if you are looking to increase your affiliate sales for the Keyword Winner WordPress plugin.
It also gives you full ability to make it a nofollow link and even cloak the sales link if you don't want to promote the plugin:
So if you are looking at a WordPress plugin to help you optimize blog titles for SEO then Keyword Winner can help you by saving time and if you are writing content often saving the extra time and spent a lot of effort to research each word manually on Google Adwords itself this plugin can be worth the nominal up front cost.  If you sold just three copies it would pay for itself too!  I do recommend the multisite license which is only $20 more than the single site license for bloggers who run multiple WordPress blogs.

-Dragon Blogger