I'm writing this review from my Samsung Galaxy Tab 3 tablet. Sounds silly? Well it would be near impossible if I had to use the onboard keyboard to do it. Not if you are able to use an external keyboard. I received the Koolertron Bluetooth Keyboard and case in the mail and its been a lot of fun testing it out. With it you can turn your Samsung tablet into a mini Notebook. Check out the review below for the details on the Koolertron Bluetooth Detachable Keyboard and Case.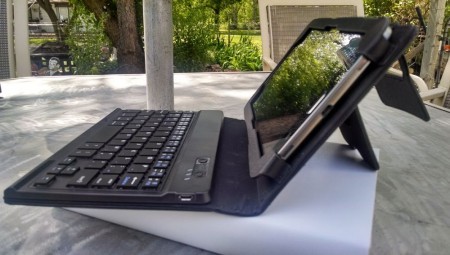 Special Note: Before ordering make sure you check the model number of your device. Otherwise you could end up with the incorrect case!
When I was first presented with the idea of a keyboard for a tablet I wondered what the use would be. Would the keyboard even work? How cramped would it be? Could I even type on it? Would it diminish the whole point of even owning a tablet to begin with?
Watch the Video Review
Koolertron Bluetooth Detachable Keyboard and Case
I received the tablet from Koolerbuy a few days later. It came in a pretty generic looking box. It immediately reminded me of those old Day Planner books I used before Smartphones allowed me to schedule everything from Google Calendar. The specs didn't impress me either:
Package Contents
PU Protective Folding Leather Case
Removable Bultooth 3.0 ABS Keyboard
USB Power Charging Cable
User Guide
Features
Built-in Lithium P0lymer battery – 480 maAh
Voltage: 3.7v power charge connector
Input: Micro USB charge 5v
Keyboard standby time: 30 days approx
Continual working time: 60 hours
Charging Time: 2 – 2.5 hours
Operating Temperature: 20C – 55C
Working Distance: 10m
Quality
Overall quality isn't that bad actually. The case itself is a mix of leather and plastic. It appears that it can stand up to some wear and tear. It is very lightweight but it does add some considerable bulk with the tablet and keyboard. Think of a medium sized hardcover book. Its about the same size and weight.
The keyboard? It looks like any notebook keyboard. So you would need to treat it just like your notebook. It would withstand you tossing it onto your bed. But if you were to accidentally drop it onto a hard surface? It would most likely stop functioning.
Installation
Inserting the tablet into the case was simple enough. Pull out the Velcro tab from the inside of the case and stuff the tablet into the sleeve, then secure it using the Velcro tab again. I noticed that the tablet isn't a perfect fit. Even with adjusting the velcro which secures it. It still has a tendency to slide around inside the sleeve as I take it with me. Also getting to the power or volume buttons with my fingers was pretty difficult.
Getting the keyboard setup was a snap though. I turned on the keyboard, turned on Bluetooth from the tablets settings and it paired up quickly. I was then able to start using the keyboard.
Using the Keyboard and Tablet
To use the keyboard after installing it was simple enough. It has a convenient kickstand much like a picture frame that pops out. The angle is perfect for viewing the screen as your using the keyboard.
Navigating the Keyboard
I though at first I would be able to master the keyboard and start using it for navigating within Android fairly easily. I was quickly frustrated and found myself jamming the ESC key to back out of windows or trying to mash the TAB key to try and get to specific menu options within applications. Since the keyboard didn't come with instructions on how to use it. You are  forced to figure things out as you go.
Keyboard Layout and Keys
Keyboard Layout
It is a bit different from your normal keyboard. Or even a regular sized Notebook. It reminded more of those tiny Netbooks that were a flash in the pan. They had to cram a full featured key set into a tiny space. So it requires a bit of "hunt and peck" to try and find everything on it. I liked the fact that they use the Function (FN) keys so you can control the tablets volume.
Keyboard Keys
The keyboard itself has a great feel to it . They aren't the soft mushy buttons that Microsoft Surface uses. It has true responsive keys like you would find on a laptop. You get a nice response when pressing the keys. Which is important for me while typing. Although the keyboard is pretty tiny. I was still able to type quickly with a fair degree of accuracy. I only had to stop typing whenever I had to find specific punctuation as they are laid out differently. Speaking of using punctuation…
Finding Punctuation and Special Keys
While I was typing along I had to continuously stop to search for common punctuation. Finding the apostrophe key had me staring at it for a good five minutes before I figured out I had to hit the FN L keys to get it to type one. Due to the layout of the keyboard (due to its size) you will need to re-learn and adjust where keys are located. After a few hours spent I was able to whiz along at almost the same speed as I normally type.
Too Generic?
The only thing that I really didn't like? Its the fact its setup to be used with multiple devices for Android, Microsoft, and Apple. The included instructions even show you how you could setup the keyboard to be used with all three types of tablets.
Great for Writing!
I wrote the first draft of this article using Polaris Office.  This is where the keyboard really shines. As I'm writing this article it felt almost as easy as when using my Ultra Book. I actually made less mistakes since I didn't have a touch pad to worry about accidentally touching as I was typing. Using the tablet/keyboard combination is great for those who want to write but not lug around a full sized laptop.
Battery Life
The packaging states that you will get 30 days of standby with its built in lithium battery. Unfortunately I found that it didn't last even 48 hours. The battery was completely dead. After using it for a week I found it better to shutdown the keyboard using the power switch to get more life out of it.
Uses the Keyboard Would be Good For
This is a great solution for traveling if you don't wish to carry a full laptop with you. Its still compact enough to be able to slip onto your carry on or briefcase.  I could foresee using it while on Vacation as well. This way I could catch up on emails or write FB updates on how much fun I was having in the evening.
Not Quite as Portable?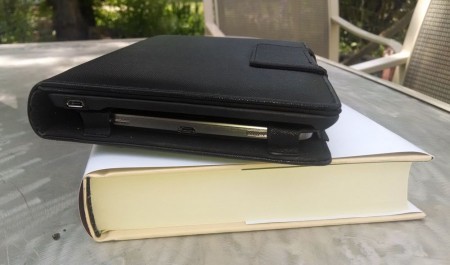 The downsides of using the keyboard and case? Well it is quite a bit bulkier and you are no longer able to stick it in your pockets like you could with just the tablet. Then when you just want to use the tablet to read like I do. Then your stuck opening it like a regular book, and it can become a bit cumbersome.
What I Like
The keyboard case is pretty decent quality. It will protect the tablet, but I kept thinking if I dropped it I wondered if the keyboard would survive the fall. The keyboard itself has a great tactile feedback and the keys are just big enough, even with someone like myself who has some pretty large hands.
I like the idea of being able to take this with me while out on business or vacation instead of taking a laptop. It will be easier to stow away. And if it does get stolen? Im not out the 1000 bucks I spent on my Ultra Book. Plus with the security apps out I can remotely wipe the device :)
What I Don't Like
It just isn't the same as just having the tablet. With the case your stuck carrying around a medium sized book around with you.
I would have liked the keyboard more if they would have built it specifically just for Android instead of trying to cover everything. I understand it is more economical for the manufacturer. But I would have loved to have seen a big Android home button where the Apple Command button was located.
Having to use two chargers – one for the tablet and another to charge the keyboard gets old quick. I ended up forgetting one or the other and ended up with a half charge on the tablet.
Conclusion
Overall this is a great case and keyboard even with my gripes about it. If you need something that is small and lightweight to carry around with you instead of a full laptop? Then this could be an ideal solution for you. For the $30.00 you'd pay for it (plus shipping) it is quite affordable.
For regular day to day use of browsing, email, or reading? Than this could become annoying and cumbersome pretty quickly.  What do you think though? What could you use it for if you had one?
Dad, Geek, Gamer – When not playing Call of Duty you can find me writing about the latest games, technology, and blogging tips, tricks, reviews, and how-tos. You can find me on Twitter, Facebook, Google+, and of course over at avgjoegeek.net