So over the past few months I have been testing a service called LinkSmart which is an analytics service but with more features and capability.  I have been using this service as a way to get more insight into the traffic, keywords, click through keywords and more on DragonBlogger.com and my smaller sites as well as see how it can offer information above and beyond Google Web Master Tools or Google Analytics.

LinkSmart is free for the rest of 2013 if you email sales@linksmart.com and mention DragonBlogger referred you. When getting setup for Linksmart, they take the time to setup and work with each client individually, so you don't register yourself you instead contact them and they build your client setup on the back-end and if you are a WordPress owner you just install the LinkSmart plugin and activate it and they do all the initial setup work.

After the plugin is activated like with most analytics plugins you will have to wait 24 hours to make sure it is tracking and you want to wait at least a week or more to let it start collecting and sorting through the data before you take any sort of action on the analytics.
The Analytics of LinkSmart are all about pageviews and clicks and showcasing you how many clicks are being made on your site, where and which keywords are producing the most clicks and which articles.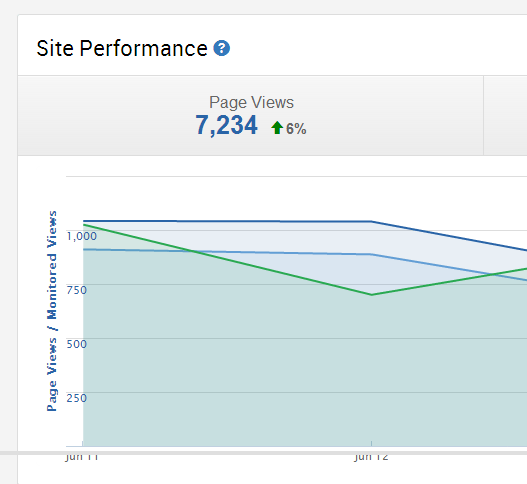 You can see a breakdown of stats showing your internal link clicks (clicks to internal pages) and external link clicks as well as your bounce rate.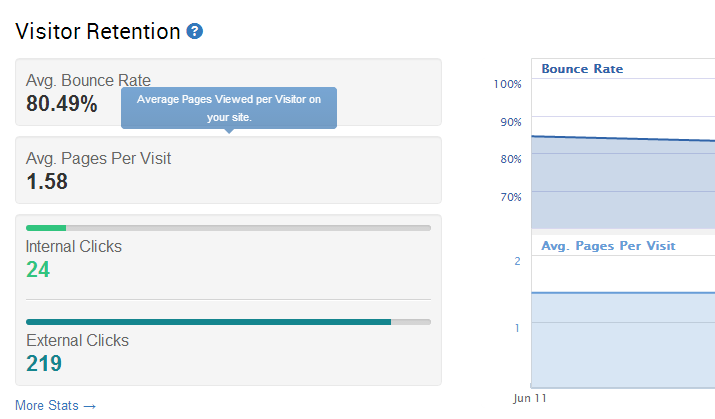 Note the extremely high bounce rate which is something we are working on with this site.
You get some interesting averages from all monitored pages that show you the number of average words for your articles, number of words per link…etc.

Note this content metrics only shows the total # of unique pages hit for the time frame you have selected, as I was using a sampling of 7 days, I saw 433 out of my 2000+ posts on the site were hit in the past 7 days and this was an average for those posts in the last 7 days only.
If I expand that range span back for a month which I have only been using the LinkSmart plugin and testing it over the past month then you can see the increase.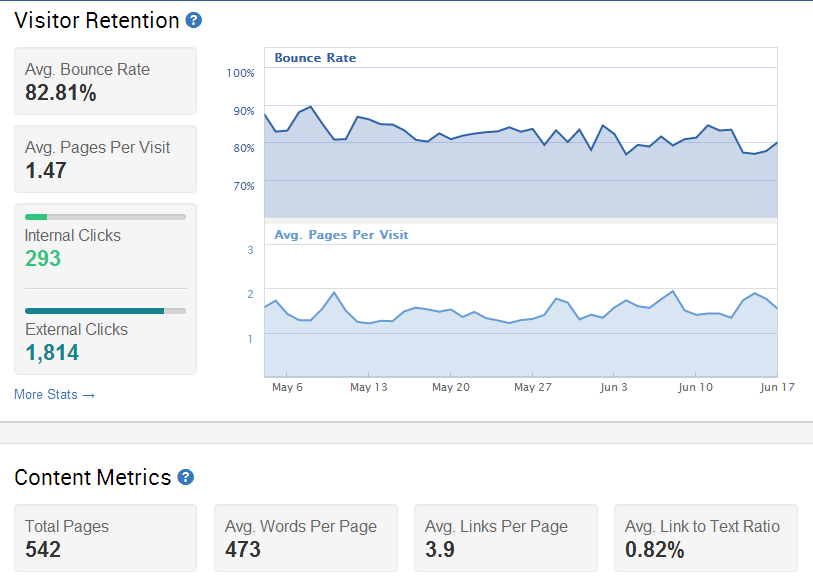 That is 1,814 outbound clicks in the past 30 days, naturally if you affiliate market you want to make sure those external link clicks are going to some affiliate sales page or a page that in some way brings you an action whether it is a sale, a follow or a referral to one of your sponsors.  Of course if you quote source articles many of these could be readers going to source articles or to download sites you refer them to as well.
Of course you can see much more detailed metrics on which pages drive most of your clicks, and seeing a breakdown of the top pages which send traffic in the past 30 days you can see most are how to articles on my site.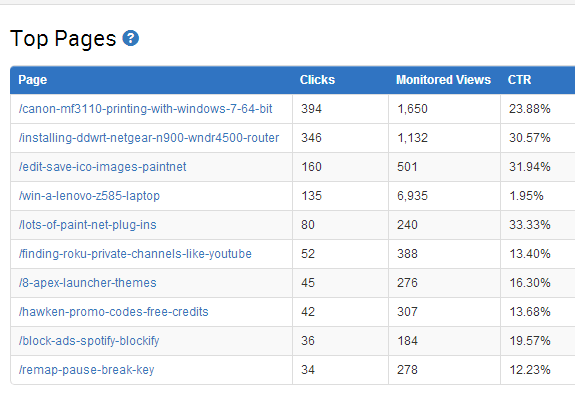 For top keywords, these are the keywords which are recording the click, this is important to see what phrases generate clicks, and what are the most popular outbound keywords on your site.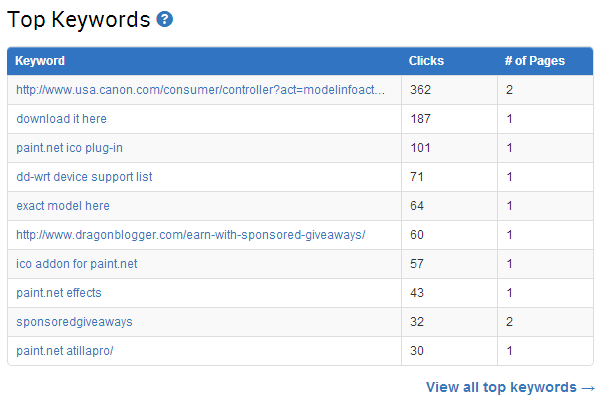 You can see download it here is a powerful phrase for someone wanting to download something.  You can also see that that Canon Printer Article sends a ton of clicks to the Canon Support website for readers to get the driver and try to make that printer work with Windows 7.  This was a support article only, it was a shame that that article had no method of monetization and if I were a more active affiliate blogger I would try to turn that into a solution that I could at least monetize, whether it was to a software, or referral based.  Some could consider Ad.fly which puts an ad in between letting them get to the link so you can at least get referral traffic for the views, but that could annoy readers.
So the Insights section of LinkSmart is very valuable and helps put your click information at your fingertips and present it in a way where you can immediately make use out of it, it is much harder to derive this information from Web Master Tools and Google Analytics than the simplicity of getting it directly from LinkSmart.
LinkSmart Links+ Feature
LinkSmart also offers the LInks+ feature, this is basically where you upload a keyword list and LinkSmart will convert those plain text keywords into affiliate links for you to your whole site.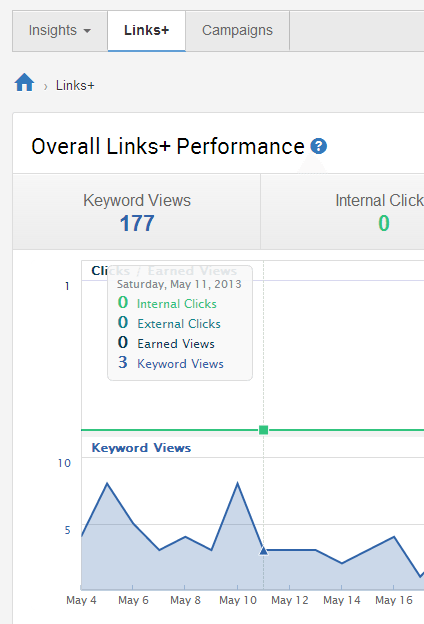 So if you want to convert Kindle Fire HD for example on every page in your site and make it link to the Amazon Affiliate sale page for the Kindle Fire HD you can do that simply and easily.  You can do that for any number of links and keywords and the density can be controlled by LinkSmart but you have to have the LinkSmart folks configure it on their side, you can't control the density in your control panel which is how many keywords to links are converted on each page.
Right now there is a limitation in that once you set keywords to convert to links, you can't disable on an individual post at this time but this is feedback I sent to the developers and they are working on.  Eventually I am hoping they allow you to add some tracking code that tells LinkSmart not to convert words to links on those pages where the code is matched.
You can bulk import all of your keywords you want to convert to links by downloading their template CSV file, modifying it and uploading it.  It takes a few hours for the script to turn those keywords into links, but after several hours I noticed the links took effect.  You will want to have the LinkSmart team lower the number of matches and density by default I think I found it to be a bit high by default.
LinkSmart Campaigns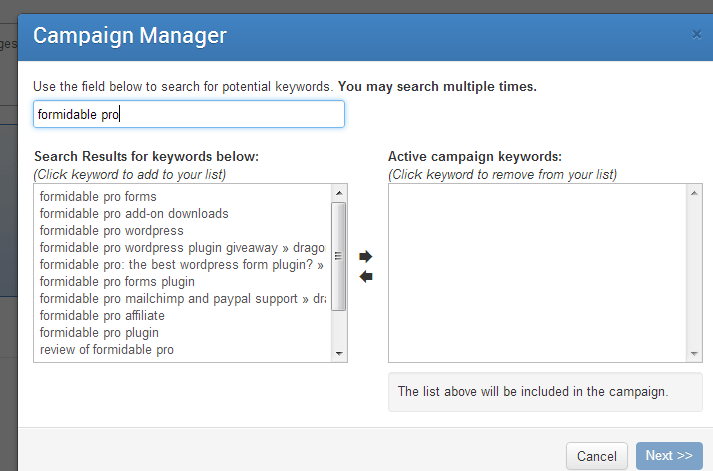 With LinkSmart you can run custom campaigns where you can track the performance and metrics of link word campaigns you are running on your site, first you simply select the Campaign tab and then click New Campaign.
Then you enter the keywords you are thinking about re-linking and you are presented with a list of matching link phrases that have been found from scanning your site.  Add all keywords and click Next ,then you enter the target URL you want to relink those keywords to instead of their original link.
Then you specify how long you want to relink your previous links, you can set a duration in date, or a specific # of clicks before the campaign expires.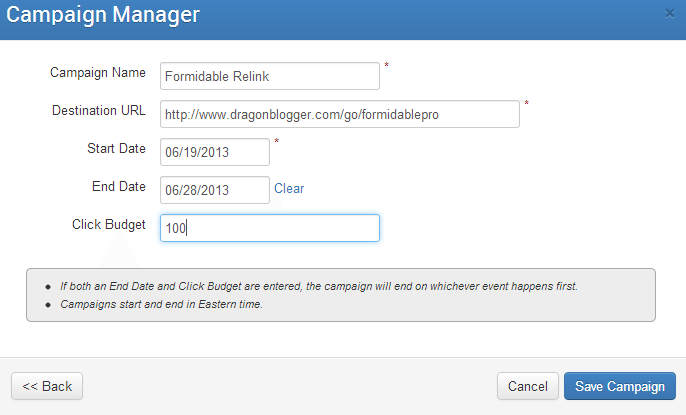 The main difference between Campaign Manager and Links+ is that Links+ will turn non-linked keywords into new links to whatever destination you want.  The Campaign Manager will turn previous linked phrases/keywords and re-link them to a new destination for a short or long term duration.
A huge advantage is say I was running a promotion for 50% off for a product or service for a limited time, I can automatically go back and make all links redirect to my temporary sales page for that product or service and expire them when the promotion ended.  Alternatively if I were making a product 50% off for the next 50 clicks, then I could limit so that the redirect to new destination only happened for 50 clicks then it defaulted back to the original link destination.
Summary
LinkSmart has some attractive features right off the bat including the ability to give you exact internal and external click tracking, keyword tracking and monitored page analytics.  The tool has the Links+ feature which allows you to create links out of keywords on any of your pages and can help you monetize your site as well as reach a new audience as long as you know manually where to build those links to, it doesn't do automatic product linking for monetization like Infolinks or some other services do so it is a tool designed to help you build links to your own products, services, posts or pages.  The Campaign Manager is a great way to redirect existing links to a new destination for purposes of replacing deadlinks instantly or linking to temporary deals, sales and coupons.  One such example is that I had Kindle Fire linking to the old 1st generation Kindle Fire page, and with this I can instantly update to the Kindle Fire HD instead.
With LinkSmart this can replace other plugins like WP-Hypnolinks or Pretty Link Plus without you having to put all the workload on the web host, as it is processed by the off-site script in their cloud to do the work which can help reduce load and overhead on your blog as well.  This also could replace Ninja Affiliate for example as well.
Get your Free Trial
For a free trial of LinkSmart for your blog email sales@linksmart.com and mention DragonBlogger sent you and you will be setup with a free trial for the rest of 2013.