I have been a big fan of Livefyre since I switched DragonBlogger.com over to using it in September 2011 during a test run that became permanent.  I also installed it on most of my other blogs shortly thereafter.
Don't get me wrong, I love CommentLuv and used CommentLuv for 3 years on my blogs, I still endorse and consider it a great option for bloggers and worth every penny.  The latest features of CommentLuv that delay commenting and require default comment length only help to block spammers and more features are added all the time.
However, CommentLuv due to relying on the default WordPress commenting system has yet to truly integrate with Social Media and be the real time experience that you can find with Livefyre.  If you want instant communication and to treat your blog commenting as an extension of your live and real time communications like you do with Twitter/Facebook then nothing compares to Livefyre at the moment.

True Benefits of LiveFyre
You don't see a huge amount of benefit with Livefyre over CommentLuv on articles where you may only get 5-10 comments and/or have almost no interactivity on your Facebook fanpages and/or Twitter account.  However, when I started my Kindle Fire Giveaway contests I really saw something magical happen.

I saw hundreds of comments pour into my posts, and I could just leave my webpage up and watch the comments come in real time and respond to them in real time.  I didn't need to hit page refresh, wait for an email…etc.  I kept it open like a Twitter window or Facebook window.  In addition as people commented on my Facebook fanpage for my giveaway those comments and responses were read into the article as well.  This means I can keep all communications across Twitter/Facebook for the article on the article.  I could even call in people from Twitter/Facebook by @reply their name right from the Livefyre comment system.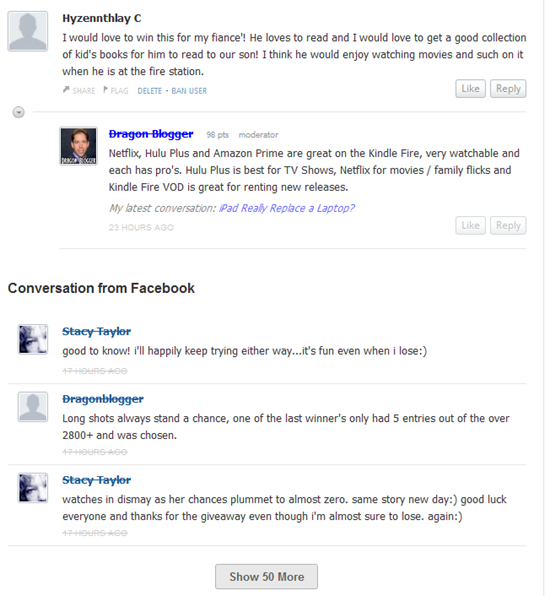 Imagine being able to say something like "@Brian017 there is a good point made from @BlazingMinds here can you share your thoughts?" and this be integrated with your blog commenting and call the Twitter users to your blog to answer and communicate on your post instead of just replying on Twitter alone?
This type of communication extension from your WordPress blog post to social media cannot be found with the current WordPress default commenting system, and this is where Livefyre really shines.  If you really believe that Social Media is the communication tool that is mandatory and an extension of your blog then Livefyre is the commenting system that most effectively makes use of this tool at the moment.
Livefyre is free if you have less than 2 million Pageviews per month for your blog, so for 99% of bloggers there won't be a cost, for the 1% that have that level of success surely it is worth it.  The Facebook commenting system is just that, Facebook only and leaves out Twitter/LinkedIn and other potential extensions later.  I believe Google+ will eventually get added to Livefyre too now that it has 60 million users.
I don't affiliate sell Livefyre (can't really when free), and I have had some commenters tell me they dislike it.  Livefyre does allow guest commenting now, but this is a relatively new feature and wasn't there until about October 2011 or November 2011, can't remember.
Currently at the time of writing Livefyre is nofollow for user's profile links, but they are dofollow for the "latest conversation" thread.   This may change in the future where a blogger can choose nofollow vs dofollow and I would choose dofollow myself again if it were offered.
The other great thing about Livefyre is you get a centralized location to track all of your comment history or follow others comment histories.  This is only done with external commenting systems like Livefyre, Disqus and IntenseDebate but I have leveraged this to follow the commenting habits of some of my loyal readers and stumbled across great blogs as a result.
CommentLuv is about rewarding commenters and providing incentive for people to leave comments on your blog in exchange for a backlink to their latest articles.  Plain and simple it entices people to leave comments, but it also invites them to comment just for the backlink too.  CommentLuv also adds rewards like offering more links to select if you share the article on social media sites, which is another great way to boost social shares of your post.  Livefyre is more about facilitating communication rather than specifically rewarding commenters and whereas CommentLuv caters specifically to other "bloggers" who comment on blogs, Livefyre attempts to cater to everybody and those who may just communicate on social media and not deal with blogs anymore.
If you use CommentLuv on your blog, I am so glad you are and you bet I may find your site, visit, comment.  If you use Livefyre on your blog I won't hesitate to leave a comment on your site, same with Disqus, IntenseDebate…etc.  They are all about choices and what you are looking for in your engagement with readers, which is your primary target.
Pains of Switching to Livefyre from CommentLuv
I will tell you this, it is much harder to switch from CommentLuv to Livefyre after using it for 3 years than if you choose Livefyre from the start or a short time after building a new blog.  Primarily all those people who took the time to comment on your blog and get that dofollow backlink from CommentLuv now have their link benefits lost, this is not light.  By me removing CommentLuv I basically caused over 12,000 older comments to lose their dofollow backlinks to their posts.  This was a painful way to test a new commenting system and it is unfortunate that a small portion of my loyal commenters never returned.
When switching to Livefyre from CommentLuv its take time for readers to adjust to a change from default WordPress commenting to another system because Livefyre is not quite as big as Disqus yet, so more people have to register or comment as guest users until they build out profiles and grow.  I also alienated a fair portion of the CommentLuv crowd who were die hard supporters and I see about a dozen or so people who used to comment almost every day drop off the map because I no longer use CommentLuv.

But I Like CommentLuv
I am telling you why I love Livefyre and showing you what benefits it has done for my blog.  I have seen a larger engagement on social media integrating with my blog and it has made monitoring and responding to conversations much faster than the simple "comment, email, refresh page, respond" that you have to with the default WordPress commenting system.
When it comes to raw commenting, CommentLuv has a ton of features many of which aren't needed in Livefyre external commenting system but some of which are lacking like KeyWordLuv and DoFollow which allow you to reward even Livefyre commenters who are bloggers with a dofollow link to their keywords.  Ideally I wish CommentLuv could integrate with Livefyre (Livefyre team should make Andy an offer

)
I bought CommentLuv out of pocket when it went on sale even though I don't use it on my primary blogs.  I may switch back to it on some of my smaller blogs and I would probably use it on brand new blogs that start up to entice commenters until the blog has a social media following worth developing and engaging with Livefyre.  CommentLuv works for many bloggers, it will get you more comments from other bloggers or SEO people looking to get backlinks with their target keywords.  The nature of the plugin is you will get those that will use it just for the backlinks, even if they aren't spammers.  Even with Livefyre I get some commenters trying to leave a useless comment including their URL in the comment, but Impermium which is the spam management system Livefyre uses is really really good and blocks most spam on the 1st pass, or removes it on the 2nd pass.
My review and usage of Livefyre has convinced several other bloggers to put it on their own blogs.  JoeTech.com for example switched to Livefyre after seeing it in use on my blog.  Eisley Jacobs also switched to Livefyre on her blog after seeing it first in action on my Kindle Fire Giveaway.
Heck, WPBeginner.com which is a great blog uses Livefyre commenting system, and of course while researching CommentLuv I found Danny Brown's blog.
Share Your Thoughts
So honestly, share your thoughts about Livefyre commenting, CommentLuv, Disqus, IntenseDebate or anything else related to commenting.  What features of a commenting system do readers prefer?  What do you like/not like about existing commenting systems (any of them) what do you wish to have?
Personally, I want to be able to upload audio files to commenting.  I think the future lives in interactive comments, and I want to be able to record an audio comment and upload it to Livefyre, or maybe even a quick webcam reply and leave it in a Livefyre comment.  That would be something!
-Dragon Blogger