Logitech just released its latest entry into the gaming mouse arena with the Proteus Core G502.  Not only does this large box contain this beast of a mouse but it contains tons of new technologies that you will have to write to down to reference later.  Make sure to not only read this review but watch the videos to see my geekgasm, it'll make you giggle a bit.  Enough about me, let's get back to this unboxing and review.
Check out the specifications and features that come in with the Logitech Proteus Core G502
Specs and Features
Delta Zero technology sensor acceleration
32-bit ARM processor
5 x 3.6Gram Tuning weights for up to 18Grams
5 on the-fly Adjustable DPI buttons between 200 and 12,000DPI
125 – 1000Hz Resolution/polling rate for more accurate movements
11 customizable buttons with mechanical micro-switches under each key
Clothe Braided wire
Dual-Mode Hyper-Fast scroll wheel
3 on-board  profiles
Ultra Low-Friction Feet
Surface tunable gaming sensor
76in Cable (that's not a typo, that's 76 insane inches)
Watch the Unboxing of the Logitech Proteus Core G502
I will have to say first off that most mice suffer slight performance degradations within games when raising polling rates to 1000hz, I did not feel that with this one, this is due to its integrated 32-bit ARM processor.
Adding to that poling rate, the unheard of 12,000dpi using its powerful laser sensor to help improve your game.  Logitech's Delta Zero sensor technology allows you to track up to 300 inches per second (that's what IPS is) with acceleration of up to 40G.  These adjustments can all be made from the buttons themselves or from Logitech's Gaming Software.
Logitech took its time to create this very intuitive and sleek software that anyone can pick up and run with, although you will have to download it from here.
http://www.logitech.com/en-ca/support/g502-proteus-core-tunable-gaming-mouse?crid=411
Here is what the software looks like.
From this screen you can select to use profiles you have created and stored within said profile, you can create up to 3 profiles or use its automatic game detection.  The automatic detection will change even how your mouse works within Windows; I used the onboard setting as the automatic one lowered my DPI.  From this screen you can also move on to the other sections, circled in red below.  We will move on to the customizing section.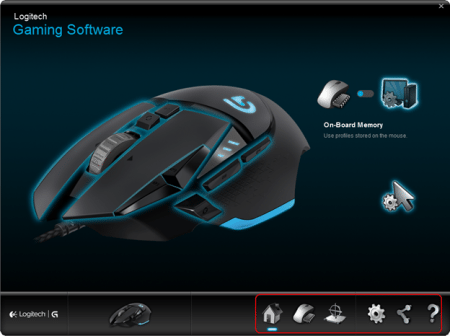 This screen allows you to customize just about everything on the mouse.  Here you can see all 11 keys mentioned both in this article and in the videos.  I see now what the buttons I was confused about did.
This screen also allows you to adjust your DPI, you can see here I selected 9250, that was my sweet spot.  I am slowly moving up, I don't want to jump in a pool without checking how cold it is first.  I can save here the levels I am comfortable with above in the Profiles, keys, DPI and report rate, I can custom tune them just for me.
Another thing to mention is that each key is rated for 20million clicks.  Many might think this article is full of typos but this is yet another clarification that this was not a typo, is has a keystroke life of up to 20 million clicks.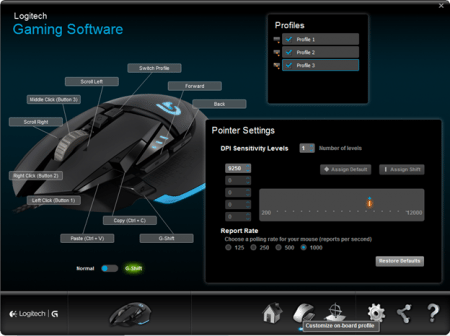 If you thought you were done there, you were wrong because you can even tune your mouse to your mouse pad or to your surface.  This is pretty good because you all know that a mouse pad is not a mouse pad, there are tons to choose from and from those there are also textures to choose from,  this gives you 3 presets to try.  I am using the EVGA Gaming mouse pad and while I have tried the other 2, the factory default seems fine for me.  If you have another, you can add it too, very customizable.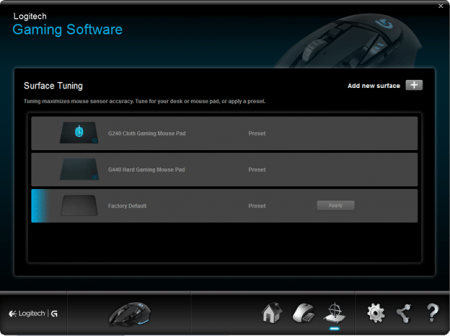 I wanted to give you a little more, so I decided to try adding a new surface, and I am glad I did.  Check out how this works.  First you hold the left mouse button, and then while holding the button you swipe the mouse in a figure 8 pattern.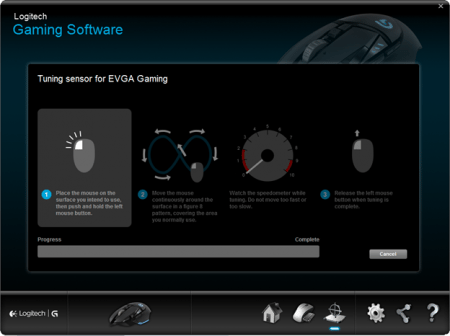 Once you have done that it analyzes your movements and completes your profiles.  Truly customizable.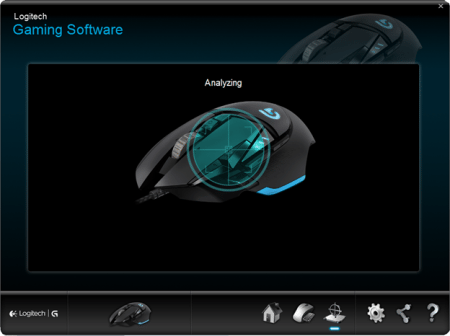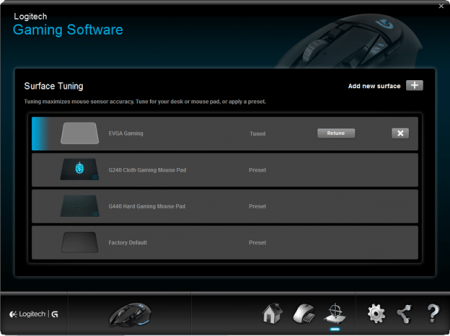 A little more on the software option, while not huge customizations, they are customizations just the same.  Here you can select how this program starts, delays, illumination, graphics, games to scan for and you can even update your firmware for the mouse, it came with the latest since this mouse has just been released.  We are not the first to review it, but we are damn near the first.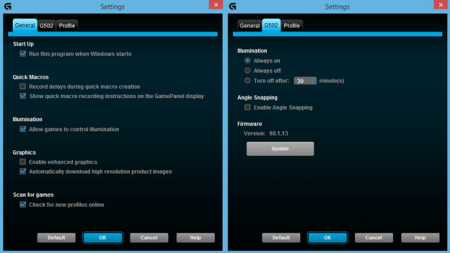 It also allows you to follow Logitech on Facebook and twitter, a dumb feature because who of us already doesn't follow them,… right?  Last but not least, if any of this confuses you there is a help feature.
So now that the software is done, let's get back to the hardware, but sticking to the customizing features, check out this video that talks a little about the buttons and everything else.
See a Video of the Features of the Logitech G502 Mouse
And here are some pics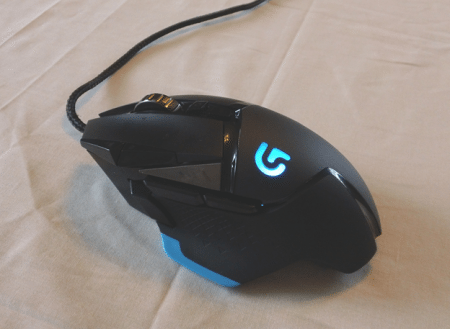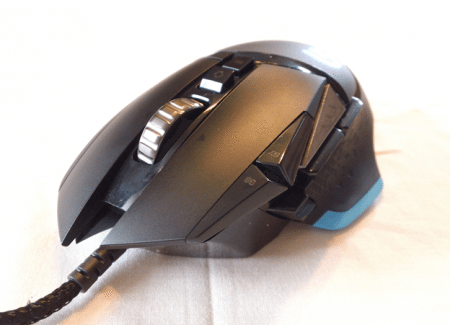 Don't look too much, she's naked.  Here is where you can add the chevron shaped 3.6Gram weights, 5 of them for up to 18Grams of weight.  You do not have to add all 5 of the weights, but I preferred it that way.  This is a correction to the initial video where I stated that you can add all 5 weights for a total of 3.6Grams.  Whoops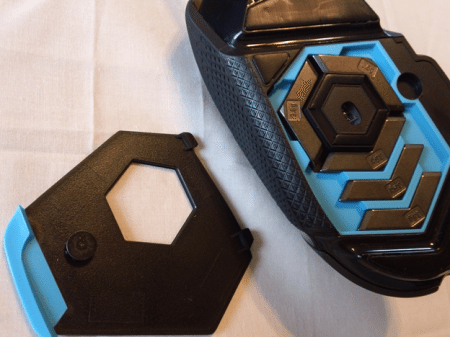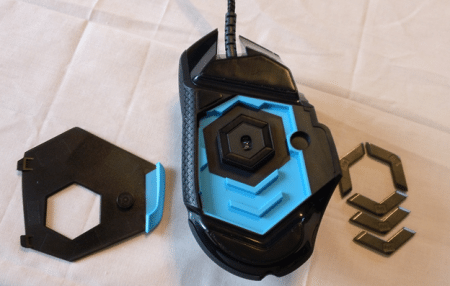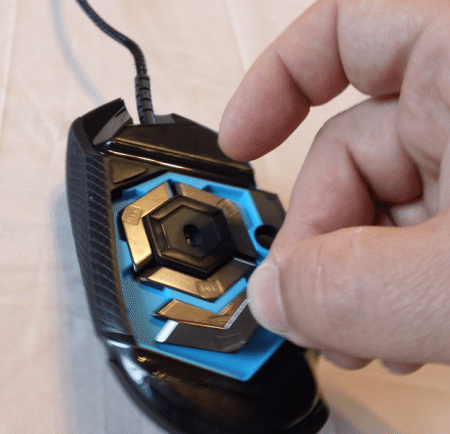 Here is the side where you can see all of the buttons.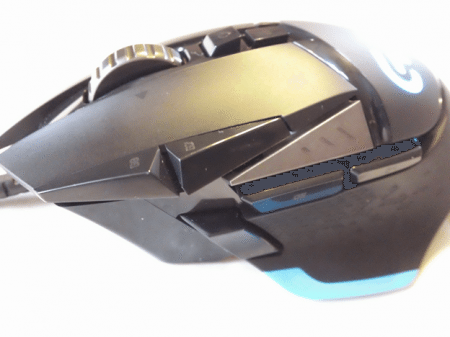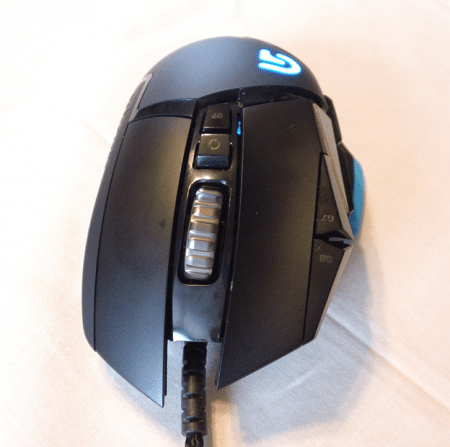 Here's her pretty braided cloth cable, it took a while to braid this since it was 76 inches.  I had to use 2 different measuring tapes to makes sure I got this right, that's 6 Feet and 4 inches.  How big is yours?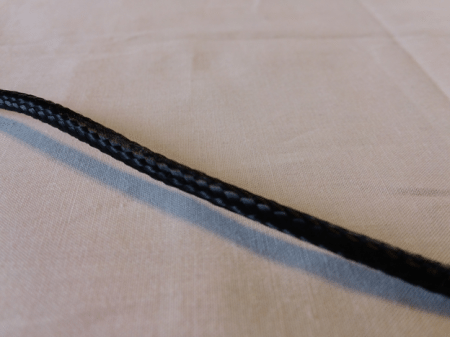 With all its highs, there are some lows though.  It was not 100% comfortable holding this mouse.  I wanted a the mouse to fill my hand more into my palm and my pinky felt left out, kind of forgotten like all pinky's do, but it was used to being part of the team.  Also, the rubber coating felt more like plastic, that could use a little work but that might be a little picky.
I played Battlefield 4 for a few hours this morning and it felt right.  My accuracy seemed a little better and with that I had more kills racked up, a nice little gift.  Even overall OS use seems a little better, smoother and easier to click edges as well as edit photo's, please don't judge the editing on the pictures too much, it is late now.
I was totally shocked and amazed with the level of detail and quality put into this mouse and Logitech has won itself a new fan.  I can't say that I like the price though, $79.99, seems a bit steep to me, although there are some out there that cost much more and add little more maybe even less than this one.
Software was great, mouse was even better, I highly suggest this mouse, but also suggest the price come down a bit, but I am a penny pincher.  What do you guys think about this beast?
(I apologize if the quality was a bit sub par on the videos and pictures, I bought a Sony Bloggie TS10/B for this review and feature review to provide a higher level of quality for my readers but it turns out that the camera was defective.  I am sending it back to get a better camera for you guys.  I will also review the camera.)