Watching all 14 episodes of a short-lived but well-loved show like Firefly can be difficult, especially on the 10-year anniversary of the show.  However, it is also nice to know this show still has the appeal it did all those years ago, and possibly even more now as the fan base continues to grow.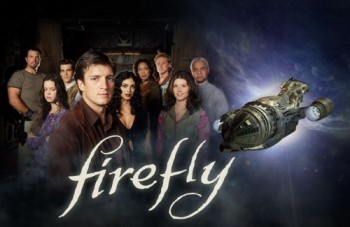 Sunday November 11 was a very special day for Firefly fans as Science aired all 14 episodes in order to celebrate the anniversary of the western scifi series.  Fox originally owned the series, which creator Joss Whedon came up with, and for years would not sell the rights.  Luckily, they eventually did and Science now owns the show to fans delight.  This is the second time the series has been aired in entirety since Science bought it but only the first all in one day.
Not only did Science play the series in its entirety but after the last episode aired, a special one-hour show "Browncoats Unite" was on.  Plus the final two episodes "Heart of Gold" and "Objects in Space" had pop-up info which appeared while they were playing.  This had a round-table discussion with Jeff Jensen of Entertainment Weekly asking questions and the actors answering.  The members in attendance were Nathan Fillion, Alan Tudyk, Summer Glau, Adam Baldwin, Sean Maher, show runner Tim Minear, and writer Jose Molina.  Jewel Staite, Morena Baccarin, and Gina Torres made appearances from pre-recorded interviews.  Interestingly enough Ron Glass was completely absent.
The discussion involved some in front of the camera and behind-the-scenes things, including a secret of Inara's; she was going to die as some point.  Unfortunately, Tim Minear would not give away any of the other secrets which have made fans burn with wonder for all these years (how Shepherd Book received Alliance care from a glance at a card when he was shot and Simon was nowhere to be found comes to mind) stating that he didn't want to ruin it if the show ever came back.  Some of the things said were extremely touching, such as Alan Tydyk, who took the return call button from the episode "Out of Gas", later sending it to Joss Whedon when he was attempting to get the movie "Serenity" into production.  Alan said it was his way of saying they would all come back when called.
The special ended with part of the San Diego Comic Con Firefly panel, which included everyone from the round-table and creator Joss Whedon.  The most memorable part of that was Joss' comment: "When I see you guys, I don't think the show is off the air. I don't think there's a show. I think, that's what the world is like. I think there are spaceships, there are horses, and our story is alive."