We are influencers and brand affiliates.  This post contains affiliate links, most which go to Amazon and are Geo-Affiliate links to nearest Amazon store.
By now, most of our readers must be familiar with LUXA2. Luxa2 focuses on smartphone accessories and is a division of Thermaltake. We've done a few of their product reviews in the past that you can check out here: https://www.dragonblogger.com/tag/luxa2/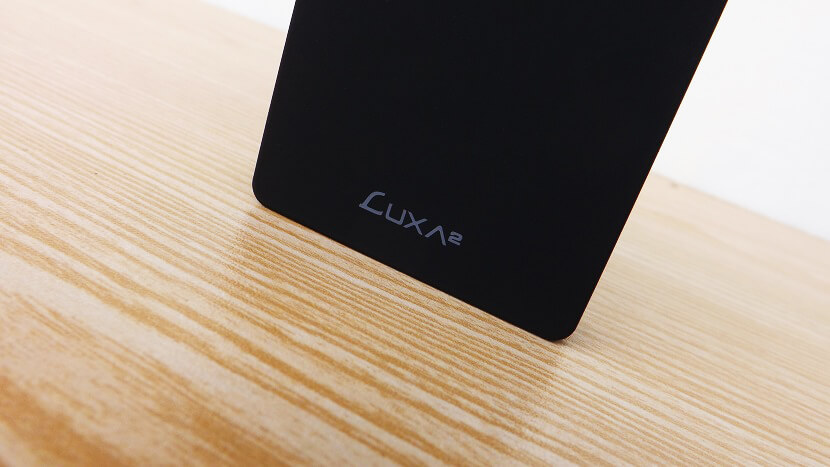 Luxa2 have been kind enough to provide us a sample for the Luxa2 Slim EnerG 10,000mAh power bank. So that's what we have our hands on today.
EnerG Slim Specifications:
Product Name
EnerG Slim 10000mAh Power Bank
Dimension

| | |
| --- | --- |
| Length: | 136mm |
| Width: | 63mm |
| Height: | 15.8mm |

P/N
PO-EG2-PC10BK-00(Black)
Content of delivery
EnerG Slim 10000mAh x1
USB to micro-USB cable (Black) x1
User Manual x1
Capacity
10,000mAh (5,000×2) / 3.7V Li-on / 37Wh
Input
5V1~2A
Output
5V2.4A & 5V1A (MAX 3.4A)
Charging time
7~12hours
Others
Fast Charging (2.4A)
Power Switch
Auto Power Off
Overload Protection
Over 2500 cycles
Ultra Slim 15.8mm design
Li-Polymer Battery Cell
Fireproof ABS (UL94-V1)
LED indicator
LED Power Indicators ●●●●
(●●●●) 81~100%
(●●●◯) 51~80%
(●●◯◯) 26~50%
(●◯◯◯) 6~25%
(●◯◯◯ Flashing) 0~5%
Compatibility
Smartphone, Tablet, DC (Digital Camera), Gamepad
Material
Plastic
Weight
222g
Warranty
2 years
Unboxing: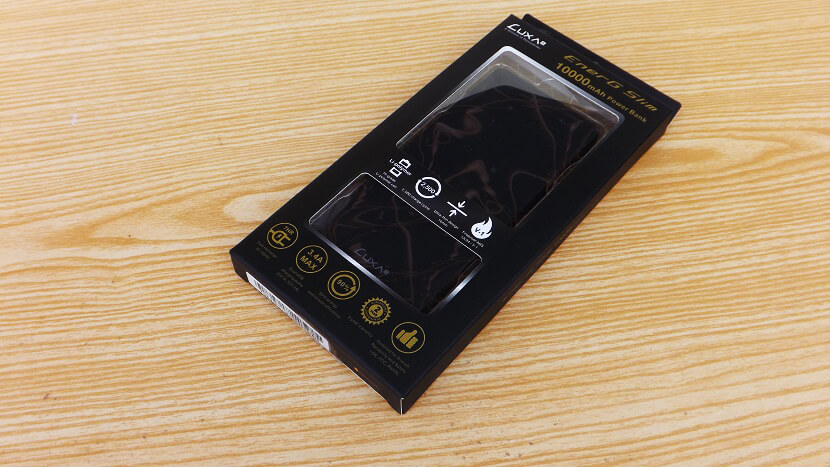 We get the Luxa2 EnerG Slim in a not so big, black color box with its feature mentioned on the front. Also, the front has 2 transparent plastic windows so we can see the Luxa2 logo and the button and LED indicators.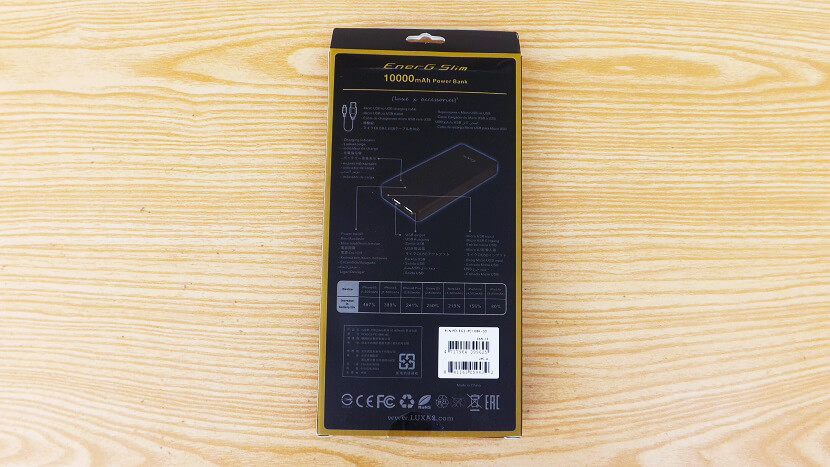 On the back, we have points discussing the ports and LEDs. And we also have a chart which tells us how much the power bank can charge some devices.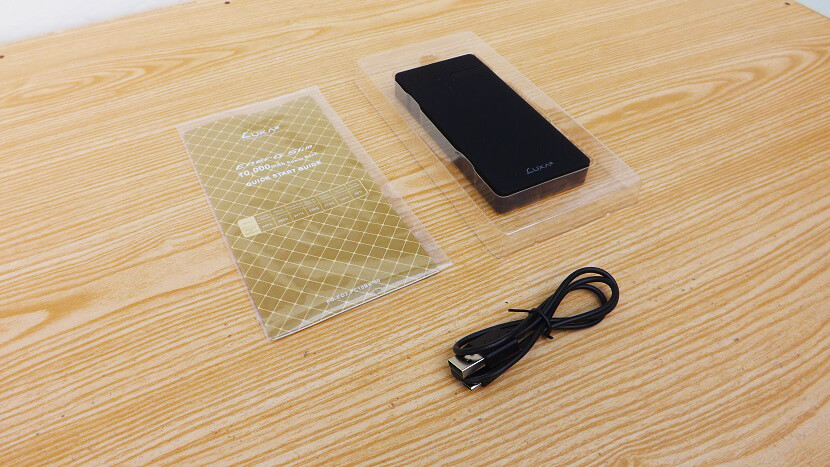 Inside the box, we have the power bank in a plastic container, a quick start guide and a short microUSB to USB cable.
Closer Look: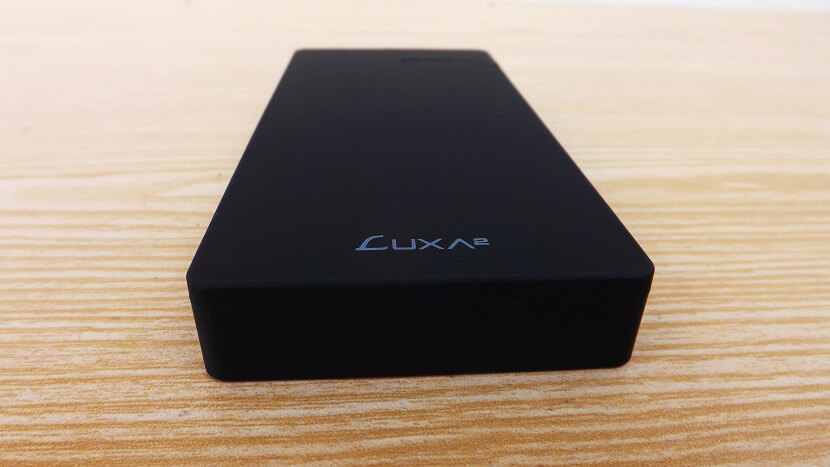 Here's the Luxa2 Logo on the top bottom of the EnerG Slim.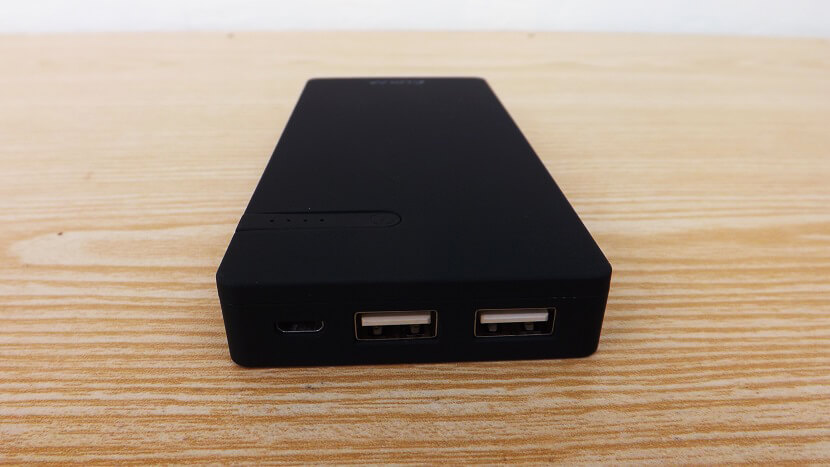 From here, you can see the ports that EnerG Slim features. It has a microUSB power for charging itself and 2 USB ports for charging other devices. Also, the USB port on the right side is a 5V2.4A port and the one in the middle is a 5V1A port.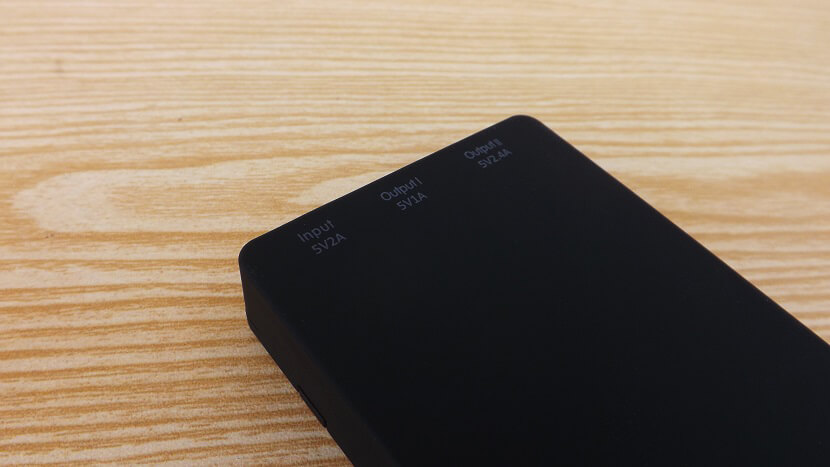 The ports ratings are also written on the back of the body just underneath the ports so you can be careful about which port you want to use.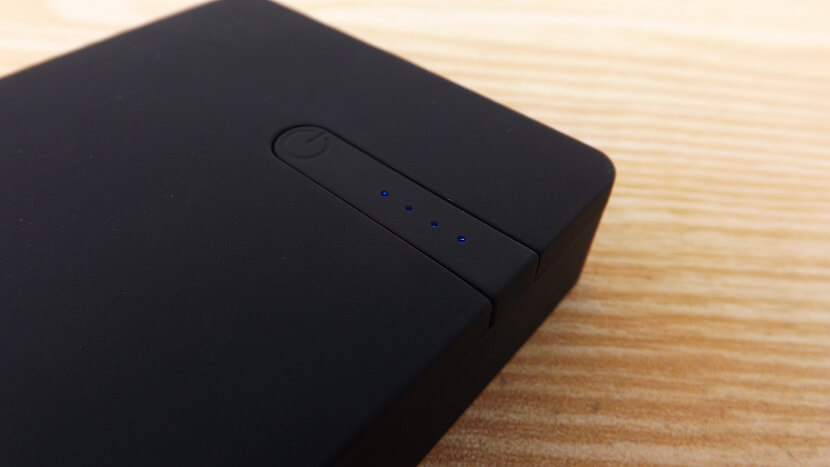 Here's a look at the LED indicator on the top of the power bank. It has 4 LEDs. All four LEDs lighting up means the power bank is near to or fully charged. Lesser means below 80% and vice verse. The power logo you see beside them is indeed a power button. But there's an issue with the power button. One press on the button will power on the power bank, and you can see the battery status. But it doesn't power off with a single tap. I have to press or hold the button in random patterns to have it powered off. Also, once a device is connected to the power bank, the power buttons doesn't turn off the charging process.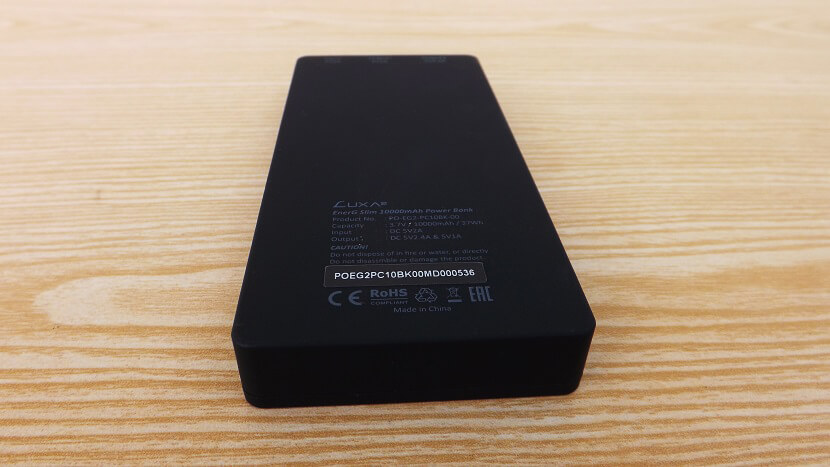 On the back bottom, we have the model number and some other details about the EnerG Slim.
Charging other devices:
The Luxa2 EnerG Slim is advertised with a 90% energy conversion efficiency. So mathematically, the 10,000 mAh power bank should be able to give a chargeback of 9,000 mAh. To test that, I used the Landvo S6 phone which features a 2,550 mAh battery.
This is where it gets weird. I was able to juice out 4 full 100% battery charge from 5%. And not only that but also 40% more over the 4 full 100% chargebacks. So, by my maths, I was able to get around 11,220 mAh chargeback from a 10,000 mAh power bank. Now, of course, I still had 5% of battery before putting the phone on charging, but that still doesn't bring down the charge back efficiency to 90% but higher.
Now, of course, the battery on my phone is about almost 1 and a half-year-old so that has to factor in somehow in the chargeback output. But as it is, it seems to have an great result.
As for the charging time, whereas the other charging port I use for regularly charging my Landvo S6 only takes about 2 hours, the Luxa2 EnerG Slim took near 3 hours to charge the device. So the juice is flowing to the device slowly, but efficiently.
Charging Itself:
Charging a 10,00 mAh battery can take up some time. The Luxa2 EnerG Slim takes about 7 hours to charge. But sometimes it also stretches up to 10 hours for some reason. But with bigger power banks come bigger responsibilities.
Conclusion:
The Luxa2 EnerG Slim is a power bank with great power conversion efficiency. It maybe even has more than the rated energy conversion efficiency. Though there's on thing about the EnerG Slim that I don't like, it's the body. The body material just doesn't seem reliable, and I have a feeling that it might break if It accidently slip off my hands. But to prevent that, the EnerG Slim has a matte finish on the body.
Now let's come down to the pricing. The Luxa2 EnerG Slim 10,000 mAh power bank is available on the market for $39.15. Even though the energy conversation of the EnerG Slim seems excellent, the price of the EnerG Slim doesn't appear to be in the comfortable zone when you can get higher mAh power bank in a lower price than the EnerG's.
So I would like to give the Luxa2 EnerG Slim a 4 out of 5 stars. And would recommend a purchase if you can get it on a sale.
You can use the Luxa2 to keep your phone alive while you spend more time using apps or to  buy real spotify followers or even if you are using it to increase your Instagram audience and you are using an app to buy real instagram followers.
We are influencers and brand affiliates.  This post contains affiliate links, most which go to Amazon and are Geo-Affiliate links to nearest Amazon store.
Hi, I'm Ahmed Kazim and I've been a gaming freak since like 7-8. I'm also a geek-o-nerd who keeps looking around for latest development in hardware/tech/gadget industries so expect some quick news from me. I'm also interested in anime (Japanese animation) and can't stand a day without music and gaming.