You can easily and conveniently consolidate your address books from a variety of online mail clients and programs like "Thunderbird" with 123Greetings Connect.  With the My Address Book feature of 123Greetings you can make sure you keep track of all your contacts birthdays so that you can remember to send them Ecards on time, every time.
With the advanced online Address Book features of this service you can develop friends networks where you can quickly and easily keep track of not only Birthdays and Emails, but also the service lets you track all the free Ecards that you send and shows a history of who received, viewed, and which ones you have sent and to whom.
Watch this video tutorial showing you how easy it is to add name and email to your address book and track Ecards and activity:

To add a contact with the 123Greetings Connect all you need to do is fill out the simple Name, Last Name, Email and Birthdate fields to the right hand screen of your "My Address Book" page.  The Birthdate is also option, and doesn't need to be filled out if you don't know.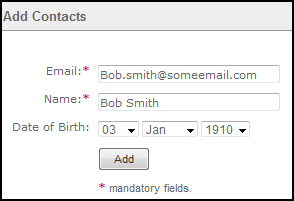 I want to point out that when you add a user into your address book an email is sent to the user notifying them that you added them as your contact and friend on 123Greetings Connect.  They from that point can either ignore the email or sign up and join themselves where it will automatically connect their account with yours as a "friend".  Once connected as friends you will be able to see each others "Ecard activity" and other online activity on 123Greetings website.
After you have started using 123Greetings to send Ecards and have built up contact list you can start leveraging the dashboard to track the activity of yourself and your friends. From the Ecard Dashboard you can view, track, edit and delete Ecards that are previously sent or scheduled to be sent.


The website will also soon be adding a custom "Events" fields so that you can input your contacts "Anniversary Dates" or other special occasions and receive reminders for Birthdays and other custom events so that you can remember to send a card and recognize those special occasions.
Maintaining an Online Address book with 123Greetings Connect allows you to build a contact list for an ever growing network of friends and relatives who are spread out around the world. By leveraging the email reminders you can make sure that you keep on top of everyones birth dates and the fact that you can schedule Ecards ahead of time to be delivered at a later date is a really neat feature.
-Dragon Blogger